What are the best shoes for nurses? There are two answers to this question.
The first answer: The best shoes are the ones that are best for YOU.
Ok, a bit obvious. But true. Everyone's feet are different. And everybody has a different work routine and work environment. Therefore everyone will have different shoe preferences and needs. Furthermore, everyone's body reacts differently to footwear.
Many nurses find that professional clogs alleviate pain. Other nurses love tennis shoes. Still, others find that knocking around in sneakers suits them just fine.
The second answer: It depends on the nurse. This may sound like a cop-out, but it's not, because I am going to clearly explain the critical points you should consider as a shoe-buying nurse.
By the way… I am Erica MacDonald. As a nurse, finding the top quality nursing shoes was bugging me, so I researched the heck out of it for a few days. I read through online nursing forums, took notes, checked podiatrist blogs, spoke with my colleagues… Surprisingly, there are only a few common foot issues for about 99% of the nurses out there.
I then teamed up with my friend Pat, and we created this article. In the article that follows, we discuss the primary footwear issues that nurses face. But first, let me get to the question on your mind. Here is a quick summary of the top shoes for nurses noted in nursing forums, by our peers, and through our research:
Danskos: These got the most mentions and praise. Danskos last a long time. They prevent pain, correct posture issues, and are comfortable for most nurses. The downside to Danskos is that they take time to break-in, and they are not good for nurses with flat feet. They also are not good if you need to run up the stairs in a hurry on code. Lastly, there were a fair number of reports from nurses complaining that they roll their ankles out of them.
New Balance: these were next in line. Either the walking shoes or the running shoes – both were praised. New Balance shoes appear to have good arch support and were recommended by several podiatrists (according to the nurses). Downsides to New Balance shoes are few. Their appearance was perhaps the only complaint I could find.  But then again, there are a number of shoes that are great for nurses but are not the best looking things.
Klogs were mentioned next, along with Nike Shox and Birkenstocks. Klogs are a solid performer that holds up well and is good in messy environments were fluids may splash, etc. Nike Shoxs are expensive, but some nurses swear by them.  Birkenstocks are not the best for the flat-footed among us. Sanita, Alegria, and Crocs were all fan favorites too.
Rounding out the rest of the group, but mentioned sporadically, were a variety of running sneakers or tennis sneakers, including Saucony, K-Swiss, Asics, Addidas, Brooks, SAS, Clinics, Nursemates, and MBT's.
Ok, without further adieu, here are top shoe concerns of nurses. If you are buying shoes for the first time, do not skip over these:
How to Choose
Pain prevention:
This is THE most important consideration for nurses. Your shoes first and foremost should prevent back, foot, and leg pain. Many nurses, if they wear the wrong shoes, get bothersome pain, even severe pain, in their feet, knees, legs, and back. This happens when they wear shoes that are not appropriate for them. If you have experienced pain, visit a podiatrist, and get evaluated before dropping tons of cash on new shoes. The forums are filled with comments from nurses who say that Danskos helped relieve their pain (foot, back, knee, etc.).
Nurses will pay almost anything to find the right shoe that brings relief from pain. Fortunately, you won't have to pay much, because there are lots of options in the footwear market. At most, you will pay only a fraction of your weekly salary.
Comfort while wearing:
The next most important consideration is comfort while wearing. Pick a pair of shoes that feel good. Your shoes should not feel tight. They should not be too loose. They should not make your feet itch or feel overly hot.
Comfort while wearing is very important, but actually takes a back seat to pain prevention. Back and leg pain is more important. A shoe may not be the most comfortable while wearing it, but if it prevents or eliminates back and leg pain resulting from long hours on your feet, then you may be able to put up with a fit that is not 100% optimal.
Dress code:
Some hospitals/employers prohibit the wearing of certain types of footwear. Others do not. There is not much you can do about this. A few employers prohibit clogs. Others prohibit Crocs that have holes in them.
Foot conditions:
Are your feet flat? If so, definitely try on the shoes first. Danskos and Birkenstocks are known to cause problems with nurses with flat feet. Conversely, if you have high arches, a New Balance model would likely be more comfortable. Do you have bunions, plantar fasciitis, or hammertoes? If so, be prepared to dry out a few shoes before you find one that you can live with.
Work routine:
Do you need to run upstairs on code? If so, clogs are not the best choice. Better would be a running shoe or sneaker. With clogs, you could turn your foot or slip.
Or do you need to be extra quiet around patients? If so, soft-soled running shoes are good. Or are you at a desk all day? If that is the case, you could wear almost anything.
Will EMT's be running stretchers over your feet?  If so, Crocs are not the best. Better to go with hard-toed shoes.
Are your feet exposed to liquids or splashing fluids or other organic matter? Again, hard-toed shoes are better here. In fact, some hospitals prohibit the use of Crocs for this reason, because Crocs have holes in them. However, Crocs makes a professional version without holes. But some nurses find that their feet are hot in them.
Durability:
Sadly, this is at the bottom of the list. If you feel great in regular tennis shoes, but they only last about 6 months, continue wearing them and buy new ones every so often. Consider it an investment in your career and quality of life.
Price:
Unfortunately, all of the top contenders are expensive. Be prepared to spend $90-$150. Danskos are between $80-$130ish dollars. Again, Danskos reportedly last a long time. One nurse said her first pair of Danskos lasted her 7 years. "They are totally worth the investment", said another.
Clog or Sneaker?
What should you choose, clog style shoes or sneakers? Or perhaps a good ole fashioned white shoe? All three are acceptable and each style has its fans. In the end, many nurses "end up" in a style based on choices made for primary concerns such as comfort or things out of their control such as dress code, or utility concerns.
Interesting Observations and Opinions:
One nurse said you can buy whatever sneakers you want but then buy REALLY good insoles. Buy a $40 pair of sneakers, but $50 insoles.
For expensive shoes, consider buying a used pair on eBay (yes, some people do this!).
A few nurses wear compression socks and claim they help their feet.
Make sure you know if your foot is normal width or wide or extra wide.
Alternate shoes between days. This lengthens their life and gives your feet a different workout each day.
Dansko also makes a sneaker which some people like.
You may have to endure some trial and error, but in the end, you will find the best shoes for CNA ahem, excuse me, I mean the best shoes for you!
Our Top 10 Details Review
Good shoes cost more, especially good quality shoes. Many people, surveying the stock of shoes at a store, are likely to choose the least expensive. But too many a nurse knows that frequently that is not the best course of action.
Poor quality shoes don't last as long and if you must replace them more often, you haven't saved a penny. Besides, if those shoes cause discomfort or even problems that require treatment, the footwear may be downright expensive. Good, comfortable shoes will let you concentrate on your patients, and not on your feet. They are an investment in your career.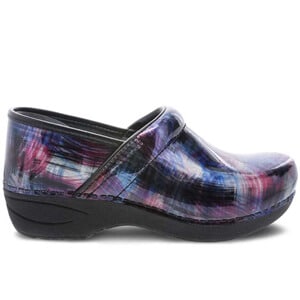 This shoe is crafted from real leather. It has a man-made sole with a slight two-inch heel. The platform design measures approximately three-quarters of an inch. It would be a perfect shoe for a nurse or a woman who needs a sturdy and stylish pair of clogs for work.
Also, it will be a smart choice for any woman who spends a great deal of time on her feet. This shoe should not be considered by a person who needs to wear heels every day or works in a place where the dress is very formal.
Benefits
Dansko is a popular brand that is known for its high-quality craftsmanship. The clog style is a common selection for people who will wear this shoe to work. The soft padding will continue onto the heel, so the fit will be comfortable all day long. The leather lining and cushioned leather top of the footbed will add to the arch support as well. When a person needs a durable and sturdy shoe, the rubber midsole will be ideal. Finally, this shoe will provide extra traction with its rubber outer sole.
Pros
These shoes come with a different color pattern. In place of the plain black or white options, this shoe has a marbled effect.
These shoes can be worn with jeans or more dressy attire.
These shoes are extremely comfortable and support my feet during 12-hour shifts at work.
The shoes resist spills and clean up very easily.
After wearing these shoes for one month, I no longer felt pain in my feet, knees, or lower back.
There is no cushioning on the inside, but the shoes offer extremely strong arch support. They keep me from feeling the need to sit down for a break.
Cons
The shoes run a bit larger than normal. I usually wear a size 7 1/2, but I had to purchase a one-half size smaller for a proper fit.
The shoes take time to get used to. The clog style is not like wearing the average sneaker or nursing shoe.
When I walked on uneven surfaces, the thick soles make turning the foot a bit difficult. It could be dangerous and may twist the ankle.
It appears like when I bend over, the shoes develop crinkles that began to peel.
The Dansko Women's XP 2.0 Clogs are very comfortable on the feet. They are constructed to provide great support to the arch and other parts of the foot. They are a good choice if you must stand frequently throughout the day. Despite the high cost, you may be able to avoid the usual pain that less expensive shoes cause. But if you are not interested in a clog design, perhaps the Dansko Women's Valerie Canvas shoe would make a better choice.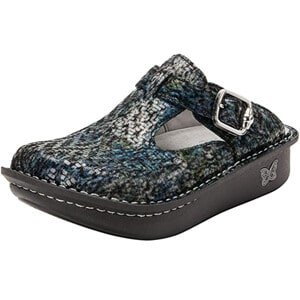 Doctors and nurses frequently recommend, and wear Alegria shoes. They are affordable, particularly in light of the materials used. Alegria women's shoes are made for comfort; they are the shoes that are many women will turn to as their go-to pair of footwear for ease, comfort, and classic styling.
I love to collect shoes and boots. They are the foundation of any outfit. When my shoes are comfortable, that ease is apparent in every aspect of my composure and stance. When choosing shoes, I take into consideration style, comfort, and price.
Pros of Alegria shoes
Many women say that Alegria shoes are very comfortable. They have a distinctive thick sole and form-fitting uppers made with materials that include leather, canvas, and waterproof polyurethane. These uppers conform to your foot.
Alegria shoes have soles that are crafted from a wide range of materials, from rubber, removable memory foam, latex, and a cork footbed with suede top for ease and durability.
The sole of the Alegria shoes provides what some customers describe as a rocking motion, and it fits the contour of the foot. The shoes have what is called a Rocker Outsole, which is made to cut down on heel and central metatarsal pressure. The bottom is flat to help negotiate what can be rough and uneven terrain. This is what draws fans and admirers to the Alegria footwear line.
The soles support the arches and comfort the toes. These are shoes that are great for motion, movement, and walking. Alegria shoes have a reputation for durability. They feature hand-sewn construction. They can accommodate orthotics.
Cons
Some customers have claimed that the shoes and boots can run a bit on the large size. But when customers went down a size, to find the proper fit, they were quite happy with the purchase.
There are many styles of Alegria shoes. They feature a good number of style selections and colors, and the emphasis is on quality and comfort.
More pros
Alegria shoes are timeless. They come in many styles, for example, cami boots, rain boots, Avril boots, oxfords, and professional shoes, Mary Jane pumps, lace-ups, athletic, clogs, scrub wear, slip-ons, flats, and sandals. They also come in a wide variety of colors and patterns.
Alegria women's shoes seem to be perfect for the active woman. They are professional looking, comfortable, and classic. They will not be in fashion one season and out of style the next. The look, like the shoes themselves, are here for the duration.
More cons
These are not your hootchie mama shoes. These are not your fetish footwear. When your boyfriend/lover/husband calls and asks with a husky voice what you are wearing, these are probably not the shoes you describe. On the other hand, some of the boots do rock a sort of cool, street-cred vibe.
These are the kind of shoes other women are going to look at with admiration and ask "Where you got those fabulous things?" They are especially suited to women who stand on their feet a great deal and who have busy and demanding lifestyles and schedules.
Alegria women's shoes have a distinctive look. They are very down-to-earth. Literally. If I was looking for spike heals or diva platforms, then I would need to continue my search. If I needed something that said femme fatale and high-maintenance, then I would continue my search although, that said, some of the high boots are lovely, fashionable, and quite cool-looking and would pair well with leggings, tights, or a fun skirt.
Many customers, once they experience the comfort, ease, and styling of Alegria women's shoes become collectors, seeking to add new pairs all the time.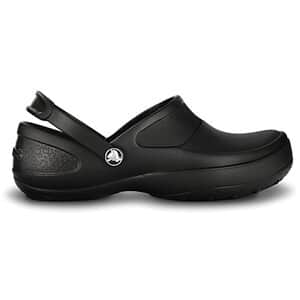 For years I have been hearing from my nurse friends and co-workers about the benefits of Crocs. I heard they are very comfortable and are also easy to use considering most models slip on and off with ease. After heading over to the Croc store to check out the selection, I decided to purchase a pair of  Women's Mercy Clog. I am a nurse and so having a comfortable and stylish shoe is a big deal in my opinion. Luckily, I feel as if after wearing the shoes for almost two years now, I am pleased to say that these shoes do exactly what I need them to.
Sizing
The first thing that is important with shoes is sizing. After all, if a shoe doesn't fit just right and you are consistently adjusting it, then you are not going to be able to enjoy a shoe to its fullest. This particular pair of Crocs did fit a bit smaller than some other shoes that I wear. However, after trying on multiple different models of Crocs, I've realized that it's simply the way that their product line fits and that it's more likely to do with the way Crocs feel on your feet rather than anything else.
Also, considering I have worn these shoes for over a year, I haven't noticed any stretching or loss of shape, which is great considering I wasn't particularly a believer in the material at first. However, I was proven wrong and couldn't be more pleased with how well the Mercy Clogs fit and have held their shape.
Comfort
Along with the sizing, it is also important that a shoe is comfortable as well. I am on my feet for 10-hours or more a day, so it is important that I don't aggravate my back or the heels of my feet. I have had many shoes in the past that would wear very easily and the heels would be shot after a few months of wearing them.
I understand that considering I am tracking back and forth every single day, shoes are likely to wear more quickly. But the comfort of the Crocs has stayed right there as they were the first day I put them on. Maybe the only difference is that now my feet are more adjusted to them and I've accommodated to wearing them more.
Style
The design of this particular model of Crocs is great. I remember when Crocs came out, I wasn't very impressed with how they looked. However, they began offering different styles and colors, which is now a major draw in my book.
Specifically, the Mercy Clog is great because it is simple enough to not look tacky, yet offers a bit of flair to where it isn't boring or dull. Some Crocs have holes in them, which is great for breathing air. However, being a nurse, I need to assure that my feet are safe from potential hazards at the hospital. The Mercy Clog does not have any openings, aside from the back, so my feet feel much safer. The other really nice touch is the floral design that is on the Mercy Clog. It runs just along the top of the shoe, and it's a great feature to an otherwise already appealing model.
When I first saw Crocs showing up at the hospital, I can't say I was a big fan of them. However, after getting my first pair, I can't imagine wearing anything else and would highly recommend them for all other hospital employees. They may not be the best shoes if you work in a position that requires you to dress up frequently or wear more formal shoes. But if you work on your feet for many hours a day, and Crocs fit your company's restrictions, then you can't go wrong with the Mercy Clog.
Pros
Great comfort.
Sufficiently stylish and attractive.
Still fits very comfortably, even after many months of continued use.
Cons
The sizing is different than other shoes, but once you figure it out, you'll be fine.
Though they are priced in the Croc price range, I would prefer they were a bit more customer-friendly in terms of cost.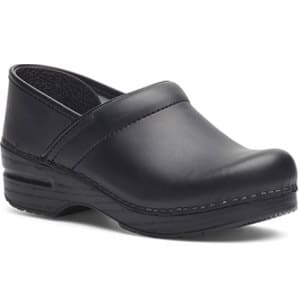 Finally, style and comfort meet on equal terms. A dream come true for a nurse.  These tooled leather clogs from Dansko totally fit the bill for everything I seek in a work shoe. They're sleek, with classic form, and have beautifully tooled leather uppers.
However, that's just the beginning. While I haven't splurged and bought this particular shoe for my work wardrobe, I own many lovely Dansko shoes and tend to favor clogs of this type in general. Let's take a minute to get acquainted with this beauty, shall we?
These clogs are crafted from exquisitely tooled leather uppers, with sturdy stitching and a polyurethane sole. They have a platform that measures approximately .75 inches for a little added oomph without taking a toll on your feet. The heel itself measures about two inches and is molded as a rocker bottom to provide shock absorption to help spare your feet, ankles, and knees, as well as stress relief for your leg muscles.
They come equipped with a firm, contoured midsole that provides ample arch support and a very spacious toe box, so your feet won't feel pinched as the day wears towards completion. The soles are also non-marking and textured to prevent serious slipping on smooth tile or wood to provide extra benefits for nurses who are constantly on the go. You can buy them in either black or a charming, rich brown—or both, as the case may be.
Pros
They have clean lines that appeal to my sense of style, which is a blend of modern and classic.
They are true to size, which can sometimes be an issue with women's shoes.
They look polished enough for professional wear.
They are equally at home running errands in jeans.
Even after hours of standing and walking around the hospital, my feet, legs, and back don't hurt.
These shoes are extremely durable.
Cons
Because they have natural leather uppers, they do scuff easily.
Wide in the front, but narrow at the heel.
Some others who purchased this shoe did find them uncomfortable to wear for long periods of time.
Other considerations
While Dansko makes great shoes, clogs, in particular, some people may find this a difficult shoe to wear. Individuals with an especially wide foot, especially at the heel may experience discomfort if they need to stand for long periods of time. This is usually because their heels are not seated well against the interior of the shoe, and can be a major source of stress and impact fatigue. It is advised that if you have a wide foot or a generously proportioned heel, that you try a pair of Dansko clogs on before you elect to purchase one or more of their delectable designs.
Epinions, a site that specializes in product reviews but does not directly sell products, has a host of additional and very helpful reviews if you're on the fence about this particular shoe. If you are a lady with heel considerations and suspect that this particular product is not for you, you might investigate the Sketchers Work Clog for Women, also marketed on Amazon.
Sketchers has a name for workplace footwear that won't give in on comfort. It also provides footwear with a roomier heel, while still maintaining the incredible comfort of their shock-absorbing soles, sturdy construction, with a stylishly understated sleek line.
Overall, Dansko has brought yet another toothsome temptation to nurses. Add this gem to your collection of clogs and show them off to your friends and coworkers. It'll be our secret how sumptuously comfortable they are, because who would ever guess with such a beautiful shoe? Treat yourself to a pair and discover the Dansko difference of long term wear with comfort and style.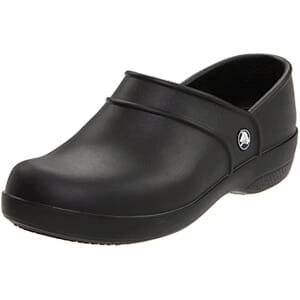 Let me start off with the pros and cons of the Crocs Neria Work Clog
Pros
Lightweight
Comfortable arch support
The Crocs Lock slip-resistant tread
Easy to Keep Clean
Affordable
Cons
The bottom is hard to clean
They lack the footbed circulation nubs
The best work shoe?
These Neria Work Clogs look great with just a little care. When I get home, I just take soap and water and wash the outside and inside and wipe them dry. One thing I've noticed about all my Crocs is that they dry so quickly. The material is so amazing! As for the bottom of the shoe, you have to work a little bit to get them really clean. I clap them together, bend them a little, and put them under running water. With just a little effort, I can get them sparkling and looking like new again.
These Crocs are great for the summer as well as winter months. These work Crocs will keep your feet nice and cozy in the colder months and cool in the summer. In my workplace, they're an excellent choice for any weather condition. I walk to work and don't have to worry about rain or snow. No matter what season it is, or if you work in a cold environment, these work Crocs are the answer for you to wear year- long. As an added bonus, the Crocs shoes are odor-resistant which is important if you wear them all day at your job and during any season.
What I really enjoy about Crocs is the lightweight of the shoe– something that the Croc name brand is so famous for. I've worked in other types of work shoes provided by my employers and I've felt like I was dragging around bricks instead of shoes! Then I bought some Crocs and now almost all of my shoes are Crocs.
They are so light, yet so unbelievably comfortable and attractive. I really enjoy wearing them when I work. They are perfect for standing for hours on end because of their arch support and their famous Croslite material that's so soft and molds to your feet for a perfect fit. When I wear these Croc work shoes, I don't even think about them because they aren't hurting my feet!
These work shoes have really kept me from slipping, as I have a job where I'm busy running on wet and greasy floors. I tried to wear other shoes to work only once, and I found out how valuable these slip-resistant shoes really are. I was slipping and sliding all over the place; but with these work crocs, there is no slipping whatsoever! These work Crocs make me feel safe, not only at work but when I'm walking to work in any weather condition.
A lot of shoe for the money
The price of these Crocs is really a bargain. Even if they do run a little pricey, I really don't mind spending a little more on them because these shoes last so long. I've had my Crocs for several years and they still look great! I used to have to buy shoes every year, but not anymore. Like Timex, Crocs can take a licking and still keep working for you.
No more aching feet for me!
Since I started wearing Crocs, I don't come home from work with aching feet. My feet ached so bad that I didn't want to get out of bed at night to go to the bathroom. When I wear my Crocs, I feel like my feet get a message all day long. My aching feet problem is a thing of the past, thanks to Croc's shoes!
I do wish, however, that these particular Croc work shoes had the little circulation nubs in the footbed of the shoe. To me, this addition is what makes Crocs so special and desirable. I think that the reason my feet don't ache is because of those circulation nubs in the footbed of the shoe.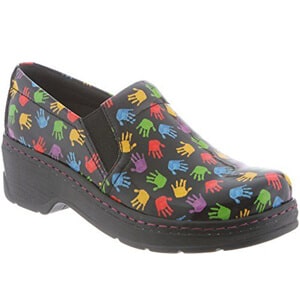 Ok nurses…check this one out. Klogs USA Women's Naples Clog are advertised to give wearers a feeling that is better than being barefoot because they fit so well. What I like about them is that they are very easy to slip into, since there are no laces to tie. I've also found through personal experience that clog-styled shoes are very comfortable and easy to wear if you are on your feet all day.
According to most users, Klogs USA women's Naples clogs feel good even when they are worn all day. Many nurses have given Naples clogs very positive reviews, especially those who have to be on their feet for a long time.
These shoes receive excellent ratings for wear-ability, versatility, comfort, slip resistance, and sturdiness.
How many colors and patterns?
There are 35 interesting colors and so many interesting patterned styles to choose from. I think any working woman will find exactly the right shoe to go perfectly with her wardrobe. Some of the most popular colors are solid black and pure white. These colors are preferred by those who work in professions like nursing. Other interesting design choices include scroll patterns, floral designs, and a denim-look clog that would be perfect for casual wear.
Women's Naples clogs have durable, stretchy elastic inserts to give users extra foot room and better fit. They seem like they also conform to the shape of the foot for more comfort. Users have said that they are cozy from the first day they are worn. Not all shoes fit well right away. Many shoes need some time to be worn and broken in before they become comfortable.
Who are these shoes good for?
These shoes would be a smart choice for nurses, dental hygienists, teachers, retail workers, veterinary workers, and factory workers. They offer comfort and durability for anyone who must be on their feet a lot. They also work well for everyone who loves to wear relaxed shoes. They would be great for kicking around on weekends and during free time while pursuing leisure activities.
Concrete floors are easier to stand on, and both standing and walking become easier when shoes are comfortable, and when wearers have confidence in their shoes. When people come across conditions like wet spots on floors, slippery areas, or rough and uneven pavement like cobblestone walkways, Naples clogs offer excellent traction and give wearers extra confidence and a sure-footed feeling.
Pros
Comfort even when worn all-day
Users report they help to ease heel pain, arch pain, joint, leg, and hip pain
Shoes help to promote better posture through better than normal arch support
Extra room in the toe box for more comfort, with no pinching
Shoes are attractive and come in a great variety of colors and designs
Cons
A little on the pricey side, although many wearers claim that they are worth the price
Sizes run a bit big, which means that buyers should order about a one-half size smaller than usual. It seems like sizing problems make it necessary for some wearers to exchange the shoes for a different size.
Some users report a snug fit across the top that loosens over time. Others say that Naples clogs are comfortable right away.
The best benefits Of Klogs USA Women's Naples Clogs
Naples clogs make standing and walking all day more bearable and so comfortable that walking feels more natural. Most users report no more foot pain like they have had with other shoes once they've tried Naples clogs. Many reviews come from those who work in professions that call for lots of standing and walking. The exceptional arch support offered by these clogs makes some wearers say they now have better and straighter posture. People with flat feet also claim the good arch supports help their feet to feel better.
7. Dickies Slip-Resistant Shoe: Best Athletic Shoe for Female as well as Male Nurses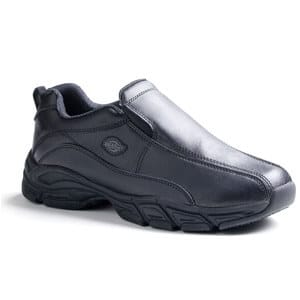 One of my friends is a male nurse, As a male nurse, he is on his feet for nearly 12-hours each and every day. Not only is this difficult on his first shift of the week, but it gets increasingly hard as each day passes and his body doesn't have time to recover. It is vital to have a pair of shoes that are both comfortable and accommodating to the conditions that are in a hospital.
Luckily, I have found those with the Dickies Men's Slip-Resistant Shoe and I recommended him to use wear it. I have always been a fan of Dickies clothing, so it should come as no surprise that their shoes are just as durable and reliable, while also providing a great look that matches my scrubs well. Here is further detail into my opinion on the Dickies shoe.
Comfort
Obviously, when you are on your feet all day, comfort is the prime concern. The Dickies are some of the most comfortable shoes I have ever worn, inside the hospital or out. They have a great feeling pad inside the shoe that is soft on my feet, but there is also enough arch support to where my back doesn't begin to hurt after a long shift as well.
Another important factor in comfort is how much the shoe weighs. With as lightweight as the Dickies are, it makes for less fatigue on my legs after a long day that is full of running from one patient's room to another.
Lastly, these shoes can be easily slipped on or off, making for even more comfort when I need it in a hurry. Best yet, even after all that slipping on and off, the shoes haven't lost their shape at all and are still as comfortable as the first time I wore them.
Size
The Dickies don't fit like some other shoes. I would actually recommend going down about half a size, as that seems to have worked best for me. I don't know if this is something that is common in all Dickies shoes or just this model. However, once you do find the size that is perfect for you, I can't see any reason to complain. Once you find the right size, I'm willing to bet that you'll be quite pleased with the comfort that they provide.
Durability
I have had these shoes for quite some time and haven't noticed much in terms of wear and tear. Sure, they are like most other shoes in that they have accumulated a few scuffs here and there. But after further looking at the heel and soles, I can't say that these shoes look as if they are as old as they really are. Instead, they seem to hold up for much longer than other models of nursing shoes.
Style
The Dickies comes in either black or white. It doesn't seem like a ton of options, but it's likely to be all you'll ever need to match your scrubs. And unlike some other shoes, these can be worn outside of work too. I typically only try and wear them inside the hospital just to differentiate work from personal life, but they have come in handy in a pinch after work as well.
Pros
Very comfortable.
Dickies are known for their dependable gear for hardworking people.
Look great.
Perfect for slipping on and off.
Cons
Took me a few tries to get the right size, which was different from most others, but once I did, it was fine.
If you are a male nurse who is looking for a pair of shoes that are comfortable and reliable, I highly recommend the Dickies Men's Slip-Resistant Shoe. After trying many different types of shoes, I would say that these are some of the best.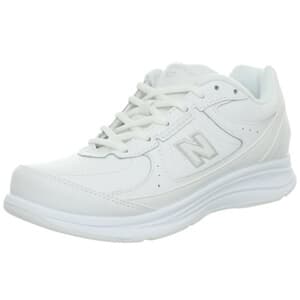 The WW577 Walking Shoe is low to a mid-range priced shoe made by New Balance. I started out researching this shoe as a decent daily wear shoe for a senior citizen on a recommendation from a friend (I did not buy this shoe).
What follows is a breakdown of what I found in my research of who can comfortably wear this shoe, and why it was not the shoe for me. I hope you will benefit from my inquiry.
New Balance advertises this shoe as being a leather shoe with a rubber sole, an "Abzorb" heel (their name for their brand of cushioning), with a walking strike path and "assembled in the US", which means that less than 70% of the shoe materials came from the United States, but it was put together here.
Pros
Deep toe box
High arch support
Made of leather
Good heel support
Fits well with orthotics
Cons
Not enough cushioning insole
Too narrow in the heel
Generally uncomfortable
Wore out too fast
After reading dozens of reviews (believe it or not, this took only about 10 mins.), both positive and negative, I reached the conclusion that the people who are happy with this shoe are only light exercisers who do not give these shoes a real run for their money. The people using the shoe for regular wear complained of the lack of regular padding and discomfort on a daily basis. Some people said they had moved up to a similar but more comfortable shoe, the NB1080.
Most people who complained about this shoe seemed younger and fitter. They expected more from the shoe than it is perhaps made to deliver. I began to suspect that the problem was in fitting the right shoe to the right person.
With this in mind, it should be said that there were more happy reviews than negative ones. So why am I not buying the shoe? This shoe is best suited for a person who does not exercise as heavily as I do.
NB577 best suited for:
Senior citizen
Someone with narrow heels
Light exerciser
One who wears Orthotics
One who needs a large toe box
Who should not buy this shoe?
Heavy walker or exerciser (not enough cushioning)
Someone who walks many miles per day aerobically
Someone who wears these shoes and spends a lot of time on their feet daily might also find they become weary or uncomfortable in these walkers due to the lack of padding, and might want to include an insert as several reviewers explained.
If you are a regular fitness walker and do not need the large toe box or wide size for orthotics, invest a bit more and try NB 1765 for more aerobic walking.
While you're at it check out New Balances Good Form Walking to improve your exercise form. It's what I'm going to try.
9. Nike Shox: Best Running Shoes for Nurse That You'll Absolutely Love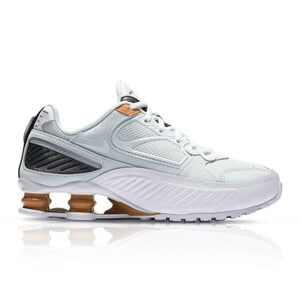 A bunch of nurses has recommended the Nike Shox, so we wanted to review them. Nike brings you yet another pair of great shoes. They were designed to help hone our skills on the trail or track, but they seem to strike a chord with nurses. They are packed with a bundle of great features and crafted with high-quality materials that will stand up to whatever you throw at them. So, let's talk turkey, daddies.
General features
First, they create a splash wherever you go with striking black uppers and brilliant orange accent coloring. They're made of durable synthetic and mesh uppers, with a rubber sole that combines the perfect balance of firmness and flexibility. Nike made these shoes to hit the road but incorporated some excellent shock absorbers so you won't feel like the road is hitting you. In the end, this will save your joints and also help you keep going longer and farther with less fatigue at the end of your nursing day.
They are lightweight even while being some of the toughest shoes on the market, so you won't feel like you're dragging cement blocks uphill. As well, the mesh tops allow your feet to breathe while you are making your rounds. No blisters here, thank you very much.
While the fit is snug, keep in mind that blisters develop at key points on your heel and sole when the shoe is too roomy. It's important that, while your feet should be able to perspire and dry within the shoe, there isn't any leeway for those painful results of friction to develop.
Synthetic materials are gaining recognition as preferable to natural materials for a number of reasons. First, unlike leather, synthetic uppers will retain their suppleness even if you get them wet. They also won't wear and tear in the same way as leather or natural fiber fabric shoes. This often leads to a longer functional lifespan.
Pros
Attractive design and colors
Firmly seated heels
Quality construction with breathable materials
Shock-absorbing soles
Supportive shape that holds up
Great even broken in. Super comfortable.
Cons
Snug fit in the toes. (This will ease with continued wear.)
Sized a bit small. Order a half-size up.
Only one color selection.
Soles were a bit hard the first time out.
Some other points of reference
I can remember feeling a bit lost when it came to selecting the best shoe for my particular foot and work routing. What do you do when you're buying new shoes? First shoes? You could ask fellow nurses, friends, relatives, and even trainers. But if they tell you that a specific shoe works great for them, you really need to remember that it might not be precisely what you require.
The right shoes are every nurse's best protection against injury during the workday and overtime. If your shoes aren't a great fit, you'll wind up with blisters, muscle fatigue, and joint strain that you could otherwise have avoided. So, what I always recommend is to consult Runner's World. They offer guides on the season's hottest shoes as well as considered reviews of the industry's mainstays. They know their stuff, and they are there to offer advice to runners of all skill levels, body types, and walks of life.
I also recommend ordering and trying on several pairs of shoes if you've never purchased a pair of runners before. Another great shoe available on Amazon is the New Balance Women's W770v3. It has similar mesh and synthetic materials, allowing your feet to breathe during your workout while offering ample support and shock-absorbing features.
Unlike the Nike model, this shoe has a much roomier toe box that won't make your feet feel crowded. If that's something that you know will bother you during your workday, I recommend scouting out this shoe, and others like it in order to find one that will accommodate your toes.
10. Best Sneakers for Nurses – Highly Recommended Sneakers to Help You Work Better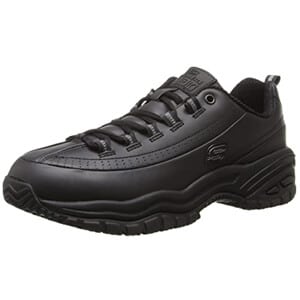 Nurses spend hours on their feet and I believe it is very important they have the most comfortable shoes around. Don't you agree? For many nurses, sneakers are the preferred shoe. If you're a nurse or have a nurse friend who's in need of great sneakers, continue reading for recommendations for the best sneakers for nurses.
Recommended sneakers
Skechers for Work Women's Soft Stride-Softie Lace-Up. These shoes are available in white or black and are constructed of leather. This makes it easy to clean. They also feature a non-slip sole which is excellent for nurses.
Most wearers have reported them as being very supportive and comfortable. Many people have seen them last for more than a year of working 40-50 hours per week. These shoes are durable and have removable polyurethane inserts. This makes cleaning them easier. If you feel the shoes going flat, you could choose a different or gel insert for more support.
Men should check into DAWGS Men's Working Destination PMW Clog. These shoes are made of synthetic materials and feature antimicrobial insoles. They also provide superior arch support and are specifically created for extended wear. People who own these clogs report these shoes are excellent for long wear and are easy to clean. That's a bonus! Wearers have also reported them lasting for more than a year.
Other great shoes I would highly recommend include:
Quick tips
So you're heading out to the shoe store to try on some new shoes. Smart move, those comfortable shoes will fight off fatigue and keep you on your feet longer. What exactly should you be looking for when trying on shoes?
You should look for shoes that have a good supportive arch. Getting the perfect fit is extremely important. Shoes that are too large aren't a good choice. These shoes are likely to rub against your heel as you walk, leaving painful blisters. Shoes that are too small will feel tight and can lead to corns, bunions, and calluses. Remember there are many sizes and widths of shoes available. Wide width and narrow width are good choices if your feet deviate from the standard shoe sizing available.
Safety in the workplace is a priority among employers and most will recommend non-slip shoes to keep you safe. Some employers may also ask that you purchase shoes that are quiet and non-marking. Certain employers have restrictions on the color of your shoes and others are more lenient. Most shoes for nurses are white or black. White is a very traditional and popular color for nursing shoes. If you choose white shoes, it is important to find ones that are marked "easy to clean."
These are just some of the tips and best sneakers for nurses that I've come across during my research. You might have a few more to add to the list. Remember to try on plenty of different styles and sizes. Look for comfortable shoes with the perfect fit and you will be a happy nurse!
Conclusion
To be exact, it depends upon your nursing duties. For some nurses, due to their activity schedule, backless shoes (meaning quasi dress shoes) are not an option no matter how stylish they might be. To be kept on the foot, they must be tight across the arch, or you have to scrunch your toes up to hold them on. Long hours of either of those methods mean sore feet and cramping toes.
On the other hand, clogs with backs offer roominess and comfort, and maybe an excellent choice. But if you respond to code calls or do any running, clogs can fly off.
Tie-on shoes may be a better choice, and many shoes have shock-absorbing properties. ER nurses should wear shoes with solid toes to protect the feet from being run over by wheelchairs and gurneys. For obvious reasons, all nurses' shoes should have solid uppers to keep feet from coming in contact with spilled substances, and have non-skid soles because those substances can be slippery. Nurses who work in intensive care will value rubber soles, or any soft sole, for another reason. They are quiet.
What are the top shoes for nurses on their feet all day? There are some general guidelines, but the best shoes for a nurse is the one best for you.
To be concluded
If you are a woman who prefers a tennis shoe, the K-Swiss Women's Grancourt II is one of the best options you can go with. Unlike the clog options mentioned below, this shoe has laces and will certainly have to be considered before you purchase a pair. For some people, they like having the option of slipping clogs on and off. However, other people prefer laces and the solidity that they provide.
Other than that, the Grancourt II is a really neat design that looks great with a pair of scrubs. K-Swiss is a popular brand, which can be seen with this all-white shoe. If you have a medical condition, like plantar fasciitis, then you may want to consider a tennis shoe that will keep your foot elevated and secure. You can expect that from the Grancourt II offered by K-Swiss.
Another option for women is the Skechers Women's Shape Ups. These shoes have a really high platform, which is extremely comfortable for nurses who are on their feet for hours-on-end each day. Although these shoes have laces, which keep your foot more stable and secure, the nylon loop on the heel makes it easy to slip on and off when you are in a hurry. Overall, the Shape-Ups provide comfort and ease, which is perfect for any nurse in a hospital environment.
For men nurses or medical professionals, the DAWGS Working Destination Clog is a great option at a friendly price. This shoe is a low top design, with a comfortable sole that makes being on your feet for many hours more bearable. These shoes also have great tread, which is especially handy when you are running around hard floors that are in hospitals.
As for the style, this DAWGS model is simple, yet aesthetic enough to be worn in other situations. Because they have a back to them that other clog shoes don't offer, they are more adaptable to different scenarios when needed. The only downside, which comes because of that attached back, is the fact that they don't slide off and on as easily as others. Nonetheless, the added stability is often more of a bonus than a detriment. Overall, the DAWGS Working Destination Clog is a great choice for male nurses.
Another option for men is the Sketchers Balder Clog. Sketchers is a great brand that many people are familiar with, so it should come as no surprise that this company makes such a quality clog that is perfect for male nurses. The arch on this shoe is a bit larger than other options, but it doesn't make it uncomfortable.
Instead, the higher arch makes this shoe more adaptable with what you are wearing. These clogs are perfect for working at the hospital, but you can also throw on jeans after work and be comfortable with a pair of Balder Clogs. The Balder Clog only comes in black or white, so the choices are a bit slim. However, these two options are stylish enough that most people will be happy with either one.
Being on your feet for many hours a day is just part of the life of a nurse. The fact that you're not just on your feet, but also running from room to room, making sure that all of your patients are pleased. Therefore, having a relaxing shoe that you can rely on to provide comfort all day long is a necessity.
Depending on your preference there are plenty of options available for great nursing shoes especially in 2023. Having sore feet at the end of a long shift is never desirable, especially when you have to go back the next day and do it all over again. Consider the shoes on this list if you are looking to find what are the shoes for nurses to wear on a regular basis.