The Littmann brand is well known and is the one that we recommend based on many user reviews over many years. Again and again, people express their satisfaction with Littmann since it lasts for many years. This equates to excellent patient care repeatedly throughout your medical practice.
You can't put a price on accurate diagnoses for your patients and it is a given that their health depends on your skill and diligence. To assist you in providing the best patient care possible, consistently, and accurately, you need quality tools.
While you can find nearly as good features in cheaper models, why take a chance on missing a vital piece of information in your patients? Have peace of mind by knowing that you have great equipment, which supports your efforts at giving your patients top care every time.
If you want to buy a stethoscope of the best quality with no limits of price and cost, then you need to make a thorough search, read lots of reviews and see what the latest in the market is. To save time, we have prepared a comprehensive review. After days of research, we have come up with the top 6 best Littmann stethoscopes that dominating the market in 2021.
Top 6 Best Littmann Stethoscopes
Before you buy a Littmann stethoscope, just be sure of what you want to get out of it. If you are a doctor, then only the best should do as you need one that serves all your needs completely. With so many varieties and brands available both offline and in your local medical stores, you need to be all the more careful so as to get the best value for money.
If you don't have enough time to read the full review, as a short recap check out those bad boys.
Also, consider the American Diagnostic Corporation Adscope 603 Platinum Edition which is one of the latest entrants.
No further delay, Let's dive into the full review.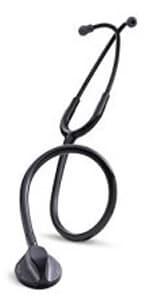 Littmann Master Classic II looks just like the ordinary stethoscopes that are sold in the market. Just like the classic scopes, it has a single-sided chest piece.
Now, based on the different reviews of stethoscopes that were made, a single-sided chest piece only offers a limited range of sounds that can be detected compared to the dual-sided chest piece.
But what makes this stethoscope better than other single-headed scopes is that it has a tunable diaphragm that allows the users to alternate from high and low-frequency sounds as though they are using a dual-headed scope.
The Stethoscope is Very Convenient
Due to the single head chest piece, this stethoscope is very portable and lightweight as well. The soft ear tips also add more convenience to the doctors since the scope does not strain the ears of the users. Moreover, the convenience is also dictated on the price of this scope. This scope can be bought from $100 to $200.
Aside from it is convenient to the user, the patients also benefit from this scope. The Littmann Master Classic II stethoscopes have non-chill rims for the chest pieces thereby making patients feel comfortable whenever they are in for a check-up.
Due to the many benefits that this scope offers to the resident doctors and to the patients, this is the only scope that resident doctors should own before they move up another level in their careers and before they take on a specialization.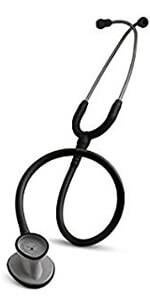 Who would have thought that all of the features mentioned earlier are found in the Littmann Lightweight II S.E. which is considered to be the most lightweight stethoscope in the market in 2021?
This just goes to show that looks can really be deceiving and this Stethoscope's capacity should not be underestimated.
The Students Can Still Be Fashion-Savvy With the Scope
This stethoscope comes with different colors for the rubber tubing and this attribute is very important among many medical students particularly the female med students. Especially those who are yet to get serious at med school, consider the physical appearance of the equipment that they buy.
Fortunately, the Lightweight II S.E. stethoscopes are featured to have different colors for the rubber tubing thus any fashion-savvy students can pick up their own choice and still look fashionable in a white suit.
Provides Powerful Acoustics For Better Prognosis
When it comes to the Lightweight II S.E. it has high acoustic sensitivity thus it can hear a wide range of sounds from inside the patient's body.
To be able to do this feat, the stethoscope comes with a tunable diaphragm and a dual-sided chest piece. The thing here is that the features are ensuring that the scope will work properly and can deliver excellent acoustics for your needs.
The Scope Is Also User- and Patient-Friendly
Due to the presence of the non-chill rims, patients are not given a surprise when you are checking them up. On the other hand, if you are also still starting this career, you might find that wearing a stethoscope in your ears can be straining.
This is what you will likely experience with other scopes. But with the presence of soft ear tips, you will no longer be straining your ears all the time in order to hear the sounds well.
The Scope Is As Functional As It is Cheap
What is great about this stethoscope is that they are offered at a very reasonable price. In fact, you can buy a kit between $50 to $100 and yet get the same features as what other brands offer for very expensive prices.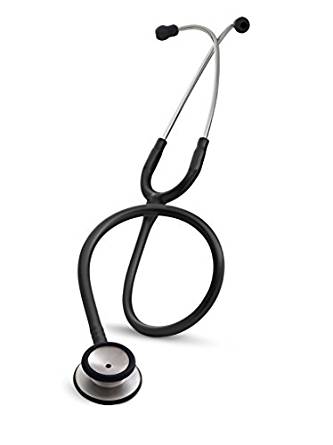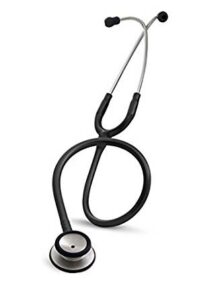 Littmann Classic II Pediatric as infant stethoscopes features the original floating diaphragm technology. You will find all models featuring single-lumen tubing with a non-chill rim.
These stethoscopes are sized optimally to make it possible to hear sound sources in smaller patients. These young pediatric patients deserve the best attention and care from you.
These Stethoscopes are specially developed to take care of the smaller frames. Allowing the user to hear both the high as well as low frequency, these Stethoscopes are latex-free and come with a three-year warranty.
Product Features
One-inch conventional bell
3/4 inch bell
A floating diaphragm
The stainless steel chest piece
First-rate acoustic seal
Comfy fit with patented Soft-Sealing Ear tip
Single-lumen tubing available in attractive colors
Weight is 125 grams
The Stethoscope is angled at the right place to give optimum comfort with an anatomically correct headset. A three-year warranty offers free repair or replacement during this period. This stethoscope supports a solid stainless steel chest piece for supreme acoustic sensitivity.
Pros
This Stethoscope is designed uniquely for smaller frames. Patient comfort is guaranteed when using the no chill rim and diaphragm. It is so durable that it can be flexed hundreds of times with no damage.
Choose a tube color and chest piece finish to suit your style. You will get a large variety in this model. You can make out both high and low and high-frequency sounds. It is latex-free and comes with a 3-year warranty.
Cons
One needs to be careful about the default volume which can get altered accidentally changed. You need to set the volume level that is most suitable for you.
3M Littmann Classic II S.E. Pediatric Stethoscope is an excellent acoustic product. Known for superior performance and high acoustic sensitivity, it comes across as the standard stethoscope in the industry. With a rating of 7 on a scale of 1-10 for performance, it exhibits amazing quality.
It's anatomically designed headset that is strategically placed helps you get the optimal sound transmission.
The tubing permits you to fold it easily without any worry of damaging it or breaking it. With a 3 year warranty, you can enjoy replacement and repair.
Although there are cheaper Stethoscopes available, you'll certainly be using this one for years. You will simply love the color and looks.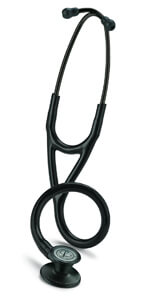 Its available in the color black, this versatile and outstanding stethoscope is designed for acoustic excellence.
It is highly popular both amongst the medical students as well as medical professionals for their clinical experience. One can pick up the slight murmurs very easily.
The 3M Littmann Cardiology IV Stethoscope is well known for its durability and quality. You would absolutely love this device.
Let's take a look at the main features of this stethoscope:
Available in black color
Used in cardiology
Gives high performance
The element of two-tubes-in-one-design
Five-year warranty
27″ in length
Soft-sealing ear tips
Cardiology IV an outstanding as well as a versatile stethoscope. The "two-tubes-in-one design" gets rid of any noise. Offering great acoustic efficiency and great versatility, it supports two patented tunable diaphragms for taking note to both high as well as low-frequency sounds.
The bigger side is used for mature patients, while the smaller side is useful for children or thin patients. These are also useful against bandages, and for carotid assessment.
Pros
Talking about the positive side, it offers great sounds and is diaphragm convertible to bell or remain as a pediatric diaphragm.
With top-quality performance, one can switch from pediatric to adult by twisting the stem of the chest piece.
With superb auscultation and tunable diaphragm, you can recommend it to all your colleagues and especially medical students. It offers better performance without the guesswork that comes with tunable stethoscopes.
Cons
Some users find it a little heavy than a usual stethoscope. The tubing attracts lint and is slightly on the heavier side. It is a good and solid Stethoscope but perhaps pricey. The tubing may get stiff after a couple of years and may get cracked, depending on the use also, the design does not work well on rounded surfaces.
3M Littmann Cardiology IV is highly recommended because of its versatility. With top quality in auscultation, this is one of the best and it's famous for its quality as well as durability. Many users may find it a bit pricey but overall it is worth the money.
Go ahead and buy this highly sought after Stethoscope by Littmann. You won't regret the purchase, you will absolutely love it.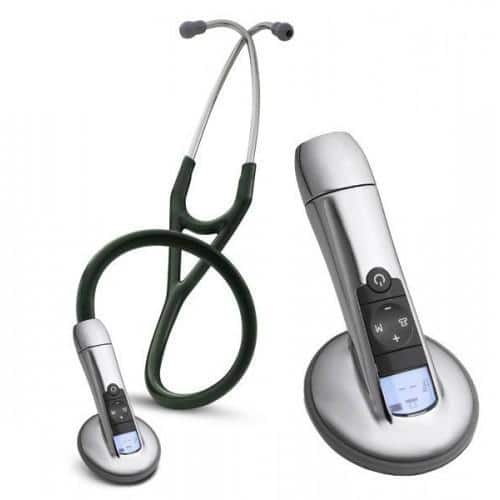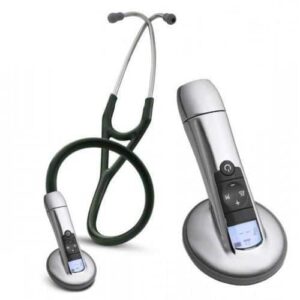 As a medical professional, it is of paramount importance to exude confidence in your abilities and offer the topmost services for your patients.
With a top-quality Stethoscope such as 3M Littmann 3200BK Electronic Stethoscope in your hand, your confidence will naturally get a boost as you will be confident of your readings. With its high tech features, you will obviously do your best.
Let us take a look at the technical details:
Overall acoustic performance is 10 plus on a scale of 1-10
Used in main application areas such as cardiology
Noted for its/high performance
Made of durable metal
Chest piece design and technology
Headset material
Wide diameter aerospace alloy
Diaphragm details; 51.0 mm
Littmann 3200BK Electronic Stethoscope with its ambient noise reduction technology helps you to hear critical body sounds and thus making your diagnosis accurately.
It can successfully eliminate about 85% of distracting background noises, without having any effect on the critical body sounds that you need to hear. Offering extra listening power, it helps you to focus on what you need to hear with the help of its frictional noise reduction technology. One is able to hear a much wider range of sound frequencies.
Surprisingly lightweight, it is very convenient and comfortable to use. The no chill rim and diaphragm offer comfort for the patient. Its rugged design and two-year warranty make it durable to work with.
Pros
The stethoscope is durable, easy to use, and lightweight. It amplifies the sounds from our vital organs like heart, bowel, and lung very well so that you can hear them properly. You can also adjust the volumes. It can shut off automatically after 3 minutes and is easy to clean too.
Cons
For some mysterious reason, it is strange that the chest piece somewhat curved and is convex-shaped rather than flat. As the diaphragm swells out towards the patient, it gets very tricky to keep it flat and motionless against the patient's skin, especially if the patient is old, thin, or on children.
Sometimes, it also picks up little movements of your fingers or hands, or of the tubes. You will also have to wait for the small-time period from the moment it is turned on. Moreover, you will not come to know if the battery is running low.
Based on what the users, medical professionals, and nurses have to say, the Littman 3200 is a huge improvement over the 3000 model. This is a superb stethoscope with just the right size and weight. It is not fragile and the sound quality is amazing. This is definitely strongly recommended.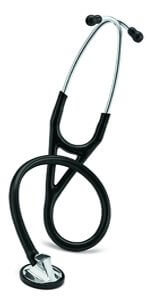 Known as the supreme in acoustical stethoscope, this Stethoscope is really a masterpiece.
Designed to allow you to listen to both low as well as high-frequency sounds from an original handcrafted polished stainless steel chest piece that is single-sided, the Stethoscope includes a seven-year warranty.
With a noteworthy enhancement in low-frequency response, these stethoscopes offer the best acoustics ever.
Let us see the product specifications.
Product Features
Patented tunable diaphragm
Varying between low and high frequencies without rotating the chest piece
Two tubes are fitted in a single-tube design
Flexible patented adapter designed for precise auscultation of difficult body sites
Headset assembly is set at an anatomically correct angle permanently to reduce air leaks
Snap-tight soft-sealing ear tips guarantee the greatest comfort and brilliant acoustics
The 3M Littmann Master Cardiology is at the top of the line in the Littmann Cardiology series. It is greatly recommended for cardiologists and other medical professionals. Even critical care nurses, emergency physicians, pediatricians, and neurologists are known to use this model.
It is accessible in 7 colors for a personal style. You will not hear any noise that is created from two tubes rubbing together and avoid the headset from getting slackened with time. The product is for cardiology specialists.
Pros
A much superior stethoscope than Cardiology III, it is great in looks too. You can really feel the difference when using this stethoscope.
The clarity of heart and breath sounds will simply blow you away. Once you use this superior product, it would be hard to go to any other Stethoscope.
You will be impressed with the pressure-sensitive feature letting you listen to both high and low-frequency sound without turning your head. The material is good and of a durable nature.
Cons
In a sitting position, sometimes it gets quite difficult to get the right position. Many users find it to be overrated and a little high on the price.
With a perfect 10 out of 10 on performance rating, you will come across a rising number of satisfied buyers of the 3M Littmann Master Cardiology.
Modern tunable technology, durable design, and top-quality acoustics are the hallmarks of this Stethoscope. It offers an outstanding low-frequency response which is very essential for heart sounds. It's definitely worth the investment!
Comparison Chart
Preview






Name
3M Littmann Stethoscope, Master Classic...
3M Littmann Lightweight II S.E....
3M Littmann Classic Pediatric...
3M Littmann Stethoscope, Cardiology IV,...
3M Littmann 3200BK Electronic...
3M Littmann Stethoscope, Master...
Diaphragm
Polyurethane-Coated Silicone 2"
Material
Plated and Polished Alloy
Metal and Resin Composite
Preview

Name
3M Littmann Stethoscope, Master Classic...
Material
Plated and Polished Alloy
Preview

Name
3M Littmann Lightweight II S.E....
Material
Metal and Resin Composite
Preview

Name
3M Littmann Classic Pediatric...
Preview

Name
3M Littmann Stethoscope, Cardiology IV,...
Preview

Name
3M Littmann 3200BK Electronic...
Diaphragm
Polyurethane-Coated Silicone 2"
Preview

Name
3M Littmann Stethoscope, Master...
How long do Littmann stethoscopes last?
You'll typically get about 2-3 years of use before symptoms such as broken rubbers or cracking are noticeable.
A stethoscope's lifespan will depend on the frequency of use and environment. However, if you take good care of it by rub-sparingly wiping it down with a mild soap solution after each use and storing your stethoscope in its case when not in use, then your Littmann stethoscope should last for many years.
A good rule of thumb is to replace your Littmann model every five years or so; although know that all models will die eventually (every product eventually expires). The difference between high and low quality circuitry inside can make a big difference though.
Are Littmann stethoscopes that good or is it overrated?
It's not overrated.
It seems to be highly popular among medical workers for a few reasons: they are well-understood, robust enough to withstand hard use and exposure to dust and fluids, and the tubing is free from cracks that can allow air leaks. The accuracy of the stethoscope is primarily determined by its bell; you can do most things worth doing with any Littmann stethoscope without compromising it—granted, there are differences in frequency response due to varying construction materials. Littmann offers three different types of stethoscopes designed specifically for pediatric, general practice or cardiac care needs.
Conclusion
Buying a top quality Littmann stethoscope can be challenging. When you set out to buy a stethoscope, keep in mind that you are purchasing the most important tool that should help you in not only working faster but better too. Buying a stethoscope is a personal choice based on your own specific needs and specialty. You will come across plenty of manufacturers and models for stethoscopes, but generally speaking, there are two major kinds, the single and the dual head, although the dual head kind is more popular.
As a health care person, you are a professional with a career and you are responsible for many lives. Compromising on price and quality means playing with the lives of others and you could easily land with an unreliable and inaccurate stethoscope if you are not careful. Littmann is a name of trust, if you chose one of the above-mentioned stethoscope, you can rest assured that you have a reliable tool in your hand.
Last update on 2021-08-05 / Affiliate links / Images from Amazon Product Advertising API