CNA's work long shifts on their feet, moving around hospital floors to attend to patients. They are constantly on the move during their shift, running errands for doctors or nurses, bringing meals to patients; they may be asked to use a mop and bucket at some point in the night too. All of these activities take its toll on your feet if you're not wearing the right kind of shoes.
CNAs need comfortable but sturdy shoes that protect their feet from injury and infection while providing excellent traction on slippery floors. This blog post will provide the top 7 CNA nursing shoes to help you enjoy your career with good health.
Recommended Nursing Shoes for CNA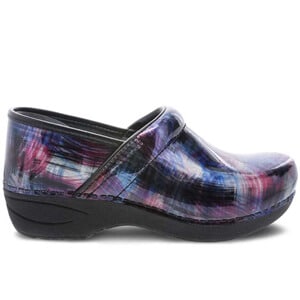 This clog is made of genuine leather upper with a fully padded footbed to keep your feet extra comfortable throughout the day. It has an anatomically contoured, removable insole that provides stability and enhances circulation. The heel measures 1 ½ inches high, which will help any nurse maintain good posture while walking into work or standing for extended periods of time caring for patients.
The company states that this shoe comes in various widths because it was designed to fit over the ankle bone comfortably. This makes it easy to put on and take off when working at hospitals with mandatory uniform policies where nurses are not allowed to wear their own shoes inside.
Pros
This shoe is available in both medium and wide sizes to accommodate different foot shapes!
Dankso clogs come with a guarantee for manufacturers' defects.
This shoe will last considerably longer than other popular brands in this price range.
Cons
The downside is that these clogs do not provide arch support, especially if you have flat feet. However, I had great results from wearing full-length insoles inside my clogs to help correct my own arch issues. You can also purchase an insert at Walmart for around $10 that includes both heel and toe support.
These shoes are heavy when compared to traditional nursing shoes or sneakers. These might be hard for nurses who prefer to wear flats or athletic shoes on their days off because they feel like clown shoes!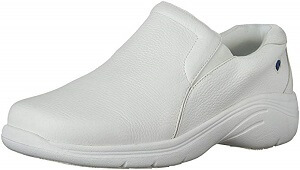 This popular nursing shoe is made of a leather and canvas upper to ensure durability and easy cleaning. The rubber outsole will not leave your feet feeling tired or sore at the end of the day. Although this option does not come in wide sizes, those with wider feet may find suitable comfort from wearing this shoe as it provides ample room for moving toes inside the shoe without creating too much friction. The company states that they do plan to release additional widths soon, however.
This is a great option for nurses who are on their feet all day every day because it has the additional heel height of 1 ½ inches, so you can maintain good posture. It provides comfort to your foot after being exposed to extra pressure caused by standing or walking around the hospital for hours on end.
Pros
This is an incredibly budget-friendly price for nurses who are on their feet all day long and need shoes that fit well and provide good support.
This shoe comes in verity of sizes! This makes it easy to find suitable fit without having to search online or driving into multiple stores just to try out shoes made by different companies before selecting one.
Cons
The material used in the design of this shoe is not as high-quality as many other options available.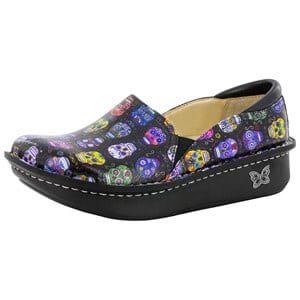 I have been a big fan of Alegria shoes for years because they are the only style that I can wear all day long without any discomfort! These slip-on nursing shoes come in black and brown colors, so you will be able to choose the best option to match your scrubs or dress code.
Pros
The top of the shoe is made from soft suede material which feels luxurious on my feet as soon as I put them on. The quality of this material makes it easy to slide the shoes off at the end of an eight hour shift as well!
These nursing shoes have a removable footbed that provides extra comfort if desired. You can take out or insert additional insoles into these slip-ons depending on how much cushion you are looking for.
The rubber outsole of these shoes has an anti-microbial treatment which helps to prevent smelly feet even after wearing them all day long!
Cons
These nursing shoes do not come in half sizes which means that I cannot find my ideal fit with this style. If it is too big, I will slip around inside the shoe, and if it is too small, then they will cut off circulation on my toes. I had to resort to purchasing one full size larger than usual because of this sizing issue.
The leather of the upper part of this shoe is very stiff which makes it difficult for me to put on quickly like other nursing shoe options. However, the stiffness doesn't really bother me since they aren't too tight or too loose!
I would definitely recommend these shoes to others because of how comfy they are. The materials used in this style are really nice which makes them worth investing in if you're looking for nursing shoes that will last.
Nurse Mates has outdone themselves with this athletic shoe option. The lightweight design, plush memory foam insoles, and slip-on motion ease make it the best cheap nursing shoe on the market today! I only wish I had known about these when I was still studying to take my boards so I could have avoided blisters during those days!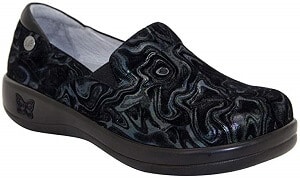 These slip-on shoes with a casual look are by far the most comfortable pair of nursing shoes I have ever owned! The memory foam foot bed keeps my feet from aching after standing for 8 hours, and the rubber soles give me extra traction when I need to run around during my shift.
The simple design of these shoes is perfect for everyday use at work paired with scrubs or even jeans ! They also come in all black which makes them easy to match with any outfit. This is especially useful when you only have a few minutes in between patients during your busy shifts.
Pros
Comfort was my number one priority when shopping for new sneakers, so these were an instant win because they allow me to walk "on air" all day long! I no longer have any pain in my feet or legs at the end of a shift and would recommend these shoes to anyone who is on their feet for 8+ hours a day.
The memory foam inserted soles are number one when it comes to comfort ! They make your entire foot feel like it's sprung with cushion from top to bottom, making every step comfortable from the moment you start wearing them.
These shoes also come in a wide variety of sizes which makes finding a pair that fits easy peasy.
Cons
These mules by Alegria do run small, so I recommend going up an entire size if you want plenty of room in your shoe.
Also, they cannot be worn outside since the soles will wear down quickly and lose their support after several uses.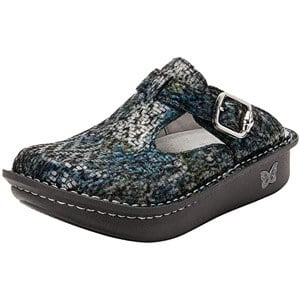 I absolutely love wearing clogs to work because they are extremely comfortable and easy to slip on quickly before going into a patient's room.
This style of Alegria clog is my favorite as the thick rubber soles provide great stability which reduces chances of slipping if I step in a puddle during my shift. The memory foam inserts inside the shoes also absorb shock from walking over hard floors, making it so much easier for me to walk around without being in pain or suffering from aching feet at the end of a long day.
The neutral color makes these shoes perfect for pairing with pretty much any uniform too! The simple design is very minimalistic, giving you just enough detail that doesn't have your uniform looking too busy or distracting.
Pros
I really enjoy the simple design of this clog because it makes it so much easier for me to find a matching outfit without worrying about my shoes being too flashy or overbearing.
The memory foam foot bed is also incredibly comfortable which keeps my feet feeling refreshed after standing on them all day long.
Cons
Since these clogs have a rubber sole they are not ideal for wearing inside when I'm working in an area like OR where patients need to be kept quiet. It's also difficult to run in these shoes, although, if you're looking for something stylish and comfy; these are definitely worth giving a try.
The adorable pattern on these shoes make them perfect for any casual outfit paired with scrubs or jeans! I love the caged design of this pair because it makes them unique yet simple enough to go with anything.
These shoes are incredibly lightweight which is great for nurses who plan to do a lot of walking during their shifts! The memory foam inserts provide superior comfort throughout my entire day, whereas other nursing shoes usually take about an hour or two to break into. Additionally, they come in six colors!
Pros
Comfort is by far the best feature of these flats because they truly mold to your feet like a glove. If you're the type of nurse who likes to walk around a lot during your shift, these shoes will keep you from getting blisters or sore feet because they really support and cushion your every step.
The memory foam foot beds are my absolute favorite part about wearing Crocs! They truly maximize comfort levels throughout my entire day even when worn with no-show socks ! Plus they come in four different colors , so anyone can find a pair that fits their style.
Cons
These flats unfortunately do not have any arch support which isn't ideal for nurses who need help with plantar fasciitis.
Also, some reviews mention that the rubber soles wore down after several uses; however I haven't had issues with mine yet.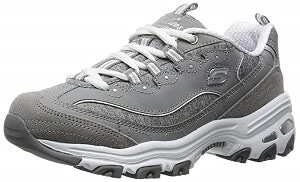 This Skechers memory foam shoe is a perfect shoe to wear for nurses who prefer sneakers. These shoes have a soft knit upper with a classic, lace-up design  to provide a comfortable fit.
The company states that this shoe has been clinically shown to absorb shock and reduce stress on the joints of your feet. It is also breathable and antimicrobial-treated, enabling you to wear them every day without worrying about smelly feet!
Many nurses love these shoes because they are extremely light weight and flexible. The sole of the shoe provides great support, but it's not too bulky or heavy like most athletic sneakers. It is durable enough to withstand years of wear in both wet and dry environments.
One of the best things about this shoe is that you can wash it! This is perfect for nurses who like to go home after their shift and not come back to work until their next scheduled day! These shoes are great for people who need to be comfortable at work, but also need to look professional.
Pros
These shoes are available in wide sizes, which makes them especially appropriate for women with wider feet or those who experience foot swelling during the day.
They're considered one of the most lightweight shoes on the market right now. The memory foam comfort will also prevent your feet from feeling fatigued at the end of your shift.
Cons
The memory foam in these shoes is extremely comfortable, but it causes the shoe to run a bit small. I suggest going up half a size when purchasing these shoes.
They're also not as water resistant as other popular sneakers and will get dirty and stained easily. I recommend purchasing Skechers cleaning spray to keep them looking brand new!
What kind of shoe should I get?
There are many safety shoes specifically designed for the healthcare industry, but some tend to be more comfortable than others. The most popular shoes among patients and CNAs are slip-on styles, tennis/running shoes, and closed toe leather safety boots. If you work in an environment where HIPAA Privacy Laws are strictly enforced, i.e., the patient rooms, then slip-on closed toe shoes or tennis/running shoes may not be an option for you.
What do I need to look for in Nursing Shoes?
When buying nursing shoes there are some things you should be looking for if you want the best combination of comfort, quality, durability, and price. The number one thing is that they must provide slip resistance (if required by state or facility). They must also meet all safety regulations for health care facilities; i.e., closed toe/heel protection; anti-static features (metatarsal guard); energy absorbing heel; puncture midsole; steel shank; oil/slip-resistant; electrical hazard; and flame resistant.