To be a successful nurse assistant, you need the right tools to help you get there. You'll need extensive knowledge of the human anatomy and how it functions. You may need to know about all sorts of ailments that people can suffer from.
That's why it's important for each CNA student to have the right books on their shelf at home after school hours. This blog post will talk about some good CNA books for you as well as what they're best suited for!
Role of CNA Training Books in Exam Preparation
CNA books are the key to passing certification exams.
When going through a chapter, it's helpful to read all of its subtopics and highlighted content before reading that particular topic in-depth so you can have an overall understanding of what is most important from each area.
Every question on your test will be different but by studying this way, you'll know how to answer any one of them regardless if it sounds tricky or not!
The role of CNA books preparing for the certification exam are as follows:
Books provide a brief description of every medical terminology. This clears several doubts and queries that may arise in the minds of students while learning.
They contain a summary after every chapter that provides a gist of the lesson. These summaries prove to be beneficial during the final revision for the examination.
Every chapter is followed by an exercise that needs to be solved by the candidates. Answering these questions will help them to realize how much they have understood and the mistakes they have committed.
They are the best source that acts as a useful tip to pass the examinations. Some books contain question paper pattern that gives an idea about the type of questions that are likely to be asked in the examination. This helps to build the confidence level of the students when they appear for the final certification exams. It also helps them to answer tricky questions.
Some books contain activities that have to be performed during the training. Performing such activities will help to enjoy while learning. Fun along with learning is memorable and helps the candidates to remember the things throughout their life.
The examples illustrated in the books help to clear many concepts and assists the students in understanding things clearly.
The more you solve these practice papers available in the manuals, the better will be your confidence level while appearing for the final exam. The exam has a pattern and it is important to understand and get used to the pattern before you attempt the questions that appear in the final examination.
It is always good to know about things that can be useful to you. Having additional information about certain things is of no harm or loss to anyone. Although these books contain everything required for a certified nursing aide, it also includes additional information about several nursing concepts. Though these may not be useful for the CNA examination but can be useful in the future as and when you aspire for career growth.
How to Choose the Best CNA Book
It is important to choose quality books. If they are not of good quality and do not holistically cover the important concepts then the study material is of no use and you may not be able to clear the exam successfully.
The quality is determined by various factors such as:
The authors who have compiled or written the book
The subjects or topics covered in that book.
The quality of pictures and the words used.
The sentences used should be simple and be clearly understood.
Availability of practice papers that are included in the book.
Here are a few tips for how to find CNA books –
Author
One must check the name of the author of the textbook, as there are many books available in the market. The author should be renowned in the field of nursing.
The students must search for the top 10 authors' lists or books' lists from the facility that offers the classes for CNA.
These recommended books should be bought, as it is a critical requirement for the examination.
Illustrative Content
One must go through the books to find out if the content given in the book is illustrative enough or not.
All the topics included in the course syllabus must be covered in the book. The description should be thorough and not superficial.
The theoretical aspects of every practice in nursing should be explained in the book.
Diagrammatic Representation
A diagram is worth a thousand words! As this is very true in case of educational concepts, the books must include as many diagrams as possible for the explanation of the line of treatment in the health care settings, a hierarchy of the tasks of a CNA during job duties, clinical skills representation, etc.
Even the flow charts can describe a concept easily which is rather difficult to explain through an entire paragraph.
Pictures or Photo Plates
Pictures are the most interesting part of the books. Even while studying the nursing concepts for becoming a certified nurse aide, the use of pictures or photographic plates in the textbook proves to be very much useful for the students.
They enable the students to visualize their clinical skills or manual tasks without going to a living health care setting.
Sometimes, a task seems to be very easy while reading, but it is relatively complicated actually to perform it. Thus, instead of just reading, a picture or a photograph in which a nurse aide is shown to be performing the same task can prove to be useful to get an idea about how to perform it.
In short, the students should look for a book in which such pictorial representations are available so that they can visualize whatever is being read and taught.
Important Topics and Skills
It is always better if special guidance on the most important technical topics and clinical skills is provided within the last few chapters in the book.
This kind of guidance helps the students to focus on major topics from the exam point of view and then implement the same skills during their professional practice.
Summary of the chapters after completion of every lesson is also an excellent way to highlight the essential points.
Tips on Searching CNA Books
Ask your instructor at the training institute to provide the list of books that prove to be useful to prepare for the CNA exams.
The Internet is also a good source for gaining information.
Ask your friends or senior nursing assistants to work in medical organizations.
Visit the libraries at your local area or at the community college that provides you training.
Purchase of a CNA book will provide you reference lists for other books along with the publisher and author name at the end of it and it will prove to be a great source of information.
Best CNA Books Reviews
There are a lot of books out there that claim to be the best CNA textbooks. But which one should you buy?
We will review five different textbooks and tell you what they're like. We hope that these reviews are helpful in deciding which CNA book is right for you and your learning style.
1. CNA Certified Nursing Assistant Exam Cram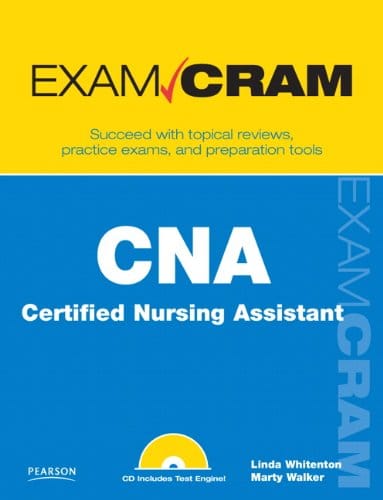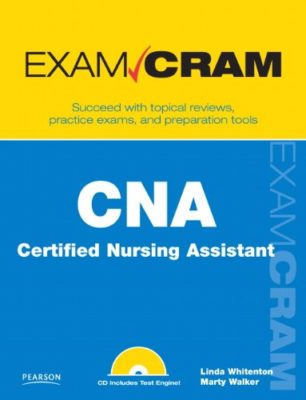 "CNA Qualified Nursing Assistant" by Linda Whitenton and Marty Walker is a comprehensive instructional guide to the CNA license exam, including information on how to prepare for it.
This book also includes essential training about the roles and responsibilities of nursing assistants as well as communication skills necessary for effective practice in this field.
The book is logically divided into topics and each chapter discusses a specific subject with all details. It has chapters on the promotion of health, safety in nursing homes, how to prevent disease transmission as well as resident care equipment for certified aides.
One Chapter discusses the promotion of residents' physical and psychosocial health, while another specifies specialized care for patients with cardiovascular problems.
Some other chapter refers to clinical skills, performance checklists and presents the necessary skills of a certified nurse assistant, i.e. measuring temperature, blood pressure, and respiration and collecting specimens in addition to moving the patient, bathing, hand washing, and feeding.
This book is a perfect guide to scoring well in the exam and contains 150 sample test questions for your nursing license. It's written by experts so it'll teach you all of what you need to know, at just 25 dollars!
2. Nursing Assistant/ Nurse Aide Exam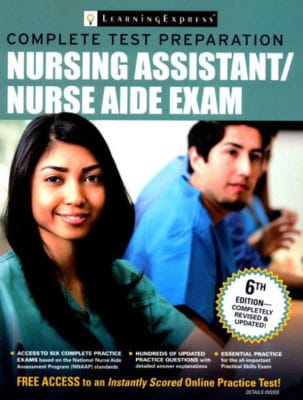 "Nursing Assistant/ Nurse Aide Exam," includes a guide for the test and how to do well. The new edition features five practice exams based on national nurse aide program standards (NNAAP).
The five practice tests have 70 MCQs with answers and explanations. This preparation tool also offers information on requirements to become a certified nurse as well as state registries for nursing assistants along with their duties, responsibilities, and practical skills assessment at your fingertips!
It even has information on the strategic approach towards the exam and physical and mental preparedness for the day of the test. The cost of this book is USD 12.
3. Mosby's Textbooks for Nursing Assistants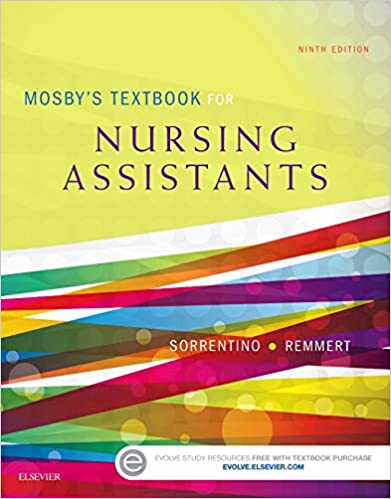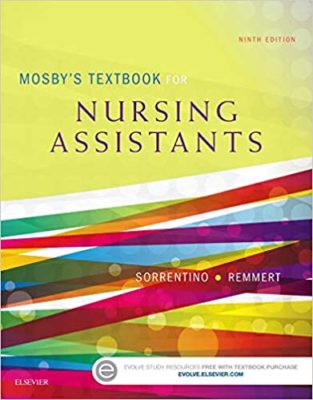 Mosby's Textbook for Nursing Assistants is an amazing book that offers comprehensive coverage of the Certified Medical Assistant. The contents include, among other things, information about presenting a certified nurse and how to measure vital signs.
It also includes content on preventing infection which may be essential in this day and age as well as mental health problems with primary emergency care or assisting with a physical examination among other topics!
This book provides complete coverage of Certified Nurse Assistant in a simple language, but it is just one feature. It has 100 plus procedures for nursing assistants and NNAAP exam skills are highlighted, as well as team skills of a nursing group that all nurses need to know about!
The age-specific care distinguishing between a child and old-age patients is discussed with key abbreviations and terms shared throughout the text along with chapter-wise review questions at the end of each section.
This textbook is a great learning resource for students who are looking to become nursing assistants. In the kit, you'll find videos on various skills and a workbook that will help prepare them for real-world situations in this profession. The cost of the materials included in your purchase only comes out to be USD 60!
4. Nursing Diagnosis Handbooks: An Evidence-Based Guide to Planning Care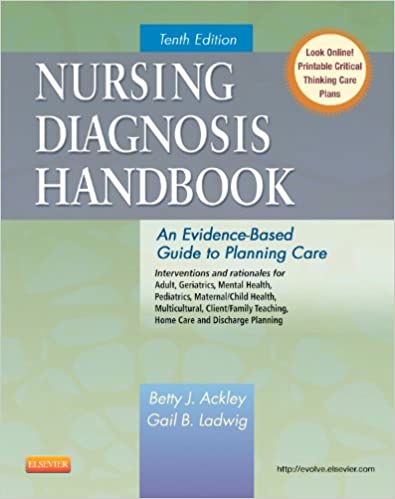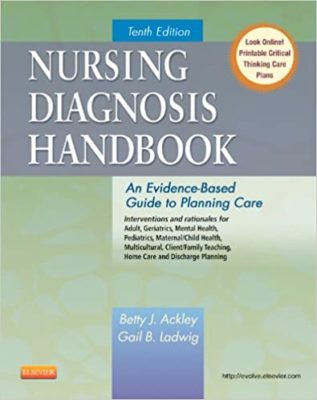 This is yet another important book for a medical assistant that will be helpful in creating customized care plans. The three-step process it discusses includes information and assessment, diagnosis based on the assessment, and planning carefully as per the desired result.
It also covers diagnoses with over 1300 patient symptoms, diagnostic procedures (both medical and psychiatric), along with medical/psychiatric illnesses which are often seen by assistants like you or me when we work in hospitals.
The book is divided into three parts, the first part refers to nursing process and evidence-based nursing, the second includes a guide for diagnoses as well as planning care.
With such a variety of cases throughout the handbook, this is one that you would want to reference not just during the study but in your practice life too! The cost of the Nursing Diagnosis Handbook starts at USD 40.
Given below is the table that represents the prices of a few CNA books:
Is it Possible to Get Free CNA Books?
Yes! You can get free CNA books from the internet. However, there are difficulties with these materials because they are often unsupported by evidence or validation. They may also be outdated and therefore provide misleading information. Apart from that, There is no shortage of free material on nursing online in various forms – blogs, videos, websites, and wikis typically provide great resources that you can use with relative ease!
Should I buy Used CNA Books?
There are several sources available like Amazon or eBay to buy used CNA books but the quality might not be good, because books undergo wear and tear with use. No one's allowed to take photographs inside a bookstore, so it's always hard to tell if there are lost pages or worn-out covers before you buy a book. If money is an issue then sometimes buying used is okay, but make sure to try and find a really clean edition that looks new on the exterior.
We've covered some of the best books for a CNA student to have on their shelf. From textbooks to study guides and beyond, there are plenty of options in this list that can help you get ahead with your studies and prepare yourself for success as a CNA!
We hope you found something here that would be helpful. If not, feel free to visit our CNA Study Guide page where we highlight all the resources available for students like you who want to ace their exams or become excellent nurse assistants.