The nature of some jobs is so wonderful that they fuel your economic needs and at the same time contribute towards the well being of the society. Doctors, engineers or scientists are some of the people who are involved in such profession. But not everybody can make a career is these professions for a multitude of reasons. For such people who can't make it big in these professions have an option of becoming a certified nursing assistant and fulfill their desire of contributing for the betterment of the society. CNA nursing schools in Delaware will be a perfect launching platform for those who have keen interest for the noble nursing profession.
But one must bear in mind that a nurse aide's profession is not as high paying as engineers and doctors as it is a starting level profession. But none the less it is a stable profession and with the growing demand, you can rest assure that it will serve you well in the long run. Nurse aide is the easiest way to get started in a healthcare profession, judge your flair for it and then gradually move on to the higher ladder by pursuing further education.
A certified nursing assistant is required to serve ailing patients in their routine activities and even though it is not a core medical profession you must receive training as it is a peculiar field of practice. To ensure that you receive the required training you must enroll in state approved training program. The official website of the Delaware Health and Social Services department has all the information relating to CNA certification in Delaware . Below is some of the information that you may find helpful in pursuing a nurse aide training and certification in Delaware.
The Always Health Care Services in Dover, Delaware Skills Center in Wilmington, Stockley Center in Georgetown and Elite School of Nursing in Newark are some of the most sought after institutions for CNA training.
Free Nursing Assistant Program in delaware
| Nursing Homes | Address | Contact No | Fax No | Official Website |
| --- | --- | --- | --- | --- |
| Cadia Rehabilitation Capitol Healthcare, Dover | 1225 Walker Road, Dover, DE 19904 | (302) 734-1199 | (302) 734-5845 | http://cadiahealthcare.com/dover-de-capitol |
| Gilpin Hall | 1101 Gilpin Avenue, Wilmington, DE 19806 | (302) 654-4486 | (302) 655-8601 | http://www.gilpinhall.org |
| Kentmere Rehabilitation and Healthcare Center | 1900 Lovering Avenue, Wilmington DE 19806-2123 | (302) 652-3311 | (302) 652-8027 | http://www.kentmererehab.com |
| Stonegates | 4031 Kennett Pike,  Greenville, DE 19807-2047 | (302) 658-6200 | (302) 658-1510 | http://www.stonegates.com |
| Arbors at New Castle | 32 Buena Vista Drive, New Castle, DE 19720 | (302) 328-2580 | (302) 326-4132 | http://www.extendicareus.com/newcastle |
| Cadbury at Lewes | 17028 Cadbury Circle, Lewes, DE 19958 | (302) 645-6400 | – | http://www.cadburylewes.org |
| Courtland Manor Nursing & Convalescent Home | 889 South Little Creek Road Dover, DE 19901 | (302) 674-0566 | – | http://www.courtlandmanor.com |
| Mary Campbell Center | 4641 Weldin Road, Wilmington, DE 19803 | (302) 762-6025 | (302) 762-4206 | http://www.marycampbellcenter.org |
| Delaware Veterans Home | 100 Delaware Veterans BoulevardMilford, DE  19963 | (302) 424-6000 | (302) 424-6003 | http://vethome.delaware.gov |
Becoming a nurse aide in Delaware
If you have decided that you want to become a certified nursing assistant you must enroll in one of the state approved CNA nursing schools in Delaware. In the state of Delaware the Division of Long Term Care Residents Protection is the responsible authority to regulate the training and certification of nursing assistants.
In Delaware if you want to become a nursing assistant you must be 18 years of age with a high school diploma or GED and must have a driver's license and a social security number. Before enrolling in a training program you must pass an Adult Basic Learning Exam which accesses your mathematical and English communication skills.
CNA training in Delaware will cost you from $1200 to $2000 depending on the institute you join and the number of training hours you opt for. Like CNA certification in Connecticut you have two options for the certification exam. Clinical test and written exam will cost you $108 and if you opt for clinical test with oral exam it will cost $118. While filing application for the certification exam you must submit two fingerprint cards for background check, a medical report and a training verification form along with two passport size photographs.
Nurse aide program in Delaware
The mandatory training hours for a nursing assistant program in Delaware is double of the federal mandate; a state approved program must provide 150 hours of training which is equally divided into classroom and clinical study. This provides for comprehensive training, especially on the clinical skills as it provides for a great hand on exposure to the skills required by nurse aides.
These training programs teach students all the theory and practical knowledge; the certification exam has two papers on these subjects and you have to pass them both. If you fail in one of the papers you have to reattempt it. You have a maximum of three attempts and if you still don't succeed you have to attend a training program again.
You have to attempt the certification exam within 24 months of completion of the program otherwise the program becomes invalid for exams. If you have a license of another state, you must have a minimum of three months of fulltime experience or should have received training for at least 150 hours. You will have to give the Delaware state certification exam if you fulfill these two requirements to obtain a license of the state.
Opportunities for nursing assistants in Delaware
One of the basic researches you must do before enrolling for any educational or training program is to look for the job opportunities and salary structure of that particular profession. According to the occupational statistics the job opportunities for CNAs in Delaware will increase by 18% till the year 2017 which means that you will have ample career avenues open if you chose this profession. A caregiver can earn from $17,000 to $35,000 a year in Delaware depending upon the education and experience and the average annual salary is around $28,500 which can be considered as a good enough salary to lead a sustainable lifestyle.
CNA nursing schools in Delaware offer training that meet all the parameters set by the Division of Long Term Care Residents Protection to ensure that you pass the state certification exam and serve the patients compassionately in their day to day healthcare requirements.
Additional Resources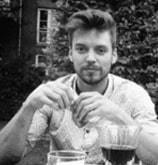 James Markham is a Blogger from Ohio USA. He is also a medical student of MBBS 2nd prof at Northeast Ohio Medical University. Read more about him