Wouldn't it be nice to have a career that can help in rolling the wheels of your household expenses, and contribute to the society? Many professions will allow you to achieve both these needs simultaneously. For example, you can become a doctor, scientist or an engineer and help the community by doing your job.
However, it is impossible for all to be one of these professionals due to personal reasons. Such people still have options that can provide them an opportunity to both earn and help fellow beings. The best choice in this regard is to become a nursing aide.
To work as a nursing aide, you have to learn the basic healthcare skills, and be certified by Nursing Board of your state. Join the Delaware CNA classes as you can do it online or by enrolling in any local college or institute providing the CNA training.
After enrolling in the Delaware CNA classes, you will take education from the experienced people who are working in the healthcare facilities.
Assisting the doctors, nurses and patients in a variety of care-giving settings will be the most important part of your training.
Once you complete the training, you can work in
Hospitals
Private or public health care clinics
Mental and disability centers, etc.
Registered nurses will supervise your activity and instruct you on how to do things. Few healthcare facilities in Delaware state also conduct the CNA course for those who have the certification, but need to brush-up their skills because of a gap.
How to Become a CNA in Delaware?
Certified nursing assistant is the title given to the person who is certified by the State Nursing Board. They take orders and instruction from registered nurses.
For any technical and nursing judgment, they have to seek permission and guidance of the experts. If you are a resident of Delaware, you must know the following steps in becoming a CNA.
The Division of Long Term Care Residents Protections manipulates the CNA training programs.
First, you need to find and complete 150-hours of CNA training program. Out of this, 75 hours are for classroom training and the other half is to learn the practical skills.
The approval and accreditation of the training program are essential if you want to be registered with the State Nursing Registry. When you have completed 150 hours of training, you need to pass the CNA certification exam.
Here are few training programs accredited by the DLTCRP.
Always Care Health Services, Inc.
1203 College Park Drive Suite # 102
Dover, DE 19904
PH: 302-677-1560
Camtech, Inc.
240 N. James Street, Ste B2
Newport, DE 19804
PH: 302-998-8166
Wilmington Job Corps Center
9 Vandever Avenue
Wilmington, DE 19802
PH: 302-230-2539
Delaware Skill Center
13th and Clifford Brown Walk
Wilmington, DE 19801
PH: 302-654-5392
CNA Training Program in Delaware
CNA training program in Delaware runs from four to nine weeks. Classes are offered in two separate batches. The morning batch starts from 9 am and ends at 3.30 pm.
The evening classes timing is from 5 pm to 9 pm. Classes are from Monday to Thursday for the morning and evening batches. Some training institutes also offer classes for weekends.
The training provides knowledge on recognizing different symptoms of illness. The students will learn to provide personal and basic nursing care to patients.
The instructors will provide lectures on
The rights patients deserve
The importance of safety
Hygiene in the work setting
Anatomy
Patients behavior changes due to age
Injury and mental disorders
Different nutritional needs of patients, etc.
CNAs work with different types of patients who are struggling in regaining mobility hampered due to injury or accidents, mental disabilities, and other types of diseases.
While training, they will learn how to communicate and intercept needs of patients who are not able to express it due to illness or other problems.
Free or Low Cost Nursing Assistant Classes in delaware
List of nursing homes in Delaware that might propose free CNA Classes for interested candidates:
Capitol Healthcare Services
Address: – 1225, Walker Road, Dover, Delaware- 19901
Contact Number: (302) 734-1199
Fax: (302) 734-5845
Carvel Bldg/De Psychiatric Center
Address: – 1901, N. Dupont Highway, New Castle, Delaware- 19720
Contact Number: (302) 255-2700, (302) 577-4000 
Chancellor Care Center
Address: – 101 E. Delaware Avenue, Delmar, Delaware 19940
Contact Number: (302) 846-3077
Fax: (302) 846-3478
Official Website:
Churchman Village
Address: – 4949 Ogletown-Stanton Road, Newark, Delaware 19713
Contact Number: (302) 998-6900
Toll Free: (800) 998-6900
Fax: (302) 998-4214
Official Website:
Cokesbury Village
Address: – 726 Loveville Road, Hockessin, Delaware 19707
Contact Number: (302) 235-6000
Toll Free: (800) 530-2377
Official Website:
Foulk Manor North
Address: – 1212 Foulk Road   Wilmington, Delaware 19803
Contact Number: (302) 478-4296
Fax: (302) 478-2956
Official Website: foulkmanornorth.com
Foulk Manor South
Address: – 407 Foulk Road, Wilmington, Delaware 19803
Contact Number: (302) 655-6249
Fax: (302) 655-5451
Gilpin Hall
Address: –1101 Gilpin Avenue   Wilmington, Delaware 19806
Contact Number: (302)-654-4486
Fax: (302)-655-8601
Official Website: gilpinhall.org 
Governor Bacon Health Center
Address: –P.O. Box 559   Delaware City, Delaware 19706
Contact Number: (302) 836-2550
Green Valley Pavilion
Address: –3034 S. Dupont Highway, Smyrna, Delaware 19977
Contact Number: 302-653-5084, 302-653-5085
Ingleside Care Center
Address: – 6525, Lancaster Pike, Hockessin, Delaware- 19707
Contact Number: (302) 998-0181
Jeanne Jugan Residence
Address: – 185 Salem Church Road   Newark, Delaware 19713
Contact Number: (302) 368-5886
Fax: (302) 709-4568
Kentmere
Address: – 1900, Lovering Avenue, Wilmington, Delaware- 19806
Contact Number: (302) 652-3311
Fax: (302) 652-8027
Email Id: Info@KentmereNursing.com
Official Website: kentmererehab.com 
Lewes Convalescent Center
Address: – 440 Market Street, Lewes, Delaware 19958
Contact Number: (302) 645-3030
Fax: (302) 645-4523
Lifecare, Lofland Park
Address: – 715, E. King Street, Seaford, Delaware-19973
Contact Number: (302) 628-3000
Silver Lake Center
Address: –1080 Silver Lake Blvd   Dover, Delaware 19904
Contact Number: (302) 734-5990
St. Francis Care Center-Wilm
Address: – 801 N. Broom Street, Wilmington, Delaware 19806
St. Francis Care, Brackenville
Address: – 100, St. Claire Drive, Hockessin, Delaware- 19707
Contact Number: (302) 234-5420
Stonegates
Address: – 4031 Kennett Pike, Greenville, Delaware 19807
Contact Number: (302) 658-6200
Fax: (302) 658-1510
Official Website: stonegates.com 
St. Francis Skilled Nursing
Address: – 7th & Clayton Streets, Wilmington, Delaware 19805
Contact Number: (302) 421-4694
If you are wondering, whether the training would really help in getting the employment or not, you must read the report of the U.S. Bureau of Labor.
The report states that the job for nursing aides will rise up to 18% in the next few years. You need not have to worry, since you will also have an option in your hand to work freelance.
CNA Certification Requirements in Delaware
To take a nursing career in Delaware, you must know the certification requirements. CNA applicants have to complete minimum 75 hours of training according to the Federal government guidelines.
However, the Delaware state requires the candidates to finish total 150 hours of training that includes theory and practical. To enroll for the certification exam, you are required to be 18 years old and hold a high school diploma or equivalent degree.
You should also have a driver's license, and a social security number. The Delaware state also makes sure that the aspirants should have good knowledge of mathematics and should possess proficiency in English.
To apply, you need to submit two fingerprint cards for a background check locally and nationally. Two passport size photos, medical certificate and document claiming that you have completed the required number of training hours with the application form.
Delaware CNA classes will help you in becoming a certified nursing assistant. You can join any local classes approved by the DLTCRP, or take online classes. Further, you also have the options of weekend classes if your schedule does not allow you to take the day classes.
Additional Resources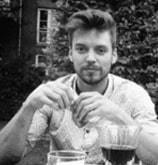 James Markham is a Blogger from Ohio USA. He is also a medical student of MBBS 2nd prof at Northeast Ohio Medical University. Read more about him