Here is a healthy dose of entrepreneur inspiration; combine nursing with the tech world. Meet Kathryn Boatright RN, utilizing her nursing knowledge to educate parents even after they leave the hospital with their little one via her app:
Hi Everyone! First off, I think that it is important to ask ~ "How is everyone today?!" Fabulous, I hope!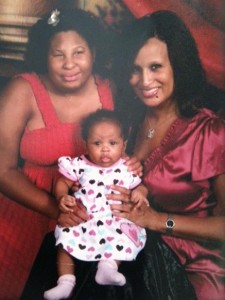 My name is Kathryn Boatright and I am first and foremost a mommy of two daughters (hence my profile picture is a family one) who happens to be a nurse too! Twenty years ago, my first daughter, Jasmine, was born with multiple anomalies and at that time, I was a true business gal at heart… I didn't know much about the medical field and had to learn tracheotomy care and how to properly care for a newborn with special needs.
Flash forward to 2013, I combined both my business and nursing knowledge and experiences into a mobile app called babyTruths(TM). It's everything I needed 20 years ago – were cell phones even available yet..!!
Will you tell us about your app and what inspired you to develop it?
babyTruths is the 1st Individualized Newborn Wellness Planner for a Baby's First Year. Our app is a curriculum about babies for parents to follow that delivers a daily educational "truth" which is customized to a baby's date of birth. Providing health, wellness, developmental activities, vaccinations, growth information, journal entries, along with a daily babyTruth; gives first-time parents the added benefit of knowing what to expect with their newborn in simple, easy to understand terms ~ all in one convenient mobile location. It's Fun, Interactive, and Smart! Here are some unique qualities of babyTruths:
Format and design: Our app provides information in simple, easy to understand educational information about what a newborn should be doing that is displayed in daily bits of data which is shown to increase retention and understanding.
Correlation: The daily bits of data, the daily "truths," correlate the "what" with the "when" a baby should generally be doing developmental tasks and activities. The end-user inputs their baby's date of birth and babyTruths automatically correlate these activities throughout the first year to that baby's individual date of birth. The "truths" were found within medical and nursing books, journals, baby magazines, first-hand nursing experience and other "Mommy" intuitional attributes.
Newborn Wellness Movement: With access to askRNjoy (a real Registered Nurse), caregivers can receive answers to their questions or concerns about their newborn by posting on our blog. Also, How-To Guides related to showing and describing developmental activities for their newborn.
Interactivity: The Journal Impact Factor, Developmental Milestones, Vaccination, Growth Statistics are all interactive activities where the end-user can input statistics throughout the first year.
I am inspired by my girls and do not want first-time moms and dads and other caregivers to be in the situation that I was in. I developed babyTruths to ensure that caregivers
Have a resource beyond their doctor,
Know what to expect
Can more easily understand medical information
A source for other tools and relationship building and so much more.
I want moms to be engaged not nonchalant mom; dads to flourish in becoming a father, and caregivers to utilize the journal impact factor so parents don't feel that they missed out on anything that their newborn is doing.
Additionally, the Journal provides a place for users to openly write about all of their experiences with their new baby, including feelings of overwhelming joy, possible anxiety, postpartum symptoms, and a way to decrease stress.
Do you feel like your blog helps promote your app? Or, do people find your blog because of your app?
Actually, with the relaunch of babyTruths on May 6, 2013, I am learning about all of the various avenues that are available to promote my app. I have been actively involved in being a contributor to blogs, such as A Day in Our Shoes, link here, as well as my "Coming Soon" post to The Fatherhood Biz Blog, link here.
WANTED – Contributors to my blog, askRNjoy. Looking for interesting topics, products, services that are mainly baby related. Do you know something that is occurring in your area of the world that people should know about??? Or what is the latest craze going on with babies or even celebrity babies??? Please send inquiry to joy@askRNjoy.com or make a post!
What has been your most successful marketing strategy?
I am establishing a brand and being in the Chicagoland area, I take advantage of all the conventions, organizations, networking opportunities and other connections that I have established by working as a nurse. Tech week Chicago was just here last month, babyTruths is nominated for the 2013 Chicago Innovation Award (keep close as I may need your votes in August 2013!!!),
I am a member of Chicago Inventors Organization, and I am very active in all the social media channels. Please find me on Twitter, Facebook, Pinterest, and youTube. With an app, encouraging people to TRY US – BUY US, has been important because as crazy as it may sound, some people need to actually be told what to do My app is economically feasible, priced at $1.99 for all people with mobile devices to afford to purchase.
Thus far, my most successful marketing tool has been Twitter and my connections with doctors and hospitals that I worked with as a registered nurse. I am implementing an aggressive SEO campaign to get a higher ranking on Google as well as attempting to put a dent in Apples' elaborate algorithm. If you have any referrals or a location where promotional material can go, please contact me at kathryn@babytruths.com.
What advice can you give other nurse entrepreneurs?
Perseverance is huge! Keep your head down, stick to it because you never know when you will receive the "yes" that you've been looking for. If you give up too soon, you may miss out on that amazing opportunity.
Currently, I am experience perseverance with the introduction of baby truths, but I experienced this element when I was a recipient of Oprah's Favorite Things! YES, it's true – pinch me still..! I have always been a big fan of hers from the very beginning of her career here in Chicago and watched her throughout her 25 years.
Oprah helped me deal with a lot of my early years with Jasmine by identifying alternative ways to look at my situation. When she announced her final season, I knew that I had to try to get a ticket …to any show. All ticket requests were done online via audience calls, open date calls and last-minute calls. Anytime I saw a calling, for any date, even for Suze Orman, I would enter my name and tell my story in 500 characters, but was never selected.
But, I did not give up. Finally, I received a response from one of my submissions on November 12, 2010 (I still have the email!) Although I had no idea what the show was about, I still couldn't believe it. That weekend, the web was abuzz with word that if anyone had a ticket for Tuesday, November 16th, you were part of her favorite things.
But, people couldn't figure out why there were two shows for that day… Well, she had two favorite things show during her final year and I was present for the final one which aired on Monday, November 22nd. It was a completely amazing awesome experience and thanks to Oprah, I not only have a 2012 VW Beetle, but I also have an internal vigor of perseverance to succeed that will last me a lifetime!!! I feel sooo blessed.
Do you have plans to develop more apps?
babyTruths is not just a mobile app; we are creating a Newborn Wellness Movement. We want to establish a company brand around this application while utilizing the latest in modern technology. Our askRNjoy is a FREE service that attracts and retains customers by providing answers to questions or concerns parents and caregivers may have about their newborn.
We plan to broaden our horizons into toddler years with additional mobile apps as well as enhance our existing app. babyTruths is specifically meant to be affordable so that people of all races can have access to important medical information conveniently located right in their hands.
We want to create jobs for coders/developers, educators, nurses, therapist, and others needed to facilitate the development of powerful apps. We have a socially conscious plan to collaborate with public school systems to establish a job coach program to aid people of all abilities, including special needs people, to help them perform and keep a job within our company.