There are various excellent technical/vocational colleges, community colleges & nursing facilities in Alabama that offer certified nursing assistant courses. The State of Alabama provides campus based as well as online nursing & nurse aide courses.
It is approximately a 12-week program & it is not mandatory that the candidate applying for the program must be a high school diploma holder or GED holder.
Besides attending high school, CNA courses in Alabama, can be undertaken by the high school students, as this will help them to prepare well for jobs after the completion of high school graduation.
The overall cost for such programs is around $1000 dollars.
Benefits of CNA Courses in Alabama
It is important to note that certified nursing assistant courses that you opt for must be recognized by the Alabama Department of Health.
In order to achieve this, it is either necessary to request application information or to choose one of the recognized programs mentioned here.
These programs are required to meet long term nursing assistant training requirements of OBRA (Omnibus Budget Reconciliation Act), covering 75 hours of specific training materials.
There are free CNA courses provided by nursing facilities in Alabama, until they work for a specified period after the completion of training & certification exam.
Prerequisites for CNA Courses in Alabama
Although it's not at all difficult to pursue certified nursing assistant courses, there are some eligibility criteria that must be met by an applicant.
These include having a clean criminal record, especially pertaining to any kind of chemical or substance abuse issue.
Prior to training, the candidate is also required to undergo a medical test to make sure that the candidate is fit enough.
Required Skills for CNA Courses in Alabama
Although there are not as such requirements for pursuing a CNA course, it is important that the applicants should possess good communication skills.
This will help them to interact well with the doctors, nurses & patients.
They should also have excellent writing skills in order to jot down the status of patients. The applicants should be highly active & must be able to provide a consistently good performance.
American Red Cross CNA Courses in Alabama
Prerequisites & Procedure for Applying for State Certification Exam
In order to apply for the State certification exam, the CNA course program is required to include 120 hours of training, out of which 40 hours is devoted towards learning practical clinical procedures.
These courses generally include CPR certification along with learning nursing ethics, proper patient care, medical terminology & other nursing related skills.
After the completion of the course, you can take the certification examination in Alabama.
It is compulsory for candidates in Alabama to pass the written & skills exams successfully in order to apply for certification & jobs.
After that, submission of fingerprint cards will be required for approval. The state & federal background are also checked.
Once you clear the certification examination & all these requirements, you will get registered under Alabama Nurse Aide Registry.
CNA Salary in Alabama
Once you complete the CNA course in Alabama and become a certified nursing assistant, you will find great opportunities in clinics, hospitals, rehab centers & other institutions that provide medical services in the State of Alabama.
The starting salary package will depend on where you get employed. On an average, it will approximately range between $15,000 & $29,900 yearly.
These wages may increase significantly with experience & additional certifications.
In addition, it has been estimated that the need for folks with nurse aide certification will rise considerably over the next ten years as there are huge nationwide shortages in the nursing field.
Thus there is a very high scope for the aspirants in making a lifelong & gratifying career in the nursing industry.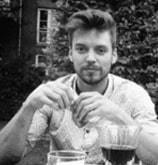 James Markham is a Blogger from Ohio USA. He is also a medical student of MBBS 2nd prof at Northeast Ohio Medical University. Read more about him