You can find your CNA license number by checking the state's public database. If they still issue physical licenses, it will be on file there as well! Make sure to keep this information handy and accessible at all times in case you need verification for anything- from employment opportunities or patient care services.
Steps to finding your CNA license number:
Go to the official state nurse licensing website – Each state has their own website dedicated for this! You can find it by using Google Search or looking under "Licensing Boards" in the list of government agencies on Wikipedia. If you are unable to find it, simply type in your state + "nursing board". Example: Texas Nurse Licensing Board. We've compiled all of the nursing board here so that it is easier than ever.
For license verification, click the link – Each state has their own database you can use to search your license. It's usually called the "verification" page, "license lockup", or something similar.
Enter the required information – This usually includes your name, zip code, address, or social security number.
Locate your license number – Several results may appear based on your name or location. Search for the profile with the correct name, location, credentials, and address to distinguish yourself from the list. You should find your license number on the results page. The number will look something like this: "CNA 000000"
Finding license number in your physical card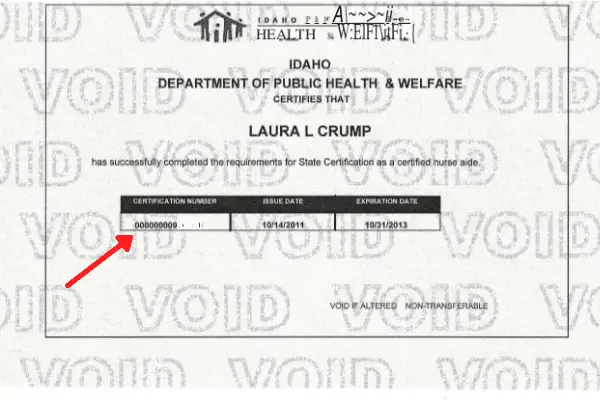 Your CNA license number is also located on your official state-issued nurse certificate or card. If you still have one of these items, it will be with your license! Find your current license and look for 6 to 8 numbers on the lower-left corner of your physical license.
How to protect your license number
It's a good idea to memorize your license number to avoid having to look it up or use any of the searching techniques listed above. Memorizing it feels a lot more secure and reliable than checking your license multiple times for updates.
Write down your CNA license number on a separate sheet of paper and keep it in a safe location. Make sure to hang onto this information as you may need it at some point.
Don't share your nursing license number with anyone except those who absolutely require it- such as employment opportunities or patient care services. Remember that giving out your profile information puts you at risk of identity theft, as your name and social security number will be visible.
Register your CNA license as soon as you receive it! This is a great way to protect yourself from fraud and prevent someone else from getting credit for the work that you've done. A registered license/profile will not allow anonymous users to see your personal information or credentials.
What if I can't find my CNA license number?
Unfortunately, not all states provide verification for CNA licenses. States that do not provide this service. You should contact your state's Board of Nursing to obtain it if the online system is unable to verify your license. There are several reasons why an online verification system may not work for your state- including the inability to access the database, advanced security measures, it's no longer in use, or simply doesn't exist.