The certified nursing assistants are the fundamental health care providers in the health care and allied health care fields. They serve for the direct patient care and very basic duties related with patient care. The health care industry of New Hampshire is in great demand of nursing professionals and thus, there are many job opportunities for aspiring candidates to serve for the same. To work professionally at any setting in New Hampshire, one has to have updated nursing knowledge and a particular skills set. The talent and skills regarding nursing are rendered to the students by CNA training programs. Many schools, technical vocational schools, community colleges, nursing homes, long-term care centers, independent programs and local Red Cross Chapters offer formal course programs for certified nursing aides. Those who wish to pursue a long-term career in nursing must search for the approved training programs and enroll in.
CNA Training Requirements
Minimum age of 18 years
High school diploma or GED proof
Valid state ID proof
Background check proof
Overview of CNA Training
Certified nursing assistants and their certification are regulated by the New Hampshire board of nursing. A typical approved course lasts for average duration of 75-100 hours. The total duration is divided into 2 sections which are technical classroom and clinical skills. The technical session is conducted first in the classrooms of the respective facility. The classroom instruction involves theory portion through lectures, group discussions and interactive sessions. Qualified course instructors are there to train the students. After completion of in-class session, the students have to undergo the clinical hands-on practice at a living health care setting. The students learn and develop the nursing and allied skills under the supervision of the instructors as well as the nursing professionals at the respective facility.
They get acquainted with the clinical environment, real patients, actual tasks of CNAs, how to provide with basic life support system and emergency services, how to comfort the residents in clinical environment and how to effectively communicate interpersonally. They also learn to handle and operate the latest equipments under the supervision of nurses and guidance. All the relevant and allied skills acquired during the training period prove to be very useful when it comes to the exam and job placements.
Approved CNA Training in New Hampshire
Name of the School
Address
Contact No.
Fax No.
Official Website
American Red Cross Regional Medical Careers Program – Concord
2 Maitland Street
Concord , NH 03301
(603) 225-6697
–
http://www.redcross.org
NH Health Care Association
5 Sheep Davis Road,
Suite E
Pembroke, NH 03275
(603) 226-4900
(603) 226-3376
http://www.nhhca.org
American Red Cross Regional Medical Careers Program – Keene
83 Court Street, Keene, NH 03431
(603) 352-3210
–
http://www.redcross.org
American Red Cross Regional Medical Careers Program – Nashua
28 Concord Street,
Nashua, NH 03064
(603) 889-6664
–
http://www.redcross.org
American Red Cross Regional Medical Careers Program – Portsmouth
600 Lafayette Road,
Portsmouth, NH 03801
(603) 436-2218 ext. 116
–
http://www.redcross.org
Lakes Region Community College
379 Belmont Road,
Laconia, NH 03246
(603) 524-3207
–
http://www.lrcc.edu
River Valley Community College
1 College Place,
Claremont, NH 03743
(603) 542-7744
–
http://www.rivervalley.edu
Clinical Career Program
PO Box 19, Bristol, NH 03222
(603)744-6766
–
http://www.clinicalcareerprogram.com
LNA Health Careers, LLC
22 Concord Street, 3rd Floor,
Manchester, NH 03101
(603) 647-2174
(603) 647-2175
http://www.lnahealthcareers.com
Coos County
PO Box 10,
West Stewartstown,
NH 03597
(603) 246-3321
(603) 246-8117
http://www.cooscountynh.us
The Edgewood Centre
928 South Street,
Portsmouth, NH 03801
(603) 436-0099
–
http://www.edgewoodcentre.com
St. Joseph School of Nursing
5 Woodward Avenue, Nashua, New Hampshire 03060
(603) 594-2567
–
http://www.sjhacademiccenter.org
Golden View Health Care Center
19 NH Route, 104 Meredith, NH 03253
(603) 279-8111
(603) 677-4154
http://www.goldenview.org
White Mountains Community College
2020 Riverside Drive,
Berlin, NH 03570
(603) 752-1113
–
http://www.wmcc.edu
Below list in New Hampshire that might give you CNA training at no cost:
Belknap County Nursing Home
Contact Number: (603) 527-5410
Address: – 30, County Drive, Laconia, New Hampshire- 03246
Fax: (603) 527-5419
Official Website: belknapcounty.org
Birchwood Nursing Home
Contact Number: (603) 432-3801
Address: – 20, Chester Road Derry, New Hampshire-03038
Fax: (603) 425-2407
Colonial Poplin Nursing Home
Contact Number: (603) 895-3126
Address: – Route 107 Main Street, Fremont, New Hampshire- 03044
Fax: (603) 895-3662
Email Id: info@colonialpoplin.com
Official Website: colonialpoplin.com
Coos County Nursing Home
Contact Number: (603) 752-2343
Address: –Cates Hill Road Rfd, 2-P.O. Box no-416, Berlin, New Hampshire-03570
Fax: (603) 752-4773
Coos County Nursing Hospital
Contact Number: (603) 246-3321
Address: – P.O. Box No. – 10, River Road, West Stewartstown, New Hampshire- 03597
Fax: (603)246-8117
Official Website: cooscountynh.us
Greenbriar Terrace Health Care
Contact Number: (603)888-1573
Address: – 55, Harris Road, Nashua, New Hampshire- 03060
Fax: (603)888-5089
Hanover Hill Health Care
Contact Number: (603) 627-3826
Address: – 700, Hanover Street, Manchester, New Hampshire- 03104
Official Website: hanoverhill.com
Hanover Terrace Healthcare
Contact Number: (603) 643-2854
Address: – 53, Lyme Road, Hanover, New Hampshire- 03755
Fax: (603) 643-1723
Email Id: robert.shaughnessy@kindred.com
Harborside Applewood
Contact Number: (603) 239-6355
Address: – 8, Snow Road, Winchester, New Hampshire- 03470
Fax: (603) 239-6472
Harborside Crestwood
Contact Number: (603) 673-7061
Address: – 40, Crosby Street, Milford, New Hampshire- 03055
Fax: (603) 673-5420
Langdon Place, Keene Nursing
Contact Number: (603) 357-3902
Address: –136, A–Arch Street, Keene, New Hampshire-03431
Laurel  Center  Genesis  Eldercar
Contact Number: (603) 627-4147
Address: – 480, Donald Street, Bedford, New Hampshire- 03110
Fax: (603) 627-6294
Lebanon Center Genesis Eldercare
Contact Number: (603) 448-2234
Address: – Rr #1 Box 13k Old Etna Road, Lebanon, New Hampshire-03766
Fax: (603) 448-2087
Mark Wentworth Home
Contact Number: (603) 436-0169
Address: – 346, Pleasant Street, Portsmouth, New Hampshire-03801
Fax: (603) 766-0192
Email ID: gpoehlman@markwentworth.org
Official Website: markwentworth.org
Merrimack County Nursing Home
Contact Number: (603) 796-2165
Address: – 325, Daniel Webster Highway   Boscawen, New Hampshire- 03303
Fax: (603) 766-2880
Official Website: merrimackcounty.net
Merriman House
Contact Number: (603) 356-5461
Address: – 3073, White Mountain Highway   North Conway, New Hampshire- 03860
Email Id: RMcLellan@memorialhospitalnh.org
Official Website: memorialhospitalnh.org
Morrison Nursing Home
Contact Number: (603) 837-2541
Address: – 2-6 Terrace Street, Whitefield, New Hampshire- 03598
Fax: (603) 837-3878
Official Website: morrisonnh.org
Mountain Ridge Center Genesis
Contact Number: (603) 934-2541
Address: – 7, Baldwin Street, Franklin, New Hampshire- 03235
Fax: (603) 934-2549
Presidential Oaks
Contact Number: (800) 678-1333
Address: – 200, Pleasant Street, Concord, New Hampshire- 03301
Email Id: marketing@presidentialoaks.org
Official Website: presidentialoaks.org
CNA Exam
The state of New Hampshire follows the pattern of NNAAP (National Nurse Aide Assessment Program) for the exam. The exam is taken in 2 parts which are, written test and a clinical skills test. Both test the competency of the students for the final evaluation. In written competency test, there are 70 multiple choice questions to solve and the students must score minimum 70% in this test. During the clinical test, the students are asked to perform any 5 clinical tasks. These are chosen randomly from a list which is there with the nursing examiners. The entire exam is administered by Pearson Vue. The students are constantly under supervised conditions. They are supposed to prove their eligibility and competency in the talent and skills. Passing with a good competency level evaluation signifies that the candidates possess the desired skills and now are eligible to work as nurse aides. Once the students pass in both the tests, they get certified by the state board of nursing. Certified candidates are eligible to get the license and are listed in the nurse aide registry of the state. It keeps an updated record of personal and professional working information of all the certified nursing assistants across the state. This information facilitates the search of the employers for getting qualified employees.
The certificate and license of CNA possess a certain validity period which is usually 2 years. Thus, they have to be verified and renewed at a regular interval of 2 years. This prevents the deactivation and expiry. The license can be maintained in an active state by constant nursing practice on a paid job at any professional setting or long-term care center. Certified and licensed candidates can work anywhere across the state. There is a reciprocity agreement through which the certified nurse aides from other states can also work in this state, provided that they are granted the petition to take the LNA (licensed nursing assistant) exam and clear it. They should transfer their credentials and license to New Hampshire.
Online and Free CNA Training
Many of the facilities in New Hampshire do offer online facility for attending courses. Such classes are always beneficial for the students who cannot afford to manage the time required for attending the full time classes. One should only be careful about the reliability of the respective online course. Some facilities and long-term care centers also offer free of cost training programs which are very helpful for the students who are not able to pay for the fees of the classes. These classes give free education, provided that the students would work for the same facility for a certain time span right after their graduation. The students obtain free education; while the facility obtains qualified and skilled professionals without paying them.
New Hampshire presents various choices for attending CNA training programs. The students must choose the best ones from them.
Additional Resources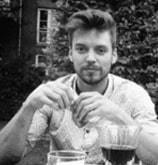 James Markham is a Blogger from Ohio USA. He is also a medical student of MBBS 2nd prof at Northeast Ohio Medical University. Read more about him