Like most of the states in the country, the state of Kentucky too; is facing economic crisis and recession in almost all the industries. Health care and medical, are two such fields which never fall short of demand for nursing professionals.
As the health care industry is growing in this state, there is more number of nurses required to be in service. Certified nursing aide is the entry level position in this field and one needs a formal, approved training for becoming the same.
It also offers a variety of CNA programs through many high schools, vocational technical schools, community colleges, private and public health care facilities, medical institutions, independent programs and nursing homes too.
Such courses may be approved or not, but it is always recommended that one must go for the enrollment in an approved one.
Taking classes from an approved facility always has certain additional advantages over that from a non-approved facility. The American Red Cross also has one of its chapters in Kentucky which conducts an approved CNA training.
CNA Training Outline in Kentucky
Certified nurse aides or certified nursing assistants are also called as State Registered Nurse Aides (SRNA). All the training programs of CNA and related aspects are regulated by the Department for Medicaid Services under the Cabinet of Health and Family Services (CHFS).
A typical CNA training in Kentucky is of minimum 75 hours. The program consists of at least 16 hours of the total program to be spent in a clinical hands-on training session. The total duration of 75 hours is divided into 2 sessions, one of which is technical and the other one is practical.
Technical Sessions
The technical session covers all the essential theory of nursing and the practical session covers the clinical aspects of the same.
Theory includes topics like
Human body mechanism
Human anatomy and physiology
Basic medical terminologies
Basic nutrition
Basic patient care
Health and population education, etc.
Practical Sessions
On the other hand, practical hands-on training involves learning and developing the nursing skills and the tasks of a CNA.
They include basic patient care and safety
Personal hygiene
Infection control
Room preparation
Dressing
Bathing and grooming the patients
Preparing the health charts
Reporting health updates to the doctors
Taking vital signs from patients
The students also get acquainted to certain additional but important skills such as interpersonal communication, precise English written communication and reporting skills.
They get used to the actual clinical environment, patients and the actual job duties under the supervision of LVNs / LPNs (licensed vocational / practical nurses) and RNs (registered nurses).
Kentucky Free or Low Cost CNA Training
| Nursing Homes | Address | Contact No. | Fax No. | Official Website |
| --- | --- | --- | --- | --- |
| Signature HealthCARE of Trimble County | 50 Shepherd Lane, Bedford, KY 40006 | (502) 255-3244 | (502) 255-7844 | http://shcoftrimblecounty.com |
| Berea Health Care Center | 601 Richmond Road(U.S. 25 North)Berea, Kentucky 40403 | (859) 986-4710 | – | http://www.bereahealthcare.com |
| Bourbon Heights, Inc. | 2000 South Main Street,Paris, Kentucky 40361 | (859) 987-5750 | (859) 987-6460 | http://www.bourbonheights.com |
| Boyd Nursing and Rehab Center | 12100 Princeland Spur,Ashland, KY 41102 | (606) 928-2963 | – | http://boydnursingandrehab.com |
| Signature HealthCARE of Georgetown | 102 Pocahontas Trail, Georgetown, KY 40324 | (502) 863-3696 | (502) 868-5254 | http://shcofgeorgetown.com |
| Life Care Center Of Lacenter | 252 West Fifth Street, La Center, KY 42056 | (270) 665-5681 | (270) 665-9766 | http://lifecarecenteroflacenter.com |
| Life Care Center Of Morehead | 933 North Tolliver Road, Morehead, KY 40351 | (606) 784-7518 | (606) 784-7619 | http://lifecarecenterofmorehead.com |
| Georgetown Community Hospital | 1140 Lexington Road,Georgetown, KY 40324 | (502) 868-1100 | – | http://www.georgetowncommunityhospital.com |
CNA Exam
The exam for CNA is administered by the board of nursing. Technical as well as practical portions are considered at the time of exam and the final competency evaluation is based upon these both portions.
For technical test, the students are offered 2 options – written test or oral test. They can opt for any one of these as per their choice.
It usually consists of 75 multiple choice questions based on theory covered in classroom instruction. The students must score up to or above 70% in this test.
For practical test, the requirement is to perform a given number of clinical tasks within a given time. This test is constantly under the supervision of examining nurses and they evaluate the students based upon each and every skill performed by them.
The student's competency level is seen through the evaluation and accordingly, their results are declared.
Those who pass in the exam get their certificate and can also apply for CNA license. They get listed on the CNA license registry of the state and thus, become eligible to continue nursing practice anywhere across the state.
However, the license has to be renewed and verified periodically, as it is not permanently valid. The validity period is usually of 2 years.
There is certain procedure to be followed for the same and it is regulated by the state's nurse aide registry. This registry keeps a database of all the information of the nursing professionals in the state along with their personal address and working status. Continuing to practice within the validity period tends to maintain the 'active' status of the license.
The reciprocity policy of Kentucky allows the certified nurse aides from other states to apply for the transfer of credentials and license to this state.
Free CNA Training in Kentucky
There are so many facilities and institutions that do offer free training for becoming a certified nursing aide, provided that the students taking free classes must sign an agreement of working for the same facility for a specified time.
This kind of mutual system tends to be beneficial to the students as well as the facility. The facility gets skilled and qualified nursing professionals without paying them; while the students get a ready made employment opportunity and working experience in nursing right after their graduation.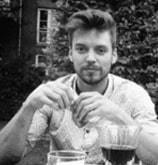 James Markham is a Blogger from Ohio USA. He is also a medical student of MBBS 2nd prof at Northeast Ohio Medical University. Read more about him