While all other industries are in their decline period and facing economic crisis, health care industry is the only one which is creating better revenue as well as better new opportunities for the newcomers. As medical and health care fields never fall short of demand of working professionals, there will be unending opportunities for the health care professionals for sure.
People working professionally in these 2 and allied fields include doctors, nurses, nursing assistants, etc. nursing assistants are the front line workers who are in the largest demand, and thus, CNA is considered as an entry level position in the nursing field. By becoming a certified nursing assistant, one can enter the nursing field and can further pursue the career by continuing education or professional practice. The continuing education enables people to reach various steps after the position of a nursing aide; while the professional practice renders a constant working experience in order to achieve a bright future.
Certified nursing assistant needs to be responsible and dedicated towards the work. One has to have a zest of working for the disables. These qualities are accompanied by the talent and skills given through the CNA programs and then, a successful certified nursing assistant gets a good kick start for future career. The nursing assistants have to work at various nursing homes, hospitals, convalescent homes, public health care clinics, mental health care facilities etc., and also under the supervision of private medical practitioners. They have to provide the patients with basic health care and assist them during their treatment. All these tasks demand a great deal of skill and perfection which decide the success of the certified nursing aide.
Free or Low Cost Nursing Assistant Program in delaware
| Nursing Homes | Address | Contact No | Fax No | Official Website |
| --- | --- | --- | --- | --- |
| Cadia Rehabilitation Capitol Healthcare, Dover | 1225 Walker Road, Dover, DE 19904 | (302) 734-1199 | (302) 734-5845 | http://cadiahealthcare.com/dover-de-capitol |
| Gilpin Hall | 1101 Gilpin Avenue, Wilmington, DE 19806 | (302) 654-4486 | (302) 655-8601 | http://www.gilpinhall.org |
| Kentmere Rehabilitation and Healthcare Center | 1900 Lovering Avenue, Wilmington DE 19806-2123 | (302) 652-3311 | (302) 652-8027 | http://www.kentmererehab.com |
| Stonegates | 4031 Kennett Pike,  Greenville, DE 19807-2047 | (302) 658-6200 | (302) 658-1510 | http://www.stonegates.com |
| Arbors at New Castle | 32 Buena Vista Drive, New Castle, DE 19720 | (302) 328-2580 | (302) 326-4132 | http://www.extendicareus.com/newcastle |
| Cadbury at Lewes | 17028 Cadbury Circle, Lewes, DE 19958 | (302) 645-6400 | – | http://www.cadburylewes.org |
| Courtland Manor Nursing & Convalescent Home | 889 South Little Creek Road Dover, DE 19901 | (302) 674-0566 | – | http://www.courtlandmanor.com |
| Mary Campbell Center | 4641 Weldin Road, Wilmington, DE 19803 | (302) 762-6025 | (302) 762-4206 | http://www.marycampbellcenter.org |
| Delaware Veterans Home | 100 Delaware Veterans BoulevardMilford, DE  19963 | (302) 424-6000 | (302) 424-6003 | http://vethome.delaware.gov |
CNA Training Outline
Many high schools, vocational schools, community colleges, nursing homes, medical schools, etc., do offer trainings for certified nursing aide. All these facilities may differ in their policies regarding admission requirements, length of course, cost of classes, etc. In Delaware, the entity responsible for the training and testing program for CNAs and for the CNA Registry is The Division of Long Term Care Residents Protection. The certified nursing aide course program consists of 2 types of courses – technical and clinical. The technical part covers all the theoretical concepts related with nursing and they are dealt with in classrooms sessions. Practical part covers all the clinical concepts of nursing along with their practice. The students spend their clinical sessions in a laboratory or an actual clinical environment. Many of the facilities take their students to living care homes for the clinical practice sessions. This makes the prospective CNAs to get used to the actual professional work environment. Here the students also get to learn various additional skills such as interpersonal communication, precise written communication, handling and operating advanced equipments, etc.
List of nursing homes in Delaware that might propose free CNA training for interested candidates:
Capitol Healthcare Services
Address: – 1225, Walker Road, Dover, Delaware- 19901
Contact Number: (302) 734-1199
Fax: (302) 734-5845
Carvel Bldg/De Psychiatric Center
Address: – 1901, N. Dupont Highway, New Castle, Delaware- 19720
Contact Number: (302) 255-2700, (302) 577-4000 
Chancellor Care Center
Address: – 101 E. Delaware Avenue, Delmar, Delaware 19940
Contact Number: (302) 846-3077
Fax: (302) 846-3478
Official Website:
Churchman Village
Address: – 4949 Ogletown-Stanton Road, Newark, Delaware 19713
Contact Number: (302) 998-6900
Toll Free: (800) 998-6900
Fax: (302) 998-4214
Official Website:
Cokesbury Village
Address: – 726 Loveville Road, Hockessin, Delaware 19707
Contact Number: (302) 235-6000
Toll Free: (800) 530-2377
Official Website:
Foulk Manor North
Address: – 1212 Foulk Road   Wilmington, Delaware 19803
Contact Number: (302) 478-4296
Fax: (302) 478-2956
Official Website: foulkmanornorth.com
Foulk Manor South
Address: – 407 Foulk Road, Wilmington, Delaware 19803
Contact Number: (302) 655-6249
Fax: (302) 655-5451
Gilpin Hall
Address: –1101 Gilpin Avenue   Wilmington, Delaware 19806
Contact Number: (302)-654-4486
Fax: (302)-655-8601
Official Website: gilpinhall.org 
Governor Bacon Health Center
Address: –P.O. Box 559   Delaware City, Delaware 19706
Contact Number: (302) 836-2550
Green Valley Pavilion
Address: –3034 S. Dupont Highway, Smyrna, Delaware 19977
Contact Number: 302-653-5084, 302-653-5085
Ingleside Care Center
Address: – 6525, Lancaster Pike, Hockessin, Delaware- 19707
Contact Number: (302) 998-0181
Jeanne Jugan Residence
Address: – 185 Salem Church Road   Newark, Delaware 19713
Contact Number: (302) 368-5886
Fax: (302) 709-4568
Kentmere
Address: – 1900, Lovering Avenue, Wilmington, Delaware- 19806
Contact Number: (302) 652-3311
Fax: (302) 652-8027
Email Id: Info@KentmereNursing.com
Official Website: kentmererehab.com 
Lewes Convalescent Center
Address: – 440 Market Street, Lewes, Delaware 19958
Contact Number: (302) 645-3030
Fax: (302) 645-4523
Lifecare, Lofland Park
Address: – 715, E. King Street, Seaford, Delaware-19973
Contact Number: (302) 628-3000
Silver Lake Center
Address: –1080 Silver Lake Blvd   Dover, Delaware 19904
Contact Number: (302) 734-5990
St. Francis Care Center-Wilm
Address: – 801 N. Broom Street, Wilmington, Delaware 19806
St. Francis Care, Brackenville
Address: – 100, St. Claire Drive, Hockessin, Delaware- 19707
Contact Number: (302) 234-5420
Stonegates
Address: – 4031 Kennett Pike, Greenville, Delaware 19807
Contact Number: (302) 658-6200
Fax: (302) 658-1510
Official Website: stonegates.com 
St. Francis Skilled Nursing
Address: – 7th & Clayton Streets, Wilmington, Delaware 19805
Contact Number: (302) 421-4694
Duration of CNA Trainings
The minimum duration of CNA training throughout the United States of America is 75 hours. However, Delaware is the only state that conducts CNA trainings for 150 hours compulsorily. Out of these 150 hours, the technical and clinical sessions are given an equal importance (75 hours for each). This is designed so that the students get thorough knowledge and also get enough time to learn as well as practice the clinical skills.
CNA Exam
To become a certified nursing assistant, one must pass the licensing exam after completing an approved course program for the same. The exam is conducted in 2 parts. First part is of a written or an oral test. It asks mostly multiple choice questions. In the second part, the students have to perform the given clinical tasks within the given time. These tasks are continuously supervised by their course instructors and the senior registered nurses. On the basis of the technical knowledge and practical skills, the students are evaluated. On passing the exam successfully, one becomes eligible to get the certificate and apply for the licensure. Once the candidates get their license, they can work anywhere in the state at any health care or medical facility.
If a certified nursing aide from some other state wants to shift to Delaware and continue working professionally, then there is no need to reapply for licensure. This state has the facility of transfer of CNA license by reciprocity. The respective candidate can get the credentials and license transferred from the previous state.
The cost of CNA classes in Delaware is generally affordable; but for those who really cannot afford to pay for the fees, there are free classes offered by many of the institutions and universities. These facilities provide with the training for free, but expect those students to work for them for a specified time after graduation. This proves to be advantageous to both sides. The students get free education and work experience for further career prospects, and the facility gets qualified and skilled workers without paying them. Financial help programs are also announced by the private and governmental agencies across the state in form of scholarship and sponsorship. The nurse aide registry maintains a record of personal information and professional working status of all the nursing professionals across the state.
Additional Resources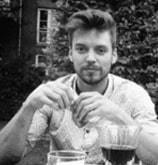 James Markham is a Blogger from Ohio USA. He is also a medical student of MBBS 2nd prof at Northeast Ohio Medical University. Read more about him