New Jersey is a state which has a diversified economy with the manufacturing, chemical, financial, telecommunication and food processing industries spread across the state. It is one of the wealthiest states in America and also the most densely populated one. With such a high population the need for medical and allied services is bound to be very high thus calling for more professionally trained individuals for the healthcare sector. CNA nursing schools in New Jersey offer training to those who want to work in this field as certified nursing assistants.
It is true that all our healthcare needs can be fulfilled only if we have good nurses and doctors, but they cannot take up all the responsibilities of patients. There are some needs like feeding, bathing and grooming, taking vital signs and ambulating patients that do not need highly specialized training. Some basic training is all that is required and the duties are to be performed under the surveillance of a registered nurse so guidance will always be available. The basic training can be taken by joining CNA classes in New Jersey.
Some of the well known training programs are conducted at Impetus Systems and Careers in North Brunswick, Universal Training Institute, Inc. in Perth Amboy, Brookdale Community College Western Monmouth Campus in Freehold, Morris County School of Technology in Denville and Comtec Institute in Somerset. These are state approved certified nurse aide training programs and they fulfill all the requirements for proper training which is conducted by experts.
Approved CNA Classes in New Jersey
Name of the School
Address
Contact No.
Fax No.
Official Website
Atlantic Cape Community College
1535 Bacharach Boulevard,Atlantic City, NJ 08401
(609) 343-4800
–
http://www.atlantic.edu
Prism Career Institute
Bayport One Building,8025 Black Horse Pike,West Atlantic City, NJ 08232
(888) 966-8146
–
http://www.prismcareerinstitute.edu
Bergen Community College
400 Paramus Road, Paramus, NJ 07652
(201) 447-7100
–
http://www.bergen.edu
Bergen Home Care and Nursing Inc.
136 Essex Street, Hackensack, NJ 07601
(201) 342-3402
(201) 342 – 3405
http://www.bergenhomecare.net
Eastwick College – Hackensack
250 Moore Street, Hackensack, NJ 07601
201-488-9400
–
http://www.eastwickcollege.edu
Lincoln Technical Institute
240 Bergen Town Center, Paramus, NJ 07652
(201) 845-6868
–
http://www.lincolnedu.com
Burlington County Institute of Technology
695 Woodlane Road,Westampton , NJ 08060
(609)267-4226
–
http://www.bcit.cc
LTC Career Program
13 Lafayette Street,Riverside, NJ
(856) 764-3800
(856) 764-3801
http://www.ltccareerprogram.com
Moe Shea Corporation
Three 3rd Street Suite 202, Bordentown, NJ 08505
(609) 324- 9911
(609) 324- 9923
http://moeshea.com
Brooks Alternative Technical School
701 Cooper Road, Suite 11Voorhees, NJ 08043
(856) 282-3371
(856) 282-3381
http://www.brooksalternative.org
Camden County College-Camden
200 North Broadway,Camden, NJ 08102-1185
(856) 338-1817
–
http://www.camdencc.edu
Camden County College-Blackwood
P.O. Box 200College DriveBlackwood, NJ 08012-0200
(856) 227-7200
–
http://www.camdencc.edu
Camden County Technical School-Pennsauken
6008 Browning Road, Pennsauken, NJ
(856) 663-1040
–
http://www.ccts.tec.nj.us
Camden County Technical School-Sicklerville
343 Berlin Cross Keys Road, Sicklerville, NJ
(856) 767-7000
–
http://www.ccts.tec.nj.us
Prism Career Institute – Cherry Hill
3 Executive Campus,Cherry Hill, NJ 08002
1-888-966-8146
–
http://www.prismcareerinstitute.edu
PRN Program Center, LLC – Cape May County
Crest Haven Nursing Center4 Moore Road,CMCH, NJ 08210
1-888-947-9334
(856) 459-2141
http://www.prnprogramctr.com
PRN Program Center, LLC- Northfield
Meadowview Nursing Home235 Dolphin Avenue,Northfield, NJ 08225
1-888-947-9334
856-459-2141
http://www.prnprogramctr.com
Creative Achievement Academy
1667 East Landis Avenue, Building A,Vineland, NJ 08362
(856) 691-6667,
(856)405-0111
–
http://www.creativeachievement.org
Touchstone Institute
Touchstone Vineland Campus313 West Landis Avenue,Vineland, NJ 08360
(856) 457-6100
–
http://www.touchstoneinstitute.com
Best Care Program Institute
68 South Harrison Street, East Orange, NJ 07018
(973) 673-3900
(973) 673-0597
http://bestcarehealth.com
Catholic Charities of Archdiocese of Newark
590 North 7th Street,Newark, NJ 07107
(973) 596-4100
–
http://www.ccannj.com
Divine Program Institute
871 Broad Street, Entrance on 15 William Street, Newark, NJ -07102
(973) 621-2200
(973) 621-2201
http://divineprograminstitute.com
Essex County College
303 University Avenue,Newark, NJ 07102
(973) 877-3000
–
http://www.essex.edu
Essex County Vocational Technical Schools
60 Nelson Place 1 North, Newark, NJ 07102
(973) 412-2050
(973) 242-3041
http://www.essextech.org
Nursesvue Careertek Program Institute
134 Evergreen Place, 5th Floor East Orange, New Jersey 07018
(732) 774-5900
(732) 774-5901
http://www.nursesvuecareertek.com
Samuel Morris Career Institute of New Jersey
701 McCarter Highway Suite 201, Newark, NJ 07102
(973) 648-8000
(973) 648-8008
http://www.smcinj.com
Unique Medical Program Center
1230 Springfield Avenue, Suite A-2, Irvington, NJ 07111
(973) 371-0012,
973-220-9786
1-866-929-0774
http://www.uniquemedical1.com
ASI Career Institute
Washington Twp. Campus5360 Rt 42 Black Horse Pike,Turnersville, New Jersey 08012
 (856) 232-4677
 (856) 232-4688
http://www.asi.edu
Rowan College at Gloucester County
1400 Tanyard Road, Sewell, NJ 08080
(856) 468-5000
–
http://www.rcgc.edu
Hudson County Community College
70 Sip Avenue, Jersey City, New Jersey 07306
(201) 714-7100
–
http://www.hccc.edu
The Institute for Health Education
600 Pavonia Avenue,Jersey City, NJ 07306
(201) 217-1113
–
http://www.ihe.edu
Workforce Advantage
66 Elmora Avenue,Elizabeth, NJ 07202
(908) 355-2299
(908) 355-2931
http://www.workforceadvantageusa.com
Hunterdon County Polytech Career & Technical School
8 Bartles Corner Road, Flemington, NJ 08822
(908) 788-1119 x2009
(908) 284-1391
http://www.hcpolytech.org
Berkel Program Institute
320 West State Street, Trenton, NJ 08618
(609) 392-1855
–
http://berkelprograminstitute.com
Moe Shea Corporation
Three 3rd Street Suite, 202 Bordentown, NJ 08505
(609) 324-9911
(609) 324- 9923
http://moeshea.com
Impetus Systems & Careers
850 Route 1 North,North Brunswick,NJ  08902
(732) 246-4555
 (732)875-0462
http://www.impetususa.com
Marie's Allied Health & Technology Institute
863 Hamilton Street,Somerset, NJ 08873
 (732) 249-1505,
(732) 565-0898
(732) 249-1505
http://www.mariesalliedhealth.com
Brookdale Community College
765 Newman Springs Road, Lincroft, NJ 07738-1543
(732) 224-2345
–
http://www.brookdalecc.edu
LTC Career Program
444 Neptune Boulevard Suite 15, Neptune, NJ 07753
(732) 988-1700
(732) 988-7723
http://www.ltccareerprogram.com
Monmouth County Vocational School District
4000 Kozloski Road, P.O. Box 5033 Freehold, New Jersey 07728-5033
(732) 431-7942
(732) 409-6736
https://www.mcvsd.org
County College of Morris
214 Center Grove Road, Randolph, NJ 07869-2086
(973) 328-5000
–
http://www.ccm.edu
ATC Academy
680 Broadway, Suite 007, Paterson, NJ 07514
(973) 742- 0906
–
http://atcacademynj.com
Branford Institute
570 North Broad Street, Elizabeth, NJ 07208
(908) 352- 1004
(908) 352- 6919
http://www.branfordinstitute.org
Passaic County Technical Institute
45 Reinhardt Road, Wayne, New Jersey 07470
(973) 790-6000
–
http://www.pcti.tec.nj.us
Salem County Vocational Technical School
880 Route 45 Woodstown, NJ 08098
(856)769-0101
–
http://www.scvts.org
Marie's Allied Health & Technology Institute
863 Hamilton Street,Somerset, NJ 08873
732-249-1505,
732-565-0898
732-249-1505
http://www.mariesalliedhealth.com
Prestige Medical Solutions
490 Somerset Street, North Plainfield, New Jersey 07060
(908) 941-5946
(908)941-5949
http://prestigemedical.org
Raritan Valley Community College
118 Lamington Road, Branchburg, New Jersey 08876
(908) 526-1200
–
http://www.raritanval.edu
HealthCare Program Institute
1969 Morris AvenueUnion, New Jersey 07083
1-888 – 226 – 6354 (toll free)
(908) 851-4558
http://www.htinj.edu
HPI School of Allied Health
979 Lehigh Avenue, Union, New Jersey 07083
(908) 687-0808
–
http://www.hpiallied.com
Partners Pharmacy
70 Jackson Drive, Cranford, NJ 07016
(877) 931-9111
–
http://www.partnerspharmacy.com
Pharma Care, Inc.
136 Central Avenue,Clark, NJ 07066
(732) 574-9015
(732) 499-6778
http://www.pharmacareinc.com
Workforce Advantage-Elizabeth Center
49 Broad Street, 2nd Floor,Elizabeth, NJ 07201
(908) 355-2288
(908) 355- 2239
http://www.workforceadvantageusa.com
JKB Education Resources
800 Fanning Mill Road,Stewartsville, New Jersey 08886
(917) 763-8124
(908) 859-8255
http://www.healthed.jigsy.com
Warren County Community College
475 Route 57 West,Washington, NJ 07882
(908) 835-WCCC (9222)
–
http://www.warren.edu
Becoming a nurse aide in New Jersey
The nurse aide training programs in New Jersey are looked after by the Department of Health and Senior Services (NJDHSS). Such programs have a selection process for students to join the classes. You must have a social security number and must clear an entrance exam which will evaluate your English communication skills and math solving ability.
To obtain CNA certification in New Jersey you must be at least 18 years of age with a high school diploma and GED. You must fix a fingerprint appointment to carry out the criminal background investigation and the report must be ready before you apply for the certification exam. A medical test report confirming that you are not suffering from any contagious disease; especially TB should be submitted along with the application. Program verification is conducted to ensure that you were enrolled in a state approved training module.
It is a perception that nursing programs are very costly, but as far as CNA training is concerned the costs are very low. The average training cost in New Jersey is around $800 but programs start from lower costs and they vary from one place to another; those in the urbanized areas like Newark will cost higher. Programs can range from $400 to $1400 and the number of hours for training can be another determining factor when it comes to the cost. Those who are not financially well to do due the bad economic weather can opt for free programs that are offered at long term care facilities across the state if you are ready to work with these facilities upon certification.
Nurse aide programs in New Jersey
Two different certifications are up for grabs in the state of New Jersey; you can either become a Nurse Aide in a Long Term Care Facility or a Personal Care Assistant in Assisted Living. The competency exams for these certifications differ and so do the programs. The former will be certified to work in long term care facilities and hospitals while the latter can work in assisted living facilities and nursing homes or patient homes. After certification they will be designated as Nurse Aide (NA) and Personal Care Assistant (PCA) respectively.
The CNA training program has to be of a minimum of 90 hours which is divided into 50 hours of classroom study and 40 hours of clinical training and the PCA program will be of 85 hours divided into 69 hours of classroom and 16 hours of clinical study. The classroom study will take up theory subjects and the clinical training will be about the nursing and personal care skills. The difference in program and certification are prescribed because the responsibilities for aides working in long term care or hospitals are more as compared to the ones working in patient homes of assisted living facility.
After completion of the training you have to challenge the certification exam of the respective courses passing which your name will be listed in the New Jersey Nurse Aide & Personal Care Assistant Registry respectively. Both the paper will have written and practical papers but of varying nature. The NA skills paper will have more skills to be performed while the PCA written paper will have more questions to be answered.
Opportunities for nursing assistants in New Jersey
New Jersey is one of the most prosperous states in the US and they have more spending capacity for healthcare issues as compared to some other states. It is predicted that there will be 15% rise in CNA jobs in the state in the next five years so the salary is bound to be good. Currently the average salary is $32,000 and the pay scale ranges from $19,000 to $39,000 a year. Even the average salary of RN is $83,000 and that of LPN is $52,000 which is higher than the national average.
Considering such wonderful opportunities CNA nursing schools in New Jersey are just the right place to start your nursing career if you have a craving for this profession.
Additional Resources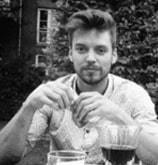 James Markham is a Blogger from Ohio USA. He is also a medical student of MBBS 2nd prof at Northeast Ohio Medical University. Read more about him