New Jersey is a state which has a diversified economy with the manufacturing, chemical, financial, telecommunication and food processing industries spread across the state.
It is one of the wealthiest states in America and also the most densely populated one.
With such a high population the need for medical and allied services is bound to be very high thus calling for more professionally trained individuals for the healthcare sector.
CNA nursing schools in New Jersey offer training to those who want to work in this field as certified nursing assistants.
It is true that all our healthcare needs can be fulfilled only if we have good nurses and doctors, but they cannot take up all the responsibilities of patients.
There are some needs like feeding, bathing and grooming, taking vital signs and ambulating patients that do not need highly specialized training.
Some basic training is all that is required and the duties are to be performed under the surveillance of a registered nurse so guidance will always be available.
The basic training can be taken by joining CNA classes in New Jersey.
Some of the well known training programs are conducted at Impetus Systems and Careers in North Brunswick, Universal Training Institute, Inc. in Perth Amboy, Brookdale Community College Western Monmouth Campus in Freehold, Morris County School of Technology in Denville and Comtec Institute in Somerset.
These are state approved certified nurse aide training programs and they fulfill all the requirements for proper training which is conducted by experts.
Becoming a Nurse Aide in New Jersey
The nurse aide training programs in New Jersey are looked after by the Department of Health and Senior Services (NJDHSS).
Such programs have a selection process for students to join the classes. You must have a social security number and must clear an entrance exam which will evaluate your English communication skills and math solving ability.
To obtain CNA certification in New Jersey you must be at least 18 years of age with a high school diploma and GED.
You must fix a fingerprint appointment to carry out the criminal background investigation and the report must be ready before you apply for the certification exam.
A medical test report confirming that you are not suffering from any contagious disease; especially TB should be submitted along with the application. Program verification is conducted to ensure that you were enrolled in a state approved training module.
It is a perception that nursing programs are very costly, but as far as CNA training is concerned the costs are very low.
The average training cost in New Jersey is around $800 but programs start from lower costs and they vary from one place to another; those in the urbanized areas like Newark will cost higher.
Programs can range from $400 to $1400 and the number of hours for training can be another determining factor when it comes to the cost.
Those who are not financially well to do due the bad economic weather can opt for free programs that are offered at long term care facilities across the state if you are ready to work with these facilities upon certification.
How Long Does It Take To Become a CNA in New Jersey?
Two different certifications are up for grabs in the state of New Jersey; you can either become a Nurse Aide in a Long Term Care Facility or a Personal Care Assistant in Assisted Living.
The competency exams for these certifications differ and so do the programs. The former will be certified to work in long term care facilities and hospitals while the latter can work in assisted living facilities and nursing homes or patient homes.
After certification they will be designated as Nurse Aide (NA) and Personal Care Assistant (PCA) respectively.
The CNA training program has to be of a minimum of 90 hours which is divided into 50 hours of classroom study and 40 hours of clinical training and the PCA program will be of 85 hours divided into 69 hours of classroom and 16 hours of clinical study.
The classroom study will take up theory subjects and the clinical training will be about the nursing and personal care skills.
The difference in program and certification are prescribed because the responsibilities for aides working in long term care or hospitals are more as compared to the ones working in patient homes of assisted living facility.
After completion of the training you have to challenge the certification exam of the respective courses passing which your name will be listed in the New Jersey Nurse Aide & Personal Care Assistant Registry respectively.
Both the paper will have written and practical papers but of varying nature. The NA skills paper will have more skills to be performed while the PCA written paper will have more questions to be answered.
How Much Does a CNA Make in New Jersey?
New Jersey is one of the most prosperous states in the US and they have more spending capacity for healthcare issues as compared to some other states.
It is predicted that there will be 15% rise in CNA jobs in the state in the next five years so the salary is bound to be good.
Currently the average salary is $32,000 and the pay scale ranges from $19,000 to $39,000 a year. Even the average salary of RN is $83,000 and that of LPN is $52,000 which is higher than the national average.
Considering such wonderful opportunities CNA nursing schools in New Jersey are just the right place to start your nursing career if you have a craving for this profession.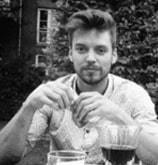 James Markham is a Blogger from Ohio USA. He is also a medical student of MBBS 2nd prof at Northeast Ohio Medical University. Read more about him