If you live in Kentucky and have just completed your high school studies you must be looking forward for career options that can be satisfying. If you feel that you have the compassion towards the sick and elderly nursing might be the right profession for you. An easy way to enter the profession is by starting with an entry-level job of a certified nursing assistant. All you need to do is search for CNA nursing schools in Kentucky, enroll in one that has the state's approval, complete the training and pass a certification exam.
Sounds easy, doesn't it? Nursing assistant's job is to serve the patients in their routine activities like bathing, dressing, feeding, documentation while ambulating etc. All these duties must be performed under the guidance of a Registered Nurse (RN) or a doctor. The RNs were earlier over burdened as they had to perform all these additional duties along with their core medical tasks. So nurse aides are a true blessing for them as well as the families of the patients. The wage rates of RNs are so high that the medical expenses would go up; but with efficient CNAs working in the healthcare industry the expenses have decreased considerably. Medicare and Medicaid, two of the biggest health insurance companies in the country also support this.
Everest Institute in Charlestone, Lincoln College of Technology in Florence, Sullivan University in Lexington, Southeastern Institute in Nashville and Daymar College in Louisville are some of the well CNA nursing schools in Kentucky. The American Red Cross CNA training is also provided at the Louisville chapter in the state.
kentucky Free Certified Nurse Aide Program
| Nursing Homes | Address | Contact No. | Fax No. | Official Website |
| --- | --- | --- | --- | --- |
| Signature HealthCARE of Trimble County | 50 Shepherd Lane, Bedford, KY 40006 | (502) 255-3244 | (502) 255-7844 | http://shcoftrimblecounty.com |
| Berea Health Care Center | 601 Richmond Road(U.S. 25 North)Berea, Kentucky 40403 | (859) 986-4710 | – | http://www.bereahealthcare.com |
| Bourbon Heights, Inc. | 2000 South Main Street,Paris, Kentucky 40361 | (859) 987-5750 | (859) 987-6460 | http://www.bourbonheights.com |
| Boyd Nursing and Rehab Center | 12100 Princeland Spur,Ashland, KY 41102 | (606) 928-2963 | – | http://boydnursingandrehab.com |
| Signature HealthCARE of Georgetown | 102 Pocahontas Trail, Georgetown, KY 40324 | (502) 863-3696 | (502) 868-5254 | http://shcofgeorgetown.com |
| Life Care Center Of Lacenter | 252 West Fifth Street, La Center, KY 42056 | (270) 665-5681 | (270) 665-9766 | http://lifecarecenteroflacenter.com |
| Life Care Center Of Morehead | 933 North Tolliver Road, Morehead, KY 40351 | (606) 784-7518 | (606) 784-7619 | http://lifecarecenterofmorehead.com |
| Georgetown Community Hospital | 1140 Lexington Road,Georgetown, KY 40324 | (502) 868-1100 | – | http://www.georgetowncommunityhospital.com |
Becoming a nursing assistant in Kentucky
Kentucky Nursing Board is the authorized body which gives approval to training programs in Kentucky and when you search for a training program; make sure that you enroll in an approved program to be eligible for the certification test. You must have a high school diploma or a GED and must have completed 18 years of age. You must undertake a medical test to verify that you have no contagious disease like TB and you must have no conviction against you except for minor traffic violations.
The training programs cost varies from $400 to $2500; those that charge you higher fees not only take care of all the supplies, uniform and study material but also include the criminal check, medical test and exam costs. On an average you will have to pay $900 for CNA programs in Kentucky .
If you are willing to work in medical facilities or nursing homes then the prospective employer will offer you free training; you have to search for local hospitals that have vacancies for nurse aides so that you will not have to bear the cost of training. You can also look around for financial aid that is offered by some community colleges; the nursing board can give you the details of such colleges in the state.
Nursing assistant programs in Kentucky
CNA programs that are approved by the state have to follow all the regulations set by the Kentucky Nursing Board. The minimum training hours in the state are 75 hours out of which 59 hours is for classroom study and 16 hours for clinical training, the skills classes are conducted under the supervision of a registered nurse so it ensures quality training. If you want more practice you can enroll for longer training hours, but you will have to pay extra for those hours. The classroom study involves classes on anatomy, medication terminology, emergency and safety measures, nutrition control, psychology, communication & interpersonal skills and organizational work. The clinical training involves 25 nurse aide skills like vital signs, hand washing, infection control, sanitation, bathing, dressing and feeding etc.
On completion of the training you must attempt the certification exam which involves two papers; the written paper is a set of multiple choice questions and you must score 70% to pass it while in the clinical paper you have to perform three to five skills of the choice of the examiner and the passing score is 100%. Nursing assistant is a hand on job hence full scoring is expected for the skills exam. After you pass the exam your name will be listed in the registry and you will become State Registered Nurse Aide (SRNA).
The license is valid for two years and you should renew it on expiry; to be eligible for renewal you must work for at least eight hours in a facility and must take 12 hours of in-house education every year. CNA from another state can transfer their license to Kentucky by applying for reciprocity if you are in good conditions with the state where you got certification from.
Opportunities for nursing assistants in Kentucky
According to predictions there will be at least 25% increase in the job opportunities for nurse aides in Kentucky; so you need not worry about employment opportunities; in cities like Owensboro, the demand in even higher. The salary in Kentucky is from $16,000 to $35,000 and average salary of CNAs in the state is $27,000 which is the same as the national average. With growing opportunities and shortage of trained professional the salaries are bound to be even higher in the future. With experience and continuing education you can build a rewarding career in nursing.
CNA nursing schools in Kentucky provide all the required training to pass the certification exam and work professionally. So if you have the drive to assist the patients enroll in one of the schools nearby by to enter this noble nursing profession.
Additional Resources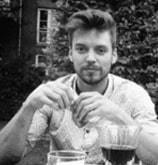 James Markham is a Blogger from Ohio USA. He is also a medical student of MBBS 2nd prof at Northeast Ohio Medical University. Read more about him