For a long period of time Iowa has been a state where agricultural has been the backbone of economy; so much so that it is called as the Food Capital of the World. In the latter part of the last century the economy transformed into a diversified economy and the state ventured into other sectors like manufacturing, financial services and healthcare. So if you are a resident of the state you can get a reasonably easy entry into the healthcare sector for a rewarding and long term career by enrolling in CNA nursing schools in Iowa.
Certified nursing assistant is an emerging profession which is allied to the medical field and as the name suggests; you have to assist the nurses. The nurses have to take care of the core medical requirements of the patients and along with that if they have to support patients in routine activities like bathing and feeding it will definitely be a huge burden on them. To lessen this burden and allowing them to focus on their key result areas, the profession of nursing assistants saw the daylight. It is an entry level opening into the nursing field and by taking career advancement steps you can take big strides in the medical field.
Iowa Western Community college, East Iowa Community College and Kirkwood Community college are some of the most popular colleges offering CNA classes in Iowa. These colleges are recognized by the state health department and provide with the training required to obtain skills of nursing assistants.
Free Nursing Assistant Program In lowa
| Nursing Homes | Address | Contact No. | Fax No. | Official Website |
| --- | --- | --- | --- | --- |
| Nursing Home & West Winds Villa | 402 2nd Avenue,Clarence,IA 52216 | (563) 452-3266 | (563) 452-3268 | http://clarenceseniorliving.com |
| Fort Madison Health Center | 1702 41stStreetFortMadison, IA 52627 | (319) 372-8021 | (319) 372-8163 | http://www.fortmadisonhealthcenter.com |
| Fountain West Health Center | 1501 OfficePark Road, West Des Moines, IA 50265 | (515) 223-1223 | – | http://www.fountainwest.com |
| Franklin General Hospital | 1720Central Avenue East,  Hampton, Iowa50441 | (641) 456-5000 | – | http://www.franklingeneral.com |
| Friendship Home | 714North Division Street, Audubon, IA 50025 | (712) 563-2651 | (712) 563-2342 | http://www.friendshiphome.com |
| Monticello Nursing andRehabilitation Center | 500 PinehavenDriveMonticello,Iowa 52310 | (319) 465-5415 | – | http://www.monticellocampus.com |
| Montrose Health Center, Inc. | 400 South 7thStreetP.O. Box 248Montrose,IA 52639 | (319) 463-5438 | (319) 463-5439 | http://www.montrosehealthcenter.com |
| Nelson Manor | 1500 1st Avenue,EastNewton,IA 50208 | (641) 792-1443 | – | http://www.nelsonmanor.com |
| New Hampton Nursing & RehabilitationCenter | 703 SouthFourth Avenue, New Hampton, IA 50659 | (641) 394-4153 | – | https://www.nhnrc.com |
| Westview Acres Care Center | 203 SouthwestLorraine, Leon, IA 50144 | (641) 446-4165 | (641) 446-6604 | http://www.iowacare.com |
| Wheatland Manor Care Facility | 316 EastLincolnway, PO Box 369Wheatland, Iowa52777 | (563) 374-1295 | – | http://www.wheatmanor.com |
| Arbor Springs of West Des Moines | 7951 EP TrueParkway, West Des Moines, IA 50266 | (515) 223-1135 | (515) 223-1246 | http://www.arborsprings.org |
| Heritage Nursing Home | 546 EastRamsey,Bancroft, IA50517 | (515) 885-2463 | (515) 885-2759 | http://www.heritagehomebancroft.com |
Becoming a nurse aide in Iowa
Before joining nursing assistant you must have completed your high school education and must be able to communicate in English and should be able to solve basic mathematical problems; many community colleges have pre-admission exam to evaluate these requirements. To get trained you must enroll in a program which is accredited by the state so that you can qualify for the state certification exam. The state also requires you to submit two fingerprint cards to verify your criminal history and a medical test must be undertaken to confirm that you have not contracted with any communicable infection.
The cost of a CNA program in Iowa can be as low as $150 so that it proves to be affordable to one and all. But the important part is that you have to get your supplies like the practice equipments, uniforms etc. at your own cost; the program cost is only for the tuition fees. There are some other institutes that may charge you around $1500 and they will look after all the supplies. It is entirely your decision about choosing the right program for you.
CNA certification in Iowa is also a low cost affair; the examination charges are from $15 to $45 as the state wants to encourage more number of people to take up certification to meet the demand for nursing assistants. If you are willing to work in a hospital or nursing home, the medical facility will take up the responsibility of your training cost. However, in Iowa you may not find anyone providing financial aid for the training as the cost is very low.
Nursing assistant programs in Iowa
CNA nursing schools in Iowa that are recognized by the state have to provide training for 75 hours out of which 30 hours are reserved for clinical training. The clinical training hours are less as compared to other states but in Iowa it is obligatory that this part of training is conducted by Registered Nurses, so the training is comprehensive and longer hours are not required.
Once the training is complete you can take the certification test, but you must submit an ID proof or social security number, two passport size photographs along with other documents like high school diploma, medical report and background check report. The exam has two papers; a theoretical and a practical paper. You must pass in both papers for certification. If you fail in any one will of the papers you will have to reappear for it. You must clear the exam in three attempts otherwise you will have to take the training again.
If you are a nursing assistant from some other state you with a clean slate, you can request to transfer the license by filling the application of reciprocity and once the state approves you can practice in Iowa. The licenses are valid for two years; the registry sends you a notice two months prior to expiry so that you can renew the license in time.
Opportunities for nursing assistants in Iowa
Currently in the state of Iowa there are around 50,000 people who are employed as nursing assistants and the number is growing by the day if you consider the forecast for the next decade. The average salary of nursing assistants in Iowa is $27,000 which is the same as the national average. The salary ranges from $19,000 to $35,000 a year depending upon the experience and proficiency. RN on the other hand earn an average salary of $75,000 and the maximum salary can go up to $125,000, so if you continue education along with a CNA job you can reap more benefits in the nursing career.
CNA nursing schools in Iowa thus offer you a great chance of starting a nursing career in the healthcare industry which is now beginning to flourish in the state. If you feel that you have the flair for the nursing career, certified nursing assistant would be an ideal profession to begin with.
Additional Resources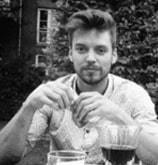 James Markham is a Blogger from Ohio USA. He is also a medical student of MBBS 2nd prof at Northeast Ohio Medical University. Read more about him