Hawaii is s state with beautiful and exotic locations and has been long dependent on the tourism industry for its economic growth. But in today's times of global slowdown even the tourism industry which accounted for almost 25% of the state's income, has taken a body blow. In such a situation CNA nursing schools in Hawaii have provided people with the opportunity of taking care of their livelihood.
Certified nursing assistants work in various healthcare settings under the supervision of registered nurses or physicians and assist patients in basic healthcare activities. You don't have to put in years of training and loads of money to become a nursing assistant, but fundamental training is required to work in the peculiar healthcare industry.
Unlike some other nursing or medical profession, a nurse aide training lasts only for a few weeks. All you have to do is enroll in CNA classes in Hawaii, complete the training and pass a state certification exam to become a certified nursing assistant. In the fluctuating job market, if you are looking for a steady job the healthcare field can be a good option as this has been one field that has been in boom despite the recession all over the world.
Becoming a nurse aide in Hawaii
In most states nurse aide programs are approved by the state health department or state nursing boards; but in Hawaii this responsibility lies with the Director of the Department of Human Services. You cannot take the state certification exam if you have not completed a training program recognized by this authority.
Apart from this the applicant must be 18 years of age and pass the state exam which has both the theory as well as practical papers. The theory paper can be written or oral as per the choice of the applicant. In Hawaii you need not have a high school diploma or GED to enroll in a nurse aide program but must pass the Adult Basic Learning Test to start training. Before the certification exam you must pass the criminal and medical test as is the case with all the states.
The cost of nursing assistant program shall be at an average of $1,400 which includes all the study material and equipments for practice. You can also find some free training programs and funded programs in Hawaii if you are unable to pay for the training. The Medicaid and Medicare certification programs reimburse your training cost once you attain certification and start working in their facilities.
The exam fee in Hawaii is costlier as compared to other states, here you will have to pay $275 for the examination which includes the processing fee, skills paper fee, the theory paper fee and fee for licensure. If you start working in a nursing home after certification the State of Hawaii will reimburse a prorated amount of the licensing fee.
In HI That Offered Free Nursing Assistant Program
Nursing Homes
Address
Phone No.
Fax No.
Website
Castle Medical Center
640 'Ulukahiki Street,Kailua, HI 96734
(808) 263-5500
–
https://www.adventisthealth.org/castle/pages/castle-home.aspx
The Care Center of Honolulu
1900 Bachelot Street,Honolulu, HI 96817
(808) 531-5302
(808) 538-3219
http://ccoh.us
Hale Anuenue Restorative Care Center
1333 Waianuenue Avenue,Hilo, Hawaii 96720
(808) 961-6644
(808) 961-6630
http://haleanuenuecarecenter.com
Hale Ho'ola Hamakua
45-547 Plumeria Street, Honokaa, Hawaii 96727
(808) 932-4100
(808) 775-9977
http://www.hhh.hhsc.org
Hale Makua Wailuku
1540 Lower Main StreetWailuku, HI 96793
(808) 243-1722
–
http://halemakua.org
Kahuku Medical Center
56-117 Pualalea St Kahuku, HI 96731, Kahuku, Hawaii 96731-2052
(808) 293-9221
–
http://kahuku.hhsc.org
Ka'u Hospital
1 Kamani StreetPahala, Hawaii 96777
(808) 932-4200
(808) 928-8980
http://www.kau.hhsc.org
Kauai Care Center
9611 Waena Road,Waimea, HI 96796
(808) 338-1681
–
http://www.kauaicarecenter.com
West Kauai Medical Center
4643 Waimea Canyon Drive,Waimea, Kauai, HI 96796
(808) 338-9431
–
http://www.kvmh.hhsc.org
Kohala Hospital
54-383 Hospital Road, Kapaau, Hawaii 96755
(808) 889-6211
(808) 889-6978
http://www.koh.hhsc.org
Oahu Care Facility
1808 South Beretania Street,Honolulu, HI 96826
(808) 973-1900
(808) 973-1910
http://oahucarefacility.com
Pearl City Nursing Home
919 Lehua Avenue,Pearl City, HI 96782
(808) 453-1919
(808) 453-1929
http://pearlcitynursinghome.com
The Queen's Medical Center
1301 Punchbowl Street,Honolulu, Hawaii  96813
(808) 538-9011
–
http://queensmedicalcenter.org
Mahelona Medical Center
4800 Kawaihau Road,Kapaa, Kauai, HI 96746
(808) 822-4961
–
http://www.smmh.hhsc.org
St. Francis Healthcare System of Hawaii
2226 Liliha Street, Suite 227Honolulu, HI 96817,PO Box 29700

Honolulu, HI 96820

(808) 547-6011
–
http://www.stfrancishawaii.org
Aloha Nursing & Rehab Centre
45-545 Kamehameha Highway,Kaneohe, Hawaii 96744
(808) 247-2220
(808) 235-3676
http://www.alohanursing.com
Arcadia Family of Companies
1434 Punahou Street, Honolulu, HI 96822-4754
(808) 941-0941
(808) 949-4965
http://arcadia-hi.org
Hale Ola Kino- The Health Center at One Kalakaua
1314 Kalakaua Avenue,Honolulu, HI 96826-9951
(808) 983-4444
(808) 983-4499
http://www.haleolakino.com
Kona Community Hospital
79-1019 Haukapila Street, Kealakekua, Hawaii 96750
(808) 322-4488
–
http://www.kch.hhsc.org
Yukio OkutsuState Veterans Home – Hilo
1180 Waianuenue AveHilo, HI 96720
(808) 961-1500
–
http://www.svh.hhsc.org
Nurse aide programs in Hawaii
The Department of Human Services has approved as many as 30 CNA nursing schools in Hawaii and considering the small size of the islands in the state you will not have much difficulty in finding a recognized program in your neighborhood. The mandatory training hours in Hawaii are 100 hours out of which 30 hours are for classroom study and 70 hours are dedicated to clinical training. The clinical training hours are further divided into 30 hours of basic nursing, 30 hours of personal care and the remaining 10 hours for cardiopulmonary restoration (CPR) training.
Red Cross CNA training classes are also offered in many centers by the Hawaiian chapter of the society and healthcare insurance companies Medicaid and Medicare have also set up training centers in this Pacific state of America.
Apart from the clinical skills subjects covered in the classroom study are infection control, emergency and safety requirements, patient's rights, communication skills etc. The programs are structured in such a way that students can easily pass the theory and the CNA skills exam to get certified. Additionally, the 70 hours of clinical training will ensure that you have good exposure to the practical skills and you can serve the patients efficiently in their healthcare needs.
Opportunities for nurse aides in Hawaii
Hawaii is one of the states that have exceptional healthcare services set up by the state with more than 90% of the population that has medical insurance provided by the state. In such a scenario the demand for healthcare professionals is bound to be high when you compare it with the population of the state. In a sharp contrast professionally trained nursing assistants are less, so the salary for nursing assistants is very high. CNAs in Hawaii get an average salary of $15 an hour which means you can earn more than $31,000 a year.
With experience you will earn even higher salaries and if you continue education and go on to become RN you can expect an average salary of $68,000 a year which is higher than the national average for RN across the nation. The cost of living in Hawaii is very less as compared to the continental states of the US so the CNA salary can be more than sustainable.
CNA nursing schools are approved by the department of human services and you have to enroll in program recognized by this authority to get certified. The training offered by these schools is of the highest quality and shall land you in good stead for the certification exam and professional practice.
Additional Resources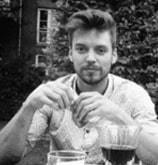 James Markham is a Blogger from Ohio USA. He is also a medical student of MBBS 2nd prof at Northeast Ohio Medical University. Read more about him