Considered as one of the toughest exams, every individual desiring to become a certified nurse aide needs to face CNA certification test. You can acquire a CNA certificate in your state only after passing this test. This thing sends shiver down an applicant's spine. Things seem difficult, as it is very crucial to excel in this test. See, it all depends on your approach towards this exam. Some may find it easy to crack this test, while some may find it difficult. It all depends on how you prepare for it. Passing this test becomes easy provided you are attentive during the course of certified nursing assistant training program.
You must be well aware of the schedule of the exam and accordingly, make a plan to conquer it. You must be ready with books and other related materials that you will need for preparation. Your basics must be very clear in terms of the nursing facets. One can easily ensure this, if one completes a state-approved nurse aide program from a recognized college. These programs are designed with an aim of equipping the candidates in each and every nursing aspect and preparing them for the CNA certification test.
Completing such a program is highly beneficial from exam perspective. This program enables students to understand what is right, what is wrong, what must be done at what time, how to deal with patients and so on. Students get used to the things and become well verse in all the aspects. Thus this thing makes it easier to crack this test. While preparing for CNA certification test, you can also refer sample practice test questions to get an overview of what sort of questions can be asked during exam. Make sure you do not follow rote learning method and even if you are willing to memorize things, first understand the concept and then memorize it. In addition, you must not neglect your health and must take proper rest whenever required. Make sure you set aside few days for revision prior to test.
As you all must be aware, CNA certification test consists of a written test section and clinical skills evaluation test section. Written test consists of multiple choice questions, which checks your conceptual nursing understanding. Organizer also provides the facility of taking oral test instead of written test for the candidate's convenience. For this test, you must go through each question keenly and accordingly, answer that question by filling a dot. Do not hurry things up; stay calm and focus on one question at a time. If you are finding it difficult to decide the correct answer, skip that question and focus on the ones that you can easily answer. You can solve that skipped question(s) at the end after solving the other ones.
Clinical skills evaluation test is that part of the exam that frightens even a mentally strong candidate. Although it seems to be difficult, one can easily deal with it, if one is knowledgeable and positive in his/her approach. Only one thing can decide your fate in this test. This thing is how well and with how much dedication you have performed the skills during CNA training. During skills test, an evaluator will ask you to perform any 5 skills under his/her supervision.
Mostly asked, two of them include hand washing and indirect care. He/she evaluates your performance in each skill. Make sure you wash your hands and scrub them till they become dry before performing the skills and at the end. Do not hesitate to clear your doubts if one pop-ups. Focus on performing each skill with precision and emphasize on your body language. Stay calm and polite while interacting with the patients and evaluator.
Thus you do not need to be brainy; all you will need is to be positive and hard working. Follow the above mentioned points and you will experience success yourself.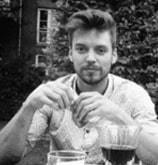 James Markham is a Blogger from Ohio USA. He is also a medical student of MBBS 2nd prof at Northeast Ohio Medical University. Read more about him