Referred as STNA (State Tested Nurse Aide), certified nursing assistant's courses are provided by several colleges/nursing institutions in Ohio. Make sure you opt for a course from any college, recognized by state Department of Health only as this condition must be fulfilled to apply for certification exam.
You must pass this exam to become a nursing assistant in the state. At least 75 hours of training is included in this course, which includes classroom training as well as applied clinical exercises.
Following topics are covered during this CNA course, where care is taken for preparing students practically well in Nursing:
Patient care, hygiene, and nutrition
Restorative care
Medical terminology
Vital signs
CPR training
Safety and emergency methods
Documentation and reporting
Prerequisites for Nurse Aide Courses in Ohio
Clean criminal background
Passing medical and drug examination
Required Skills for CNA Courses in Ohio
Good behavior
Good communication skills
Optimism
Consistency
Approved CNA Training in Ohio
Name of School
Address
Contact No
Fax No
Official Website
Ohio Valley College of Technology
15258 State Route 170,
East Liverpool, OH 43920
(330) 385-1070
–
http://ovct.edu
Brown Mackie College
755 White Pond Drive, Suite 101
Akron, OH 44320
(330) 869-3600
–
http://www.brownmackie.edu
Apollo Career Center
3325 Shawnee Raod, Lima OH 45806-1454
(419) 998-2908, (866) 998-2824
–
http://www.apollocareercenter.com
Delaware Area Career Center
4565 Columbus Pike,
Delaware, Ohio 43015
(740) 548-0708
(740) 548-0710
https://www.delawareareacc.org
Four County Career Center
22-900 State Route 34, Archbold, OH 43502
(419) 267-3331
(800) 589-3334
http://www.fourcounty.net
Ehove Career Center
316 West Mason Road,Milan, OH 44846
(419) 499-4663(419) 627-9665
–
http://www.ehove.net
Holland Management, Inc
1383 Sharon Copley Road, Sharon Center, Ohio  44274
(330) 239-4474
(330) 239-4479
http://www.hollandmgmt.com
Four County Career Center
22900 State Route-34, Archbold, Ohio 43502
(419) 267-3331,
(800) 589-3334
–
http://www.fourcounty.net
Ace Tutors
5225 Northfield Road Suite C Bedford Heights, Ohio 44146
(216) 332- 1600, (440) 777-7970
–
http://www.acetutorsohio.com
Hennis Care Centre – Dover
1720 Cross Street,
Dover, OH 44622
(330) 364-8849
–
http://www.henniscarecentre.com
Hennis Care Centre – Boliver
300 Yant Street,
Bolivar, OH 44612
(330) 874-9999
–
http://www.henniscarecentre.com
Great Oaks
3254 East Kemper Road,
Cincinnati, OH 45241
(513)771-8810
–
http://www.greatoaks.com
Ohio Hi-Point Career Center
2280 State Route 540,
Bellefontaine, Ohio 43311
(937) 599-3010
–
http://www.ohp.k12.oh.us
Greene County Career Center
2960 West Enon Road, Xenia, OH 45385
(937) 372-6941
(937) 372-3125
http://www.greeneccc.com
Bedford City Schools
475 Northfield Road,
Bedford, OH 44146
(440) 439-1500
(440) 439-4850
http://www.bedford.k12.oh.us
Montefiore
One David North Myers Parkway
Beachwood, OH 44122
(216) 360-9080
(216) 910-2299
http://www.montefiorecare.org
Menorah Park Center for Senior Living
27100 Cedar Road    Cleveland, Ohio 44122
(216) 831-6500
–
http://www.menorahpark.org
Anna Maria Care Community
889 North Aurora Road, Aurora, Ohio 44202
(330) 562-6171
–
http://www.annamariaofaurora.com
Health Care Management Group
390 Wards Corner Road
Loveland, OH 45140
(513) 943-4000
–
http://www.carespring.com
Cincinnati State Technical and Community College
3520 Central Parkway,
Cincinnati, Ohio 45223
(513) 569-1500,
(877) 569-0115
–
http://www.cincinnatistate.edu
Auglaize Acres
209 South Blackhoof Street
Room 201
Wapakoneta, Ohio 45895
(419)739-6710
–
http://www2.auglaizecounty.org
Aultman Transitional Care Unit
2600 Sixth Street Southwest,  Canton, OH 44710
(330) 452-9911
–
http://www.aultman.org
Aurora Manor Special Care Center
101 South Bissell Road,
Aurora, OH 44202
(440) 348-0540
–
http://www.saberhealth.com
Austinburg Nursing and Rehabilitation Center
2780 Airport Drive,
Columbus, OH 43219
(614) 416-0600
–
http://www.atriumlivingcenters.com
Enniscourt Nursing Care
13315 detroit avenue,
lakewood, ohio 44107
(216) 226-3858
(216)226-8344
http://www.enniscourt.com
Essex Healthcare, Tallmadge
563 Colony Park Drive, Tallmadge, OH 44278
(330) 630-9780
–
http://www.atriumlivingcenters.com
Hennis Care Centre, Bolivar
300 Yant Street
Bolivar, OH 44612
(330)874-9999
–
http://www.henniscarecentre.com
Hennis Care Centre, Dover
1720 Cross Street,
Dover, OH 44622
(330) 364-8849
–
http://www.henniscarecentre.com
Procedure for Applying for State Certification Exam
Applying for certification exam becomes possible after you complete a CNA course in Ohio. This exam requires students to take two tests: a written test and clinical skills evaluation test.
Involving 79 multiple choice questions, the written test requires students to solve them within 90 minutes, judging their conceptual nursing knowledge.
You can opt for oral test instead of the written test, if you are uncomfortable with English reading. Make certain you state it in the examination application form to be applicable for it.
Clearing this test with a passing score of at least 80% is required. Skills test involves an evaluator who randomly chooses any 5 skills and assigns them to the candidates, who are required to perform these skills within 35 minutes under his/her supervision.
Amongst these 5 skills, one of them will be hand washing for sure. Your performance will be rated in each skill.
Make sure you pass this test, attaining at least 80% score in each skill. Failing in even a single skill task will require you to give the skills test all over again (next time).
Passing in both these tests will ensure a STNA license acquisition in Ohio State, which will be provided by the Nurse Aide Registry.
This will help you find work in any licensed clinic, hospital, long-term care facility, rehabilitation center, etc. in the state.
You can opt for this exam thrice within 2-year validity period. Retesting the written part or skills part will be required, if you fail in either one of them respectively in your first/second attempt.
Failure in the exam in your third try will need you to pursue the course and give the certification exam all over again.
Proving your STNA employment status in Ohio is required after every 2 years to renew your license, thereby ensuring employment continuation in that state.
Make sure you complete working as a nurse aide for at least 8 hours, performing nursing duties over the past 24 months in Ohio for renewal.
Ohio CNA Reciprocity
A reciprocity application form must be collected from the Nurse Aide Registry in order to transfer to Ohio for nursing assistant's employment. Following things must be proved for transfer:
Active CNA certificate in good standing with the state where he/she is currently under employment
Paid CNA work experience in that state
Clean criminal history track
Once you submit the required documents along with the application form, they will be verified, after which you will be informed about your transfer status.
STNA license in will be provided to you, if you completely satisfy the mentioned requirements. This license will give you the privilege to get employed as a nursing assistant in the state.
CNA Salary in Ohio
Last but not the least, health care centers in Ohio offer handsome salary to certified nursing assistants.
Typically, average salary offered to nurse aides here ranges between $23,000 and $25,000 yearly, whereas the average hourly wage is $12. In addition to this, around 14% growth is projected in nurse aide job position in the state over the next few years.
Thus with opportunities for CNA increasing minute-by-minute, pursuing the required education from Ohio will pave your way towards success, giving rise to a rewarding and everlasting career in the health sector.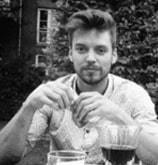 James Markham is a Blogger from Ohio USA. He is also a medical student of MBBS 2nd prof at Northeast Ohio Medical University. Read more about him