New Mexico Department of Health responsible for nursing assistant's certification in the state. To achieve this certification, you will be required to complete an approved course and pass the state exam. Various community colleges, vocational/technical colleges, and independent nursing facilities provide uch courses, recognized by the state's Department of Health.
Such a course includes at least 75 hours of training that involves classroom training and applied clinical exercises.
Following topics are covered during the course of this training:
Patient care
Activities of daily living, hygiene and nutrition
Restorative care
Monitoring vital signs
Safety and emergency procedures
CPR training
Infection prevention and control
Promoting residents' rights
Maintaining records and on-time reporting
Prerequisites for Nurse Aide Courses in New Mexico
Clean criminal background
Passing medical and drug examination
Required Skills for CNA Courses in New Mexico
Good behavior
Excellent interaction skills
Good stamina
All-round consistent performance
 New Mexico State Approved CNA Courses

| Name of the School | Address | Contact No. | Fax no. | Official Website |
| --- | --- | --- | --- | --- |
| Central New Mexico Community College | 525 Buena Vista Drive SE, Albuquerque, NM 87106 | (505) 224-3000 | – | http://www.cnm.edu |
| Dona Ana Community College | 2800 Sonoma Ranch Boulevard, Las Cruces, New Mexico 88011 | (575) 527-7500,(800) 903-7503 | (575) 528-7300 | http://dabcc.nmsu.edu |
| Mesalands Community College | 911 South Tenth Street,Tucumcari, New Mexico 88401 | (575) 461-4413 | – | http://www.mesalands.edu |
| Eastern New Mexico University | 1500 South Avenue K,Portales, NM 88130 | (575) 562-1011 | – | http://www.enmu.edu |
| New Mexico State University | Las Cruces, New Mexico | (575) 646-0111 | – | http://www.nmsu.edu |
| University of New Mexico-Gallup | 705 Gurley Avenue, Gallup, NM87301 | (505) 863-7500 | – | http://www.gallup.unm.edu |
| Northen New Mexico College  – Española | 921 North Paseo de Oñate,Española, NM 87532 | (505) 747-2100 | – | http://nnmc.edu |
| American Red Cross in New Mexico | 7445 Pan American West Fwy. NE,Albuquerque , NM 87109 | (505) 265-8514 | – | http://www.redcross.org/newmexico |
| Clovis Community College | 417 Schepps Boulevard, Clovis, NM 88101 | (575) 769-2811 ,(800) 769-1409 | (575) 769-4190 | http://www.clovis.edu |
Procedure for Applying for State Certification Exam
You will become eligible for the New Mexico CNA Competency exam, once you complete your course. This exam consists of two parts: a written test part and clinical skills evaluation part.
The written test comprises 60 multiple choice questions that must be solved in 90 minutes, which evaluates candidates' theoretical nursing understanding.
During the skills test, computer randomly selects and assigns any 3 skills in addition to 2 skills (Hand washing and Indirect Care) to the candidates, which are to be performed under a proctor's supervision.
Duration for the skills test ranges between 31 minutes and 40 minutes depending on the skills you are required to perform. A proctor will evaluate your performance in those 5 skills and accordingly, your result will be decided.
Passing in both these tests will guarantee your license. The Nurse Aide Registry provides this license, by means of which one can work as a nursing assistant in any long-term care facility, clinic, hospital, old age home, rehabilitation center, etc..
One can challenge the certification exam thrice during 2-year validity period and if he/she fails in his/her third try; retaking the course and certification exam will be required. Failing in either written test or skills test (during first or second try only) will require you retaking that test only.
At least 8 hours of nurse aide work experience in any authorized nursing facility over the last 2 years in New Mexico will be required to be eligible for license renewal.
After every 2 years, license must be renewed. Make certain that you renew it because this is the only thing that will allow you to continue working as a nurse aide in that state.
New Mexico CNA Reciprocity
Candidates with an intention of shifting to the State of New Mexico to gain certified nursing assistant's job will require obtaining a reciprocity form from the Nurse Aide Registry.
Make sure you prove the following details along with the completed application form to succeed in transferring:
Valid certificate from the home state
Completion of a state-approved CNA training program that meets New Mexico's CNA program requirements
Good reputation with the home state
Clean criminal record track
After submitting these documents along with the application form, candidates will be notified regarding their transfer status following documents verification.
If these requirements are met, the Nurse Aide Registry will honor you with a license. This will allow you to get employed as a nursing assistant in the state.
CNA Salary in New Mexico
Around $22,600 and $10.86 are earned by a certified nursing assistants in New Mexico on an average per year and per hour respectively.
The state is expected to see impeccable growth in nurse aide job openings over the next 6 years as the number of health care centers is increasing and so is the population of old people.
With demand for trained professionals is on the rise in New Mexico, pursuing CNA as a career f can make- for a rewarding career in the health sector.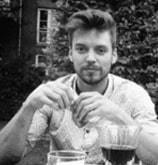 James Markham is a Blogger from Ohio USA. He is also a medical student of MBBS 2nd prof at Northeast Ohio Medical University. Read more about him