The journey of making a certified nursing assistant's career begins with pursuing and completing an approved certified nursing assistant's course in New Hampshire. It is necessary to complete a the course from any community college, vocational/technical college, or independent facility, which is recognized by the State Board of Nursing.
Completing such a course will lead you towards the next step, i.e. applying for the state certification exam. This exam must be passed in any case to attain the license.
An approved CNA course in New Hampshire provides a minimum of 75 hours of training, split between classroom training and applied clinical exercises.
This course curriculum focuses on making students familiar with the nursing basics covering the following relevant topics:
Patient care
Activities of daily living, hygiene and nutrition
Restorative care
Monitoring vital signs
CPR training
Safety and emergency measures
Infection prevention and control
Maintaining patients' records and on-time reporting
Promoting residents' rights
Prerequisites for Nurse Aide Courses in New Hampshire
A CNA course in New Hampshire requires you meeting the following requirements:
Clean criminal background
Clearing medical and physical examination
Required Skills for CNA Courses in New Hampshire
Good mannerism
Good communication skills
Optimism
Consistency
Approved CNA Courses in New Hampshire
Name of the School
Address
Contact No.
Fax No.
Official Website
American Red Cross Regional Medical Careers Program – Concord
2 Maitland Street
Concord , NH 03301
(603) 225-6697
–
http://www.redcross.org
NH Health Care Association
5 Sheep Davis Road,
Suite E
Pembroke, NH 03275
(603) 226-4900
(603) 226-3376
http://www.nhhca.org
American Red Cross Regional Medical Careers Program – Keene
83 Court Street, Keene, NH 03431
(603) 352-3210
–
http://www.redcross.org
American Red Cross Regional Medical Careers Program – Nashua
28 Concord Street,
Nashua, NH 03064
(603) 889-6664
–
http://www.redcross.org
American Red Cross Regional Medical Careers Program – Portsmouth
600 Lafayette Road,
Portsmouth, NH 03801
(603) 436-2218 ext. 116
–
http://www.redcross.org
Lakes Region Community College
379 Belmont Road,
Laconia, NH 03246
(603) 524-3207
–
http://www.lrcc.edu
River Valley Community College
1 College Place,
Claremont, NH 03743
(603) 542-7744
–
http://www.rivervalley.edu
Clinical Career Program
PO Box 19, Bristol, NH 03222
(603)744-6766
–
http://www.clinicalcareerprogram.com
LNA Health Careers, LLC
22 Concord Street, 3rd Floor,
Manchester, NH 03101
(603) 647-2174
(603) 647-2175
http://www.lnahealthcareers.com
Coos County
PO Box 10,
West Stewartstown,
NH 03597
(603) 246-3321
(603) 246-8117
http://www.cooscountynh.us
The Edgewood Centre
928 South Street,
Portsmouth, NH 03801
(603) 436-0099
–
http://www.edgewoodcentre.com
St. Joseph School of Nursing
5 Woodward Avenue, Nashua, New Hampshire 03060
(603) 594-2567
–
http://www.sjhacademiccenter.org
Golden View Health Care Center
19 NH Route, 104 Meredith, NH 03253
(603) 279-8111
(603) 677-4154
http://www.goldenview.org
White Mountains Community College
2020 Riverside Drive,
Berlin, NH 03570
(603) 752-1113
–
http://www.wmcc.edu
Procedure for Applying for State Certification Exam
One can sit for this exam (National Nurse Aide Assessment Examination) immediately after completing an approved the course. This exam consists of two sections: written test section and clinical skills evaluation test section.
Intended to test overall nursing-related understanding of the candidates, written test requires candidates to solve 70 multiple choice questions within 2 hours.
This test can be taken in viva format also, but must be specified in the application form.
During the skills evaluation test, candidates are required to perform any 5 skills within 25 minutes, which are randomly selected, assigned and supervised by a proctor; wherein it evaluates the clinical hands-on skills of the candidates.
Candidates who will pass both these tests will be declared as passed in the exam and will be registered under the state's Nurse Aide Registry.
After achieving this license, working as a nursing assistant anywhere in any hospital, clinic, care center, rehabilitation center, etc., in the state will become possible.
One can attempt this exam three times only. Failure in either one of the tests (written test or skills evaluation test) will require him/her to retake that test only. If a candidate fails in his/her third try, he/she will be required to retake the entire course.
The license is valid for 2 years only, after which one requires to renew that license if one wants to continue working as a nursing assistant thereafter in that state.
CNA license must be renewed after every 2 years. To renew the license, you will be required to prove that you have worked professionally as a nurse aide in an authorized facility in New Hampshire over the last 2 years.
New Hampshire CNA Reciprocity
Out-of-state candidates intended to shift to New Hampshire for employment will require collecting the endorsement form from the Board of Nursing. The following things must be proved:
Valid CNA certificate from the state where he/she is currently under employment
Good reputation with that state
Clean criminal background (Criminal record check requires a fee of $55.25)
Submit the completed application form along with the requested documents and a fee of $35. These documents will be verified, after which candidates will be notified about their transfer status.
Satisfying all the mentioned requirements will provide you with a license in New Hampshire, allowing you to be a part of the health sector.
CNA Salary in New Hampshire
Average earnings of a nurse aide in New Hampshire is $27,200 per year and $13.09 per hour. These figures may vary and increase with experience.
In addition to this, estimation has been made that projects 26% growth in CNA jobs over the next few years in the state. Demand for certified nursing assistants in the state has risen over the years due to paucity in nursing staff and is still rising.
Hence, without any doubt, pursuing a CNA program in New Hampshire will only guarantee excellence in future, thereby fulfilling the aspiration of making a satisfying career in the health care industry.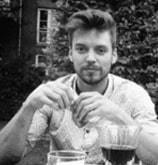 James Markham is a Blogger from Ohio USA. He is also a medical student of MBBS 2nd prof at Northeast Ohio Medical University. Read more about him