Massachusetts is well known for its high-quality education all over the world, and Certified nursing assistant education in is no exception. Various community colleges, high schools, vocational colleges, as well as independent nursing homes in the state offer Certified Nursing Assistant courses, recognized by the Department of Public Health. While pursuing CNA courses in Massachusetts, students will be required to complete a minimum of 75 hours of training, involving classroom training and clinical training exercises. This training is designed is such a way that it prepares students to flair well in Nursing, covering the following points:
Basic nursing principles, facets, and expressions
Patient and restorative care
Safety and emergency procedures
Vital signs
Infection prevention and control
CPR and Dementia specific training
Documentation and reporting
Prerequisites for CNA Courses
Clean criminal background
Passing medical and physical test
Required Skills
Good interpersonal and communication skills
Persistence
Team coordination
Consistency
CNA Courses in MA Free or Low Cost

| Nursing Homes | Address | Phone No. | Fax No. | Website |
| --- | --- | --- | --- | --- |
| Colony Center for Health & Rehabilitation | 277 Washington Street,Abington, MA 02351 | (781) 871-0200 | (781) 871-7093 | http://colonycenterrehab.com |
| Kindred Transitional Care and Rehabilitation – Country Estates | 1200 Suffield Street,Agawam, MA 01001-2933 | (413) 789-2200 | – | http://www.countryestatesagawam.com |
| Belmont Manor Nursing and Rehabilitation Center | 34 Agassiz Avenue,Belmont, MA 02478 | (617) 489-1200 | (617) 489-0855 | http://www.belmontmanor.com |
| Kindred Nursing and Rehabilitation – Braintree | 1102 Washington Street,Braintree, MA 02184-5438 | (781) 848-3100 | – | http://www.braintreemanor.com |
| Seashore Point | 100 Alden Street,Provincetown, MA 02657 | (508) 487-0771 | – | http://www.seashorepoint.org |
| Seacoast Nursing and Rehabilitation Center | 292 Washington StreetGloucester, MA 01930-4832 | (978) 283-0300 | – | http://www.seacoastrehab.com |
| Campion Health Center | 319 Concord Road /Weston, Massachusetts 02493 | (781) 788-4700 | – | http://www.campionhealthcenter.org |
| Don Orione Home – Skilled Nursing and Rehabilitation | 111 Orient Avenue, East Boston, MA 02128 | (617) 569-2100 | – | http://donorionehome.org |
| Eastpointe Rehabilitation & Skilled Care Center | 255 Central Avenue, Chelsea, MA 02150 | (617) 884-5700 | – | http://www.eastpointerehab.com |
| Countryside Health Care of Milford | One Countryside Drive, Milford, MA 01757 | (508) 473-0435 | – | http://www.countrysidehc.org |
| Hannah B. G. Shaw Home | 299 Wareham Street, Middleboro, MA 02346 | (508) 947-0332 | – | http://www.theshawhome.org |
Procedure for applying for State certification exam
After the completion of nurse aide course, the certification exam must be taken in any case as it will guarantee your license acquisition in Massachusetts, provided you excel in that exam. This exam consists of two parts: written test and clinical evaluation test. The written test evaluates candidate's understanding of the nursing concepts, where he/she will be required to solve 50-70 multiple choice questions. A candidate can take this test in oral format also; but he/she must specify it in the application form before taking the test. The skills test is meant for testing candidate's practical skills where a candidate is asked to perform any 5 skills, arbitrarily selected and supervised by a proctor. Both these tests are taken on the same day along with declaration of the results. Once you execute well in this exam, you will get a license from the Nurse Aide Registry. Being listed on this registry provides you with an assurance to work anywhere as a nurse aide in any hospital, clinic, nursing home, care center, rehabilitation center, etc. One can take this exam thrice, but if he/she fails to pass in his third try, he/she will have to take the course as well as the certification exam in once again.
It is important to note that the CNA license must be renewed after every two years. To be eligible for renewal in Massachusetts, you will be required to prove your employment status claiming that you have worked for at least 8 hours as a CNA for compensation, performing nursing related responsibilities in the state over the last 2 years. Once you prove this, your license will be renewed.
With license transfer facility provided in the State of Massachusetts, an out-of-state candidate can easily apply for license transfer in the state. For this, he/she will be required to contact Office of Health and Human Services for reciprocity form. Following things must be proved with the application for transfer:
Active CNA certification from the state where he/she is currently working
Good standing position with the state
Clean criminal history
The list here denotes of Massachusetts that might offer you financial assistance or scholarships for trainings:
Colony House Nursing and Rehabilitation Center
Contact Number: (781) 871-0200
Address: – 277, Washington Street, Abington, MA-02351
Country Estates, Agawam
Address: – 1200, Suffield Street, Agawam, MA-1001
Contact Number: (413) 789-2200
Maplewood Care & Rehabilitation Center
Address: – 6, Morrill Place,  Amesbury, MA-01913
Contact Number: (978) 388-3500
Wingate at Andover Rehabilitation & Skilled Nursing Res
Address: – 80, Andover Street Andover; MA-01810
Contact Number: (978) 470-3434
Golden Living Center, Garden Place
Contact Number: (508) 222-4950
Address: – 193-195, Pleasant Street, Attleboro, MA- 2703
Belmont Manor Nursing Home, In
Contact Number: (617) 489-1200
Address: – 34, Agassiz Avenue, Belmont, MA- 02478
Fax: (617) 489-0855
Official Website: belmontmanor.com
Alliance Healthcare Center, Braintree
Contact Number: (781) 848-2050
Address: – 175, Grove Street, Braintree, MA-2184
Fax: (781) 794-0141
Official Website: alliancehhs.org
Braintree Manor Rehabilitation and Nursing Center
Address: – 1102, Washington Street, Braintree, MA- 2184
Contact Number: (781) 848-3100
Jeanne Jugan Residence
Contact Number: (617) 776-4420
Address: – 186, Highland Avenue, Somerville, MA- 2143
Fax: (617) 623-0707
E-mail ID: smmothersuperior@littlesistersofthepoor.org
Official Website: littlesistersofthepoorgrboston.org
Seashore Point & Wellness Rehabilitation
Contact Number: 508-487-0771
Address: – 100, Alden Street, Provincetown, MA-2657
Official Website: seashorepoint.org
Charlwell House MA
Address: – 305, Walpole Street, Norwood, MA- 2062
Contact Number: (781) 762-7700
Beaumont Rehabilitation and Skilled Nursing Center, Northborough
Contact Number: (508) 393-2368
Address: – 238, West Main Street, Northborough, MA- 1532
Fax: (508) 393-3870
Once the application form with attached documents is verified, you will be informed about your transfer status. If you satisfy all these requirements, you will get your license from the Nurse Aide Registry, permitting you to work. With overall rapid development in the state, opportunities for nurse aides are on the rise and so is the salary. Normally, the average annual income and average hourly wage of a certified nursing assistant in the state are $28,300 and $13.59 respectively. These figures are quite higher than the normal earnings for nursing assistants in US and will rise with experience and additional certifications. In addition to this, the state is bound to see 13% growth approximately in nurse aide jobs over the next 4-5 years. Thus with so much scope for these professionals in the state and high-quality education provided, it is the best place for the aspirants to pursue the required education, eventually making a rewarding and satisfying CNA career in the health sector.
Additional Resources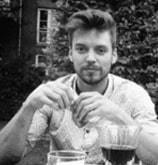 James Markham is a Blogger from Ohio USA. He is also a medical student of MBBS 2nd prof at Northeast Ohio Medical University. Read more about him