License is like a passport that helps in making something possible. Similarly, if you are looking for an access to the medical industry, you need to get a license. Every profession associated with this industry has to earn a license. This is mandatory even for an entry-level position like nursing assistant. If nursing occupation is what you desire, then you must know about the licensing requirement for a nursing assistant.
Now when one does gets a professional license? When he/she completes the formality involved in it. Therefore, if you are seeking a nursing assistant license, you need to complete a course and pass the state exam. This is a universal procedure followed throughout the globe.
The nursing licensing course lasts for a month or stretches up to four to six months depending on the specialization you have chosen. Besides completing the course and passing the exam, there are certain licensing requirements for a nursing assistant you must be aware of. Below given details will help you understand what it takes to become a nursing assistant.
AgeAge factor is important in all types of license. To achieve the nursing assistant license, you must be 18 years or above. You can expect a slight variation in some states, though. A student who is 16 years of age can also join the CNA training course if the respective nursing board allows. However, employers will not employ a minor in any case. So, even he/she gets the license before 18, they can do the job only after completing 18 years in age.
Eligibility for the examYou need to prove you eligibility for the exam by passing a comprehensive test. The local nursing board to ensure that you are clear with the nursing concepts administers this test. In addition, the test will also ensure that you have attended the required hours of training and paid attention physically and intellectually.
Degree/DiplomaInitial qualification is necessary in order to qualify for nursing assistant's license. As per the state and federal requirements, any student wishing to join the nursing course should compulsory hold a high school diploma or GED. This requirement is exempted in some states. You will have to confirm it with the local nursing board. If your state demands this qualification, you need to present the proof.
Background checkThis is the crucial part of the license procedures. Since many offences and crimes such as petty thefts, drug peddling, driving under liquor influence, street and domestic violence are occurring frequently, the administration is more concerned about the safety of the staff and patients. Therefore, they need you to submit your fingerprints so that a local and national background check is done about your personal character.
TestsTests are compulsory and the last step towards achieving the license. Since you are about to join a healthcare industry, you should have technical and practical knowledge. Both these requirements are tested by a written and practical test. The former one will provide you minimum 70 multiple-choice questions to show your technical abilities. The latter would ask you to illustrate any of the five clinical skills chosen from wide arrays of curative repertoire. The passing percentage is 70% and 80% depending on the state.
Other essential traitsNursing assistants must be good in calculation and mathematics. They should also have science as a subject in their school curriculum. As the course involves lab work, prior knowledge in this subject would be useful. Some state will even ask you to pass an aptitude test to check your natural abilities.
Since communication is important in the nursing profession, you need to be proficient in speaking and writing English. You will not have to converse with patients and the medical team. Beside verbal communication, writing skills are important as well since you will have to draft patients' medical reports and converse with the insurance company through emails. Therefore, during the admission, English reading comprehension test is conducted to check your communication skills.
Most important in this profession is your character. You should appear clean and clear when looking for any negligence or abusive against you. The nursing profession is for those who believe in the principal of self-denial and put others first before 'I'.
Hope you are clear with the licensing requirements for a nursing assistant. For more information, we would recommend you to step into a local nursing board office and speak to the authority. What you will get will be the genuine and reliable information.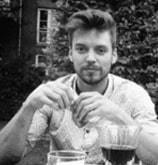 James Markham is a Blogger from Ohio USA. He is also a medical student of MBBS 2nd prof at Northeast Ohio Medical University. Read more about him