CNAs are mainly responsible for ensuring complete patient care in a nursing facility. Demand for certified nursing assistants has increased over the years and is still rising worldwide. They work under the supervision of a registered nurse. They take care of patients' daily living activities including brushing, bathing, feeding, and providing assistance during walking and exercise. They also monitor vital signs. Other responsibilities include grooming, ensuring hygiene and safety, CPR, documentation and reporting. This makes it very clear that facilities cannot run smoothly without certified nursing assistants. Even the hospitals try their best to hire good certified nursing assistants instead of high number of registered nurses, as CNAs do not demand more and always look out to learn something new.
Certified nurse aides play a crucial role in the development and growth of health sector. They enjoy full-time employment, high salary packages, and other benefits. Normally, a CNA makes anywhere between $20000 and $30000 per annum on an average. Additional benefits include paid-time offs and insurance. They not only enjoy these benefits but also gain knowledge and develop skills through training.
To enter this field as a certified nurse aide, aspirants need to complete a state-accredited nursing program, which must include minimum training hours, as suggested by the state board of nursing or department of health. This includes classroom training and clinical hands-on training exercises. After completing this, you need to pass state nurse aide competency exam. This exam covers all the concepts that are taught during the training program and tests candidates' understanding and skills in them. If you pass this exam, you will receive a certificate from the state registry and will be able to find work in that state.
Few years back, facilities used to call nursing assistants on a call or contractual basis. They used to work for the allotted time and were paid accordingly. It was more of a part-time kind of job but over the past 2-3 years, situations have drastically changed for the better. Opportunities have increased by leaps and bounds. Facilities provide the selected nursing assistants with full-time employment and decent salary. Rise in population, and the construction and development of new facilities/health care centers are the main factors in the rise of demand for certified nursing assistants. Also, the main reason for demand is shortage of nursing staff.
Most of the people working currently are aged. This requires some facilities to cope up with sickness, accidents, memory loss, and related problems of the staff. Thus they always look forward towards hiring young certified nursing assistants. Some hospitals even provide free CNA training to the ones who are ready to work with them for the pre-specified amount of time after completing a training program. They provide on-the-job training to such candidates and sponsors for the certification exam too.
Applying for a CNA program is not costly and several community colleges, nursing schools, and independent facilities provide state-approved nurse aide training programs. For this, you will require to pass criminal history check and medical (drug) examination. Most of the institutions/facilities will require you to be a high school diploma holder or GED holder. You can also opt for online programs as well.
Thus if you are willing to rise and make a career as a CNA, go ahead bravely without worrying about the future, as the high demand and excellent scope will provide you with all your needs and lead to a happy and secured life.
Why You Should be Excited about the Future of Nursing
While in nursing school,  you experience only a partial glimpse into the real world of nursing. You are taught to make
clinical decisions and choose your test
answer by referring to the proverbial NCLEX Hospital. After passing the NCLEX, you start your first nursing job, and quickly realize that the NCLEX Hospital does not exist. Clinical decisions are made differently in the real world of nursing. However, as time passes, each work day becomes easier until one day you find that you are the one answering and helping new nurses.
After you acclimate to nursing, you might find yourself feeling ho-hum about nursing and your job. For example, have you ever been in the middle of a long computer charting session and had the epiphany that "There has to be more than this to nursing? Or, I can't do this for the rest of my life!" Don't get discouraged because there are several reasons why you should be excited about your future in Nursing:
There are few careers that enable you to earn one degree and have a large variety of  job options as nursing. For example, have you ever heard of Forensic Nursing? Curious about your career options as a nurse? Try reading Your Guide to Non-traditional Nursing Jobs.
Want to expand your career options even further? You can start your own nursing business. If you need some ideas for a nurse owned business visit our Self Employed Nurse's category. I have a whole blog category devoted to nurse entrepreneurs interviews that provide a basic overview of many types of nurse owned businesses. Also, valuable nurse entrepreneur advice is included in the interviews.
Despite the many issues that are associated with healthcare reform, it would enable nurses to follow their career passion while ensuring their own healthcare needs are covered. Affordable healthcare would benefit nurse entrepreneurs or those that want to follow their dreams of Humanitarian or Mission Nursing.
If you become unhappy in one nursing job, don't assume that the entire profession of nursing is to blame. Change your work environment, and your nursing responsibilities by becoming empowered to take charge of your own happiness in the future of nursing.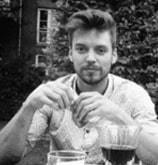 James Markham is a Blogger from Ohio USA. He is also a medical student of MBBS 2nd prof at Northeast Ohio Medical University. Read more about him