Educators in all the fields do the important job of training and education of people so that they can work efficiently in their respective field. In a way the educators do the important task of developing the nation because if quality professionals are not providing us education we cannot work in our desired fields. Education system lays the foundation of the economy of the nation and the system is run by educators.
Nurse educators are responsible for training of registered nurses (RN), licensed practical nurses (LPN) and certified nursing assistants (CNA). As the demand for nurses is very high many nursing schools are finding it hard to get efficient educators that can help in making good nurses. They are considered to be a valuable investment for the future of nursing. It is a wonderful career opportunity for nurses who have a liking for teaching; once you have gained experience in your nursing career, it is important that you pass on the skills to potential nurses to meet with the growing demand. All nurses are not likely to have a liking for teaching, but those who are interested in this profession can reap the benefits of continual education and learning.
How to Become a Nurse Educator
To teach LPN or CNA students an associate or bachelors degree is enough, nut if you want to be an educator for a bachelors degree in
nursing you must
have a masters degree (MSN) or doctoral degree in nursing. These are the minimum educational requirements along with a valid RN license. To become a nurse educator you must have minimum experience of three years in the nursing field; it is required for the MSN degree as well.
The national league of nursing (NLN) looks after the certification of the nurse educators. It is a specialized job and certification emphasizes that the personal has the professional expertise to teach at nursing schools. By becoming a certified nurse educator (CNE) you will earn the credentials required for the profession. The fee for certification is $375 for NLN member and $475 for non-NLN member. It is a computer based examination which is conducted at various test centers across the country.
Once you pass the test you are given a licensure by NLN which is valid for five years. If you meet the recertification requirements you can renew your license. You must work for minimum two years on this position in the five years cycle and must hold a valid RN license. You must follow the code of compliance that is set for CNE and should take continual education to be eligible for renewal.
Duties of Nurse Educator
You can seek employment in universities, junior or senior community colleges, hospital based nursing schools, long term care facilities, technical or vocational institutes etc. Some choose to teach in the faculty in which they have specialized during their nursing degree. For example, a pediatric nurse will teach students of pediatric nursing or a mental health nurse will teach students of his or her faculty. By this way they can focus their energies on their specialty and in return learn more about the subject. It also helps if they are planning to get a doctorate in that field.
You have gained enough experience in the nursing field to understand what is required to train nurses. So as a educator you have to formulate nursing programs for nursing schools. Teaching the unlicensed students at nursing schools is part of their responsibilities, but they also have to teach practicing nurses to further their development in the nursing career. The program will consist of classroom as well as clinical training and you will have to collaborate with other nursing and medical professionals to formulate the program.
The nursing program may differ as per the level of education; for instance an associate degree program will differ from a bachelors program and you must formulate the program keeping this in mind. Sometimes educators are required to teach patients about their health care requirements, you must be able to communicate with them in a layman's language so that they get a clear picture about the requirements.
Good communication skills is a required quality in the education field so that you are able to explain all the aspects of the course work and answer all the doubts the students may have; same is the case with nursing education. You also have an option of working part time as a educator and practice in a hospital or other health care setting for rest of the time.
Job Outlook for Nurse Educator
As the demand for nurses is on all time high quality educators are required to provide proper training and education to aspiring nurses. It is a fact that
nursing schools
are facing the challenge of finding adequate number of educating resources to train future nurses. So if you are a nurse and have the flair for teaching, then this is the best option for you. . The job opportunities are expected to be 35% higher for these professionals as compared to other jobs.
The salary of a registered nurse is around $64,000 whereas a nurse educator can earn anything around $80,000. Moreover, you have the option of seeking dual employment as you can work in a clinical setting as well as an educator.
The nation needs good teaching staff to meet the future requirements of health care professionals and if you want to make a difference in this regards, chose to become a teacher of nursing and help in building the future of health care.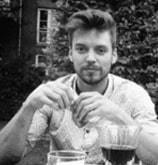 James Markham is a Blogger from Ohio USA. He is also a medical student of MBBS 2nd prof at Northeast Ohio Medical University. Read more about him