In the current situation when most industries are downsizing it is difficult to remain employed and if you want to get a new job it is even more difficult. The employers are in such a situation that they can't do anything about it, nor does the government has any other option to wait and watch. Nationally the unemployment rate was highest in 2008 with more than 2.5 million people losing their jobs. There is no major change in the unemployment rate ever since the economy took a hit.
In such a situation the health care industry is flourishing and is in need of trained people at different level such as certified nursing assistant (CNA), registered nurse (RN), licensed practical nurse (LPN) and so on. One such profession which is in high demand is the licensed vocational nurse (LVN) as it is called in the states of California and Texas or licensed practical nurse (LPN) as know in the rest of the country. It is an allied health care profession which has more responsibilities than certified nursing assistants; it is a profession which is a level higher than can. If you become a practical nurse you will be working under the supervision of a registered nurse (RN), but unlike the nurse aides, you will have to take care of basic medication needs of the patients.
Duties of a licensed vocational nurse
As a LVN or LPN, you will have to assist patients in routine health care activities such as dressing, bathing and feeding etc. if it is required and a RN gives you such orders. But the important functions of these nurses involve taking vital signs, collecting blood and urine samples and conduct laboratory tests on them, looking after the IV fluid intake, giving injections and medicines, monitoring the patient health develop and make plans for better treatment and medication.
All these are medical duties which are related to the treatment of patients and are directly proportional to the patients' treatment. Like nursing assistants, licensed vocational nurses can also work in varied health care settings like hospitals, nursing homes, medical facilities, retirement homes, physicians clinic or in the patient's home. They can even work in mental departments or pediatric care department of hospitals, but they will have to take specialized training.
The profession requires critical thinking, therapeutic nursing intervention and effective communication techniques. You need to communicate the health requirements to doctors and RN so that they can give the required treatment to the patients and to educate the patients loved ones about the medication needs because the nurse assistant has no expertise in the medication field and can advise only about the health care needs like nutrition, hygiene etc.
How to become a LPN or LVN
The nursing board of your respective state is responsible to monitor the certification and licensing of the licensed practical nurses or licensed vocational nurses in case of California or Texas. To get a license you have to complete a training program which is approved by the nursing board; the program last for one year divided into two semesters. The training programs are conducted by community colleges and vocational training institutes. Unlike can programs, LPN programs are not offered free. But you can get them financed by your employer if you are working in hospitals or nursing homes as nurse aides.
One similarity in nurse aide and practical nurses programs is the eligibility criteria. For both the programs you must be 18 years of age with a high school diploma or GED. In California you can enroll in a LPN program at the age of 17 years, but for the certification exam you must complete 18 years of age. You must have a clean criminal background and must submit two finger print cards to confirm it. And you must not be contracted with a transmissible illness; you must go through a medical examination and submit the report of it.
After completion of the training you have to pass the LPN or LVP certification exam which will be conducted by the National Council Licensure Exam. To give the exam you must pay the registration fee and the education transcripts of the training program. The exam is conducted using the Computerized Adaptive Test (CAT) and the exam consists of both written and practical tests. To pass the exam you must pass both the tests and it requires extensive preparation; it is advisable to take practice tests before you take the exam. Once you pass the exam your license is automatically generated through the computerized mechanism.
Job outlook for LVN or LPN
It is estimated that there will be a rise in
job opportunities for licensed practical nurses
in the next ten years; the increase is supposed to be around 22 percent. If you want to join the nursing profession this is the right career to start with and if you have worked as a nursing assistant, this will be the perfect career advancement. The average salary of licensed practical nurses is $44,000 a year, while the LVN in California can earn an average income of $50,000. The job prospects for LPN are very bright, as compared to CNAs. After a few years of experience you can enroll in a RN program and become a registered nurse if you are looking for career progression.
Licensed vocational nurse is a good option to start in the nursing profession if you think the nurse aides is not the right career choice for you. Get started with the training program, get certified and you are all set.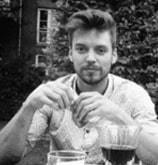 James Markham is a Blogger from Ohio USA. He is also a medical student of MBBS 2nd prof at Northeast Ohio Medical University. Read more about him