Hospice nurses are mentally and emotionally strong people who take care of patients who are at the last stage of their illnesses. In medical term, the problems that afflict patients are known as terminal illnesses. Terminal illness is that disease which cannot be cured, and death is sure but slow. Any disease that has crossed all the initial stages and reached to the extreme one is incurable. This includes the end-stage of cancer, heart and lung diseases, and AIDS. These nurses look after terminally ill patients and ensure that the dying process is pain-free. They also take care that the remaining days of patients are full of comfort and positive feelings.
These nurses work in hospitals or in patients' residence. Hospice patients cannot be cured and death is imminent, so the job of these nurses perform is very critical. Since no one can save a person from death, except god, all that could be done by the nurses is to help patients in embracing the death with dignity and without having much pain and discomfort. Mainly, the role performed these nurses is of pain management and an educator. They provide mental and emotional support to patients and their families. These nurses are assisted by certified nursing assistant (CNA) in completing their tasks. The main aim behind providing medical and nursing care to patients is to ensure that the last few days of their lives are spent comfortably and in less pain.
How to Become a Hospice Nurse?
To become a hospice nurse, it is necessary to complete a Bachelor of Science in Nursing or an Associated Degree in Nursing. After completing the minimum qualification, it is compulsory to work for two years as a
registered nurse
in a hospice-care environment. When you have met the initial requirements, you have to look for an
accredited program
to enhance your knowledge on subjects like anatomy, psychology, chemistry, biology, etc. Clinical training is also necessary to get the real feel of the job.
You can also specialize in gerontological nursing to understand the aging process and needs of elderly patients. Hospice patients may not always be elderly. Many young patients can also die because of terminal illness. Having knowledge on different aspects of psychology and medical conditions will make the job easy. However, 90% of your job will be caring for age-related problems that are incurable.
Courses covered during the training course would include identifying disease symptoms, pain management, different stages of diseases, spiritual and psychological care. Few additional certification courses will deal with ethical and legal issues associated with hospice care. Pass the certification exam as mandatory by your state to get legal permission for practicing hospice care.
Duties of Hospice Nurses
These nurses provide nursing and medical care to dying patients. The job is usually performed in the patients' home. However, some treatments and care require patients to be admitted in the facility. These
nurses take their duties
few steps further than traditional nurses do. They monitor and keep an eye on the patient's conditions and administer medications accordingly. Since complete cure of the illness is impossible at this stage, they help patients in accepting the inevitable. They specially listen and oblige to patients' request if it is ethical and included in the medical books. If patients demand to spend their remaining days in home, they have to oblige it and do the arrangements. They educate and support patients and families with the dying process. In short, they do everything their knowledge and skills permit them in making the last few days comfortable for the patients.
Career Outlook for a Hospice Nurse
Millions in this world are suffering from terminal illnesses. This includes kids, young, adults and elderly people. Most of them die in healthcare facilities while some prefer to spend their last day in their homes. In either case, it is necessary for the families and the medical industry to ensure that patients get all sorts of medical and nursing care so that the dying process is painless. These nurses perfectly match up with necessity of the job, and try to make patients as comfortable as they can.
Since no one can stop or revise the aging process, and people are going to suffer from terminal illnesses; therefore the employment of these nurses is about to grow. The administration has slated a job growth of 22% for these nurses until 2018. If you are certified for the job, you can work in hospitals, hospice-care and other facilities. You will have the opportunity to work as a Hospice Nurse – Case Manager. You will assess and manage patients' care. Moreover, you will be working with only one patient so that you can totally dedicate your skills and attention to that patient which will help in bonding. This position will help you in analyzing the last moments and sharing something emotional with the patients.
The salary of hospice nurses are more as compared to certified nursing assistant (CNA). Salaries of these nurses depend on the geographical locations and the employers. Your experience and additional certification you have achieved will also affect your salary. However, $70,000 is the average annual salary package in the U.S. Some expensive states offer an annual salary of $83,000.
Hospice nursing career will give you an opportunity to realize how death brings people under it its shadow since you will be working with patients who are going to die. If you are emotionally strong and want to help patients in dealing with death, then you can easily opt this career profile.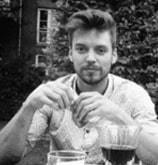 James Markham is a Blogger from Ohio USA. He is also a medical student of MBBS 2nd prof at Northeast Ohio Medical University. Read more about him